KIND (Kids in Need of Defense), attorney, Shanti Martin with Angela. Photo, Kids in Need of Defense. KIND's network of attorneys represents unaccompanied children in their fight for reunification and safety.
KIND has trained more than 24,200 attorneys and partnered with over 522 corporations, law firms, law schools, and bar associations.
**********
The Women's Refugee Commission and several other organizations filed a complaint with the Department of Homeland Security's (DHS) on behalf of family members who were forcibly separated at the Southern border of the United States. The complaint listed examples of toddlers, as young as two years old, who had been forcibly separated from their parents and labeled, "unaccompanied."
In a report titled, "Betraying Family Values-How Immigration Policy at the United States Border is Separating Families, " the commission outlined the risks of separation and detention on the family unit and child well-being, and identified a series of gaps in process, tracking, and communication that are currently hurting reunification attempts between the removed children and their detained parents.
The Women's Refugee Commission Identified the Following Serious Risks:
Family separation through the deportation process is dangerous and impedes safe repatriation and reintegration.
Family unity matters. It is a fundamental human right enshrined in international and U.S. child welfare law.
The destruction of a family unit has serious consequences for all members:
Jeopardizes liberty, access to justice, and protection.
Negatively impacts the emotional, psychological development and well-being.
Creates security and economic difficulties.
Strips the dignity of an individual and their family as a whole.
The Women's Refugee Commission argues that the federal government should prioritize liberty and family unity in its immigration policy and make fast improvements to the following:
Tracking Mechanisms and Processes are Needed; So is Accountability and Transparency.
Government agencies should have mechanisms to identify family members and track family separation in all cases.
Improved Professional Training:
DHS agents should receive training and guidance on identification, documentation, processing, and placement decisions for families.
Develop a Series of Alternatives to Detention:
A series of alternatives to detention should be prioritized to avoid separating families and causing trauma.
Hire Child Welfare Bilingual Professionals, Trauma Training:
Trauma Training is Needed. Multi-lingual, Multi-Cultural Staff, Social Workers are Needed. DHS should require the hiring of child welfare professionals at the border to supervise the protection of children and families and oversee instances of family separation.
Document, Trace and Justify:
DHS and its agencies should document and trace all family relationships. Family separation should be recorded and justified in writing.
Report to Congress:
Such information should also be collected, analyzed, and reported regularly to Congress.
Provide Accessible Updates to Families and Attorneys for Reunification:
Information should be accessible to family members and their attorneys. This should also permit families to trace other family members, file complaints about family separation, and seek family reunification.
Best Interest of the Child-First Consideration:
DHS should consider the best interests of the child in all processing, custody, and removal and repatriation decisions.
Protect Children during Removal and Repatriation:
During removal and repatriation, children should be protected from family separation to assist in a safe return without added undue trauma.
Improve Inter-Agency Communication:
Inter-agency processes to improve communication and collaboration to help separated family members be released and/or reunited. This should include mechanisms to help detained family members locate and connect with separated loved ones.
Report to the Public
DHS Office of Civil Rights and Civil Liberties (CRCL) provide oversight and accountability and report findings to Congress and the public.
Improve documentation, reporting, and policies on family separation.
Accurate reporting and checking in with the shelters and sponsors taking care of these children is critical to reunification with family, to welfare and protection, and to the speedy connection of the children with attorneys who can represent them in court. Given the current weak tracking system, it is not surprising that over a thousand children were found to be missing after separation and detention.
What measures are currently being taken so that this never happens again?
In the case of undocumented minors that are deported, urgent questions arise. First, why? Is it because they miss court dates? Are children really expected to keep track of court dates and figure out where to go and when? Is it because they don't accurately represent themselves? How can a child be expected to do so? Is it because of language barriers? What are the determinations that send minors back to dangerous places?
**********
Congressional Hearings, and Legal Advocacy
Congressional hearings have illuminated many advocates for justice in this matter. Last week, Senator Kamala Harris (D-CA) questioned Donald Trump's Homeland Security Secretary Kirstjen Nielsen regarding the policy of separating children from their parents when they cross the border through unofficial entry points. In the video below, Nielsen is unable to provide details regarding the treatment of children. Senator Harris pressed for answers that she asked Nielsen to provide within one week time.
https://youtu.be/aYuza9TzT18
Legal advocates are also rising to defend these children's battles in court. KIND, (Kids in Need of Defense), provides lawyers to represent children who arrive in the U.S. alone. The nonprofit was started by a collaboration between Microsoft and Angelina Jolie.
KIND believes that "No Child Should Appear in Immigration Court Alone." According to their findings:
50% Of Children Arriving in the U.S. have No One To Represent Them in Immigration Court.
Children without Representation are 5 times more likely to be Deported back to Danger.
Unaccompanied children are eligible for protection under the U.S. immigration system but need an attorney to represent them.
At least 60 percent of children who have attorneys are granted U.S. protection
With the help of KIND and her pro bono attorneys at Microsoft, Nayeli was able to obtain legal relief in the US:
What Forms of Legal Protection Are Available?
KIND describes various legal avenues:
Asylum (for those persecuted)
Special immigrant juvenile status (if abused, abandoned, or neglected)
Trafficking T visa for those who have been coerced into forced labor
U Visa for crime victims
Access to legal representation is critical for these children. Without an attorney, most children will not gain the protection for which they are eligible.
Organizations Representing Minors-Their view on Family Separation
The organization, Raices, Refugee, and Immigrant Center for Education and Legal Services, in San Antonio, represents minors who have been separated from their parents.
Attorney Justin Tullius, who works for Raices, told Univision that he believes family separation by U.S. immigration officials,
"is a threat to immigrant families at the border meant to intimidate them." Tullis fears that if children are sent to military installations, "they could be exposed to risks and violations of their rights."
Tullius  added that the risks go beyond treatment at the military shelters, but also after,
"Sometimes when a child is separated from his father, the father is lost."
Univision reports that the refugee program under the Department of Health and Human Services works with 100 shelters in 14 states.
The growing number of children arrivals at the border,  have impacted the capacity at these shelters and has led the Department of Health and Human Services to consider the opening of temporary shelters for the undocumented minors in four military bases in the country.
Under Consideration in Texas:
Fort Bliss, El Paso, Texas. 
Photo. Salem News.
*************
Dyess Air Base, Texas 
Photo. Defense Studies. Dyess AFB is located about 7 miles
southwest of Abilene, Texas.
*************
Abilene and Goodfellow Air Base, San Angelo.
Photo. Defense Studies. Goodfellow AFB is located near
San Angelo, Texas.
*************
In Arkansas:
Base Air of Little Rock, Arkansas:
Photo. Defense Studies. Little Rock AFB is located in Jacksonville, Arkansas
(about 10 miles northeast of Little Rock).
While we wait for Homeland Security Secretary, Kirstjen Nielsen to provide answers regarding the welfare of unaccompanied children through the separation, detention and court process,  more questions emerge:
What happens to the children waiting in military shelters in the following cases?
A parent is deported while the child sits in a shelter.
No relative or guardian can be found.
A child arrived at the border without identification or records.
A child is unable to communicate due to trauma or language barriers.
How long will they sit in the military shelters? What types of activities-recreational, educational, health, and psychological care will be available to them? What will they eat? Who will comfort them?
As Congress asks tough questions of DHS's plans to provide for the children, there are valid reasons for the tough questions and many concerns.
The photos below were released by Rep. Henry Cuellar's (D-Texas) office and depict the cramped living conditions that undocumented immigrants, and unaccompanied children, experienced in a detention center near the U.S.-Mexico border. Photos were published in the Huffington Post. The photos were first published by the Houston Chronicle.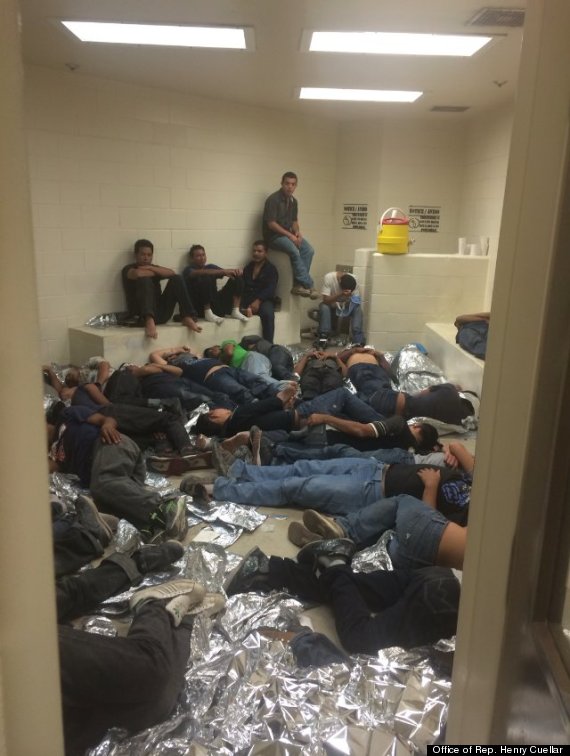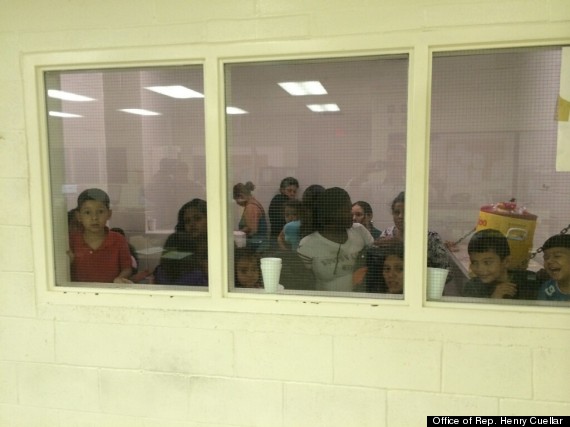 Why? How is this okay?
As a citizen, as an immigrant, and as a mother, I can't ignore this issue. These are children, alone, as young as two years old. If we don't care; if we leave the questions for someone else to raise; if we look the other way, or switch the channel, who will be there for them? Who will demand accountability and human rights? They are vulnerable and don't have a voice or direct channel to justice. That's why they need us.