La Isla La Pirraya is home to a diverse Salvadoran community that is located in the Bay of Jiquilisco. Their inhabitants live primarily from artisanal fishing and they are committed to their families and to the development of this paradisaical island in El Salvador. Through the support of volunteers from the main land and their own efforts and pride in their island, La Pirraya residents are working to revive tourism and welcome Salvadorans and international visitors alike.
Bringing Development to La Isla de la Pirraya
A group of twitter friends led by José Andrés Márquez Pacas learned of the needs in the island and are mobilizing to support the island's residents.
"The people of La Pirraya have been forgotten for a long time and we want to do something about it. We are a group of twitter friends, and there are several of us who want to help. The truth is that we do it with all our hearts and we don't expect anything in return. We hope we can find more people to join us in this initiative, to help relaunch local businesses that will prosper the residents and put the island back on the map as a Salvadoran touristic destination" shares José Andrés Márquez Pacas.
How Volunteers Got Involved
Andrés learned of the needs of the families in the island through a friend  who works in the area of human rights in El Salvador.
"They need clothing, non-perishable food items, assistance for the eldest in the community, and for some, legal advice. Toys for the children, would be nice, too."
"Our volunteer group has been active in various community initiatives. When we learned about the residents of the Isla de la Pirraya, we wanted to help," explained Andrés .
Visiting the Island & Learning about La Pirraya's Needs
Three weeks ago, Andrés and a group of volunteers visited the island and met with the leadership council. The community leaders shared details on how many families live on the island and they types of problems that affect them.
Part of the island population is comprised of families from the neighboring country of Honduras. These families moved to the Salvadoran island due to lack of opportunities in their country.
"The problem is that since they do not have Salvadoran documents, they are not allowed to study here in the country. Children are not registered because parents do not have documents," explains Andrés .
"Our group is trying to help them with that. We are looking into hiring a lawyer to help open cases so that they can become legalized and send their children to school," adds Andrés .
"This is a problem because it is as if this children are invisible as if they have no identity. We are talking about children between 8 to 15 years of age. We are trying to sponsor the legalization process because it is a fairly long and expensive process and lawyers charge quite a bit here to do this," details Andrés.
Helping the Neediest Families 
Andrés and the group of volunteers met with the island's directive three weeks ago. Together, they identified a list of the neediest members of the island.
"We plan on helping 50 families from each of the 3 islands in the area," asserts Andrés . According to the data collected during the last trip, the Isla of La Pirraya is home to 360 ??families. There are also two other neighboring islands with various needs. Our goal is to help a total of 150 families, by focusing on the neediest 50 families from each island."
The three islands suffer from similar problems because they are all located in the same area, and compete for work in the same places.
Lingering Perceptions of Crime in the Ports
In recent times, tourists used to visit the island but when crime rose, tourism dropped. Bukele's new administration has helped to change this. "There is no crime on the island of La Pirraya now. It is a very peaceful, beautiful place, but tourists don't know this yet," explains Andrés .
"Now that there is police presence in the ports from where the boats leave to the islands we are hoping for more visitors to discover this beautiful paradise. Previously, threats of crime scared tourists away, but nowadays, with increased police paroling the ports, this problem is coming under control," tells Andrés. 
Fishing-Industry Challenges
Most fishermen and women on the island earn about $1 a day for hard work.They survive from fishing: they fish, hunt for shell fish, clean fish and travel to the ports on the main land to sell the catch. The problem is that they are paid too cheaply compared to the work they have to do to acquire the catch. Unfortunately in the city market buyers take advantage of them.
Restoring Local Shops
Since they live on an island, residents have to travel by boat to purchase vegetables, breads and other needs. One of the projects Andrés and the volunteer group is helping with is relaunching the island's bakery. The closest one is in Usulutan. 
La Pirraya locals Invite Salvadorans and Tourists to Visit and Enjoy Paradise
Latinarepublic spoke with Edgardo Antonio Arevalo a local leader, fisherman and tour guide in La Pirraya about his dreams for the Island. Edgardo beamed when speaking about La Pirraya and hopes for visitors to stop by. He is available to arrange reservations at one of the 2 hotels on the island, 2 local restaurants and provide transportation throughout the island and to sister islands.
Bring comfortable shoes and come ready for a scenic tour. There are no vehicles on the island. Locals move around on motorbikes, walking or boating.
Edgardo provides motorbike tours around the island, he charges $10 for Salvadorans and $15 for tourists.
Edgardo recommends parking vehicles at the gas station in Puerto Parada and embarking on the 30 minute crossing on boat to the island of La Pirraya. The boat ride from the main land to the island costs about $25-$30 dollars. Boats can transport about 15 people and the ride takes approximately 30 minutes. Once in La Pirraya, activities include beach tours, delicious fresh food, and joining or watching a daily beach soccer match in the evenings. Visiting other islands and other activities can be arranged.
Tourism:
The Island of La Pirraya has two hotels. The largest hotel has two beds, two hammocks, air conditioning, a bathroom and shower. They are in the process of installing a television. The restaurants are is very close to the hotel. The second hotel is smaller with 4 huts on the water. The prices for staying at the hotel start at $25 for 24 hours, up to $40 for a cabin on the water for 24 hours. There is potable water and electricity.
To plan  your trip or make reservations, contact Edgardo Antonio Arevalo at 79791754 Whatsapp: +50379791754.  
"I have practically lived here all my life. I was born in San Sebastian and moved to the Cacerio la Pirraya where I grew up. Here, I have my family, and I have my life. We have a 13 year old daughter who goes to school here in La Pirraya. The school, Cacerio La Pirraya School Center, serves children in kindergarten through the 3rd year of high school. The school has 9 classrooms and a kitchen," tells Edgardo.
The school is right next to the beach soccer club. Here locals have fun getting together around 5 or 6 in the afternoon to play football. Agustin, "Tin" Ruiz, the representative of Futbol Playa de El Salvador lives and practices here as do other members of the Futbol Playa team.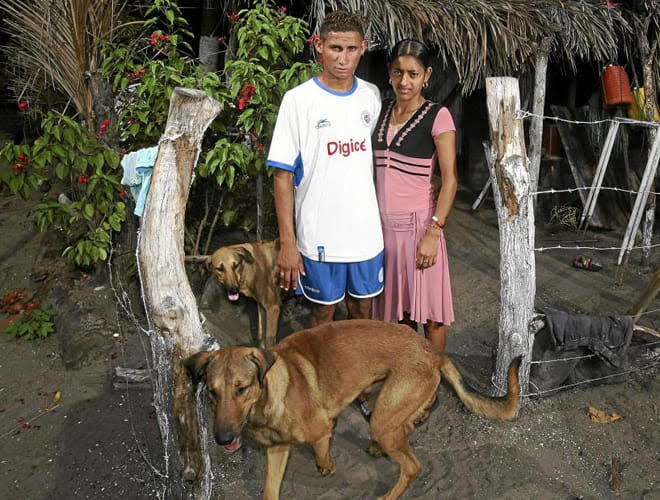 Our daily routine involves fishing and looking for shells. Everyone gets involved. Women, too, hunt for mollusks or fish. We go out in little boats known as, cayucos, and we take nets, ropes, and hooks.
"These are the nets with which I am going to fish," explains Edgardo.
"We eat what we catch and we also sell the rest. The tide must be low to shell and to fish. When the tide is right we go out to sea for about 2 or 3 hours until we catch what we need. Then we head to the port to sell it. Fishing can be a little more complicated during the months of September and October because of the rain. Lately, it hasn't rained that much, but sometimes it rains intensely from May to November," Explains Edgardo.
"We want to invite our Salvadoran brothers and sisters to visit us, to come stay in our beautiful island, stay at the hotel, try our local food and allow us to show you a side of El Salvador many have not seen, a Salvadoran Paradise," invites Edgardo.
Would you like to travel to La Pirraya, visit, deliver supplies, become a sponsor or send provisions?
José Andrés Márquez Pacas is helping coordinate the initiative and the next trip to the island on September 22nd.  To make donations, become a sponsor or participate in the next trip to the island please contact Andrés at: + 503 6029-5402. Join the twitter group of friends who volunteer to help: @jamp0404.
There are various ways to support this initiative. You may drop off donations here:
Café Colón
Boulevard Tutunichapa Cond Med Nivel 5 local 55
Owners, Edwin Martinez and Marcela Hurtado have generously offered to help with this initiative
To arrange an overnight stay or day tour:
Contact Edgardo Antonio Arevalo at 79791754 Whatsapp: +50379791754.  
"We are all Salvadoran brothers and sisters. When one of us is in need, we all have something that we can contribute. It doesn't matter what political party, religion or skin color we may be, we are all Salvadorans, and we are all in the same boat. Our group is presently collecting provisions, clothes and shoes. There are people who throw shoes and clothes away. We collect them and bring them to the island. We are returning to the Island on September 22nd. "
"If you would like to join us, please do so. Perhaps you are a Salvadoran with a desire to help and who would like to know another part of our country. This is a beautiful place. We want a country, new and full of opportunities for all. With the new administration we are seeing positive changes," José Andrés Márquez Pacas.