The CORDES Association is an institution dedicated to improving the living conditions of the rural and urban population in El Salvador. CORDES works alongside rural communities to promote food security, gender equity, and development in harmony with the environment. Since 1988, they have been a leading institution in sustainable territorial development in El Salvador with solid experience in grassroots organization within the lens of gender equity. The organization believes that sustainable socio-economic programs succeed through active family participation. Through initiatives, projects and collaborations, CORDES strengthens the capacities of the community's social fabric, by empowering them as the fundamental social managers of local development.
Latina Republic interviewed Maribel Justina Moya, the president of the Junta Directiva, of the Asociación Fundación Para la Cooperación y el Desarrollo Comunal de El Salvador, CORDES. Maribel has been with CORDES since 1988.  What follows is insightful commentary on how communities are strengthened when their members come together to solve problems and take ownership of the process. How do local groups go from neighborhood conversations to the attainment of local victories? Maribel shares the strategies that are working in El Salvador.
Latina Republic: How does the Asociación Fundación Para la Cooperación y el Desarrollo Comunal de El Salvador, CORDES, support women, young people, and seniors in rural El Salvador?
We work with women's groups that are constituted as legal associations in the municipalities. These groups have their own board of directors and their main goal is to seek development alternatives for their communities.
We, through CORDES, support them in various ways.
Gender Policy
Our organization has a gender policy and it is at the center of all that we do as an institution. For example, when we elect a board of directors, the board must be composed of men and women, not just men. Regarding community projects, our policy states that women must also be incorporated in the decision-making processes.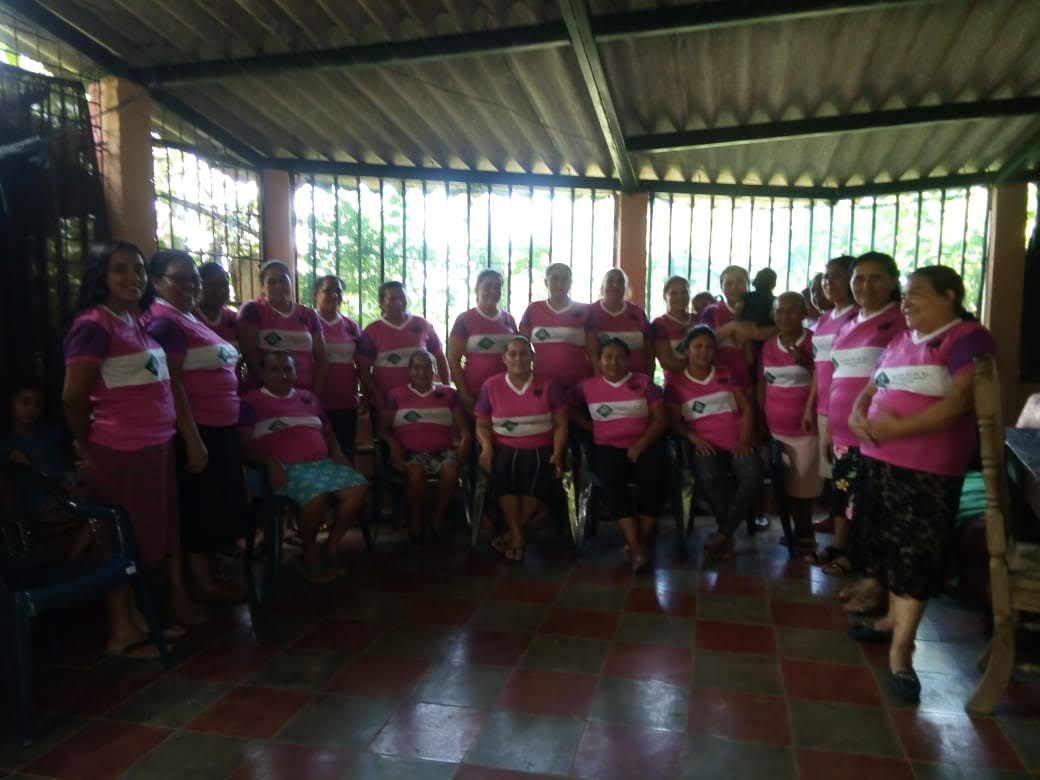 Food Security
We make efforts to support women in the area of food security. We provide them with small galleys and family gardens and field engineers teach them how to water their crops and work with the land. The galleys have a roof and are paved, and the women receive around 10 chickens, and one or two roosters. We also provide training for how to care for the birds.
The chickens lay eggs, reproduce, and families end up having about 40, 50 birds.
The women learn how to work with their own  family gardens. They grow tomatoes, peppers, cucumbers and aromatic plants.
Some families have small orchards and we teach them how to make and use organic fertilizers instead of store-bought insecticides or fertilizers.
The gardens use a drip system that is installed by agricultural engineers.
Through the galleys, family gardens and orchards, the families can count on meat, eggs, tomatoes, and other vegetables.
These are all part of our food safety projects. I want to add that these projects are implemented in some of the regions through young people, not only by women.
We include young people because the issue of food safety is important. Young adults will form a family in the future and learning to grow healthy food early on, can be part of economic alternatives for families.
Community Markets
We also help the women coordinate community markets in each municipality.
On Sundays, women take some of their produce to the market and sell it. The clients who buy from them know that they are buying healthy, fresh products.  What the women produce and grow is theirs.
Community markets are formed in all municipalities where these projects are launched. Once a week, they bring their products to the market and generate extra income by selling them to their neighbors. What we do as an institution is support them with transportation.
The women learn many lessons by participating in these projects. They learn to manage their gardens, to take care of their birds, to sell their products in the community market, and they teach what they learn to other women.
Public Forums To Discuss Community Issues
The women also participate in forums to talk about the issue of violence and to train in other areas. We include men in our forums and address the issues of masculinity and gender equality in families.
Latina Republic: When you arrive in a new community, how do you help the women who want to start an organization?
Our institution is quite recognized in our country and we are in great demand. We get lots of requests from various communities.
Sometimes it is very difficult for us to meet all demands due to lack of resources.
To reach all communities we need resources for mobilization, vehicles, and personnel.
I will share a personal experience with community organization. Six years ago in my community, we formed a women's group to create a savings fund for local causes. We started with 5 women, and we reached a membership of 70 participating women.
When we got together, we talked about the importance of saving and the best way to do it. Each time we met we contributed $1.
Three years later we decided to become formally organized. We thought that we would have more leverage if we became a legalized group.
Formalizing our status would allow us to meet with and coordinate with the mayor's office and with other women's organizations throughout El Salvador. We wanted to focus on our local problems but we also wanted to partner with women organizations at the national level to gain a wider perspective on social problems.
In the end we became a legalized organization in my municipality. The mayor gave us legal recognition and we published our status in the official newspaper.
To get here was a process and it did not happen overnight.
In the beginning, when we would invite women to our meetings, and some were afraid to join: "No, I don't want to be talked into politics, or be forced to vote for one political party," they would say.
But along the way they realized that that was not the purpose of our meetings. Today many of the women have achieved great gains, like having their own farms, and animals.
Because of our legal status and reputation we can make national proposals on community problems and we are no longer seen as a group of women. We are now a recognized, legal organization.
We keep our accounting; we have a bank account, we are legalized. But we started from zero, with three women who got together to discuss common problems and then more women joined.
Sometimes it is hard to work among us, women. Sometimes we don't trust each other and to develop trust and seek a common ground takes time.
Latina Republic: How did you learn how to keep the accounting, open the bank accounts and the legalization process for your organization?
Well, in my case, I have been working with CORDES and with CRIPDES for some time. Having to find out the processes for designing statutes for the association and accompanying other groups through those processes has taught me quite a bit. I pass along what I have learned to other women.
Latina Republic: With high demand and limited resources, where do you start?
Here we have communities that are historic because they developed alongside with us. Then, there are communities that started with nothing; not a directive, or even streets, only neighborhood dirt roads. They had no water, or light, but through the partnership they formed with our institution and by working with the mayors' offices, they have achieved great benefits like paved streets, electricity, and access to potable water, which is vital for families.
Latina Republic: How did the women mobilize from conversations to achieving these great victories?
It has been a process. The community meetings, and the forming of assemblies and directives have been very important to driving change.
These meetings have unified communities, where groups of men and women have met to discuss each community's problems and have carried out a community analysis.
The main question they ask themselves is: What is the greatest problem we face as a community?
A diagnostic of a community's health will reveal several problems, but everything cannot be tackled at once. We may find 10 big problems, but the biggest is access to potable water. Then, if we agree that water is the most important problem, we commit as an institution to tackle that first.
Once we resolve the big problem, we move on to the next one.
Our communities keep detailed; comprehensive diagnostics of all problems that need to be solved.
In addition to solving big problems together, our organization wants people to take ownership and to gain awareness that when communities unite and partner with sister organizations, big problems can be conquered.
But these victories start by organizing at the community level first, by holding forums, talks, and organizing.
It is through these assemblies that we analyze local problems.
We also reflect on national problems, for example the issue of water, is not only a local problem, but a national one. Currently, El Salvador is debating the issue of privatizing water.
What needs to be considered is that water is a vital liquid and is the life of our families.
Latina Republic: Maribel, with the group of women that you work, you mentioned the agenda of integrating gender equality at all levels. In your experience, do you see a connection between illiteracy and gender violence in families?
Yes, quite a bit. We have coordinated with literacy programs through the Ministry of Education because few women in rural communities have had opportunities to educate themselves.
Partnering with educational initiatives has been fruitful.
Today, there are many women who can at least sign their names, where before they would sign using their thumbs. It is important to continue coordinating with literacy programs to empower women in many ways.
The issue of violence in our country is serious. We talk about violence in general, but how many victims have been women? There have been countless cases of violence against women who were not illiterate, like licensed nurses, and women with advanced degrees who have been mistreated to the point of their death. This is an important issue affecting women and we collaborate with other organizations to improve women's lives in El Salvador.
People do not report crimes, and that goes for all women, rural and city women.
Latina Republic: Your organization is providing vital services to rural women in El Salvador. Do you also focus on city women?
Currently, our approach is aimed at rural communities. We have presence in different departments, and we focus on rural women because they have the greatest needs.
Latina Republic: Maribel, you mentioned that your organization also supports young people. What programs do they have for them?
As for the young people, we are supporting them through cultural projects, like modern dance groups. We have found that cultural projects are effective violence prevention programs.
Generally, the young people who participate are around 15 years old.
Sometimes young adults want to participate but because of their studies, they find it difficult to find the time.
Many young people get their high school degree and go straight to work.
There are also young people who are unemployed, and the programs that we have through CORDES, whether the focus is cultural, productive or preventive, are meant to train them in new skills that allow them to move away from situations of violence.
Languages & Trades
Some young adults are trained in English, for example, many have received diplomas in English so they can teach as a trade.
We also have programs that teach them how to drive a vehicle with the goal of at least exposing them to a new trade.
The institution has been looking for best ways to help young people who do not go to the university and are no longer studying so they can learn a trade.
Latina Republic: The senior citizen sector of society is a vulnerable group in any country. Do you have initiatives to support them in El Salvador?  
Yes, we have an older adult policy, too. Sadly, many elderly people are neglected.  We are working on policies to serve this population.
A place to start is to get close to people, to listen to them, so you can understand them.
Through collaborative efforts we have set up several Casas del Dia, day houses, which are daytime spaces for the elderly that act as meeting points, places for them to access some health services, like sugar level testing, injections, and medicine. They are also recreation points, where the elderly can participate in productive activities and in elder advocacy.
We are organizing at the local level to learn from the representatives of each committee about the most serious problems affecting seniors in their communities. These include, ambulance services, need for housing or building material, food scarcity, abuse, neglect and violence.
During these assessments we seek to identify what issues can be resolved by the committees and which should be taken to the municipal board. We are also updating the census of all adults over 60 years of age.
Our elders have a right to participate in cultural spaces and to feel that they matter. We have a committee formed at the national level to work on this important issue and we hold meetings at the national and municipal levels.
Through the initiative, Asociacion Rural para la Tercera Edad (ARTE), the rural association for seniors, and the Coalición Nacional para la Dignidad de las Personas Mayores en El Salvador, the national coalition for the dignity of elder adults in El Salvador, CORDES, promotes seniors' rights.
Descartados is a nonprofit project that seeks to bring visibility to the poverty and exclusion experienced by many elderly in rural El Salvador. Led by activist, Emilio Espín Amprimo and journalist, Marc Espín, the project seeks to inspire change in Salvadoran society to improve the lives of isolated seniors.
Latina Republic: In addition to your powerful initiatives to help women, adolescents and seniors, does CORDES have any programs to integrate the returned migrants to El Salvador?
Not  yet. This is another project for us to consider.
Latina Republic: How valuable are exchanges to promote knowledge across communities? 
I think exchanges are important. Because when we exchange experiences from one place to another,  we learn of the local knowledge of other groups.
In our program, we rely on exchanges for our family farms and gardens' projects. For example, women from the south of La Libertad travel to Chalate to teach other women about their experiences.
Chalate women have a unique understanding of various plants and their nutritional content. They apply this knowledge to make colored pupusas by using protein-rich ingredients.
These exchanges allow the practices of one group to transfer to another group.
I believe that initiatives also work best when a group of women is well-organized, and trained ahead of the launching of the initiative. Because if we put the economic initiative first, then many people who feel untrained will do nothing with an  initiative. That is why the organization of women, training and education should be prioritized, and then we can introduce the initiative that will allow them to move forward.
It is good to talk about the problems that affect us as women; it is good to make a diagnosis among us. One way to find a solution to these problems is to meet and discuss them together.
The issue of civic participation is very important. Because when we organize, we achieve water, we achieve paved streets, we achieve the participation of young people. We get men to recognize us as equal partners. Without organization and conversation, we can miss the power of different perspectives and the opportunity to solve common problems.
"Como nosotros decimos en El Salvador, la lucha continua," Maribel Justina Moya, Presidenta de la Junta Directiva, la Asociación Fundación Para la Cooperación y el Desarrollo Comunal de El Salvador CORDES.
As we say in El Salvador, the fight continues.