According to a recent statement by the Public Ministry of Guatemala, 14,000 calls denouncing sexual assault in Guatemala were recorded this year through March 17th, 2020. The Observatorio de las Mujeres also reported 131 daily complaints of violence against women in Guatemala. In 2019, more than 60 thousand women reported being victims of some type of violence in Guatemala, per, Observatorio de la Mujer.
Violence against women and girls represents 58 percent of the most reported crimes to the Public Ministry (MP) of Guatemala.
Cecilia Guerra is a university student in Guatemala who is a survivor of sexual violence. Writing is helping her to heal. In the poem below, she tells what happened to her, and the stormy emotions that she faces due to the assault.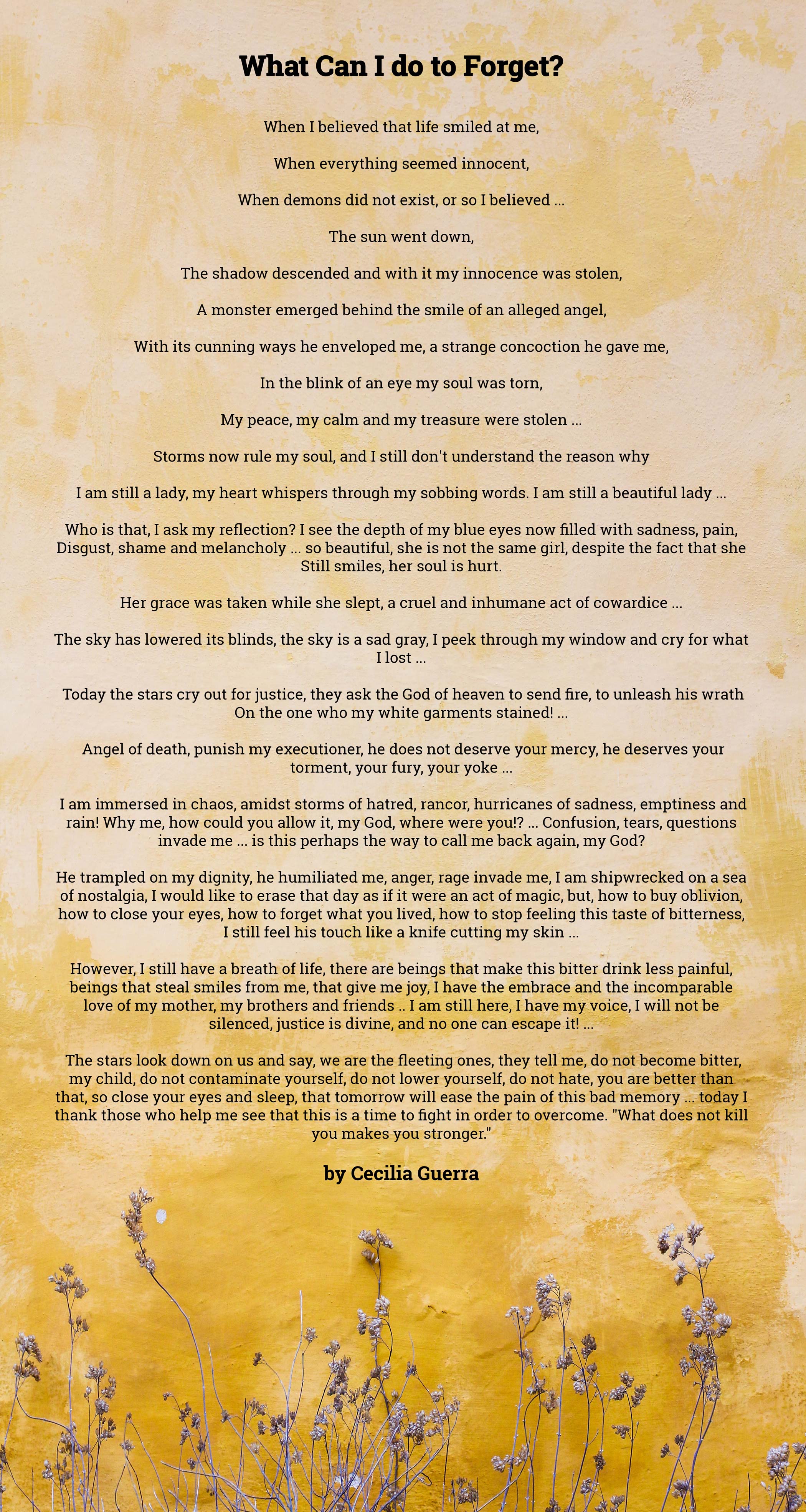 The Guatemalan population is made up of 14,901, 286 million inhabitants; 51% are women (INE, Censo 2018). Of the total population, 56% self-identifies as Ladino, 41% as Mayan, 1.8 % as Xinca, 0.2% identify as Afro-descendant or creole, and 0.1% as Garifuna. According to INE's report, 60% of women are under the age of 30. The presence of disability in the general population is 10.2%, while women represent 11.8% of the entire population with disabilities (CONADI, 2016).
The manifestations of violence against women, according to current legislation, include physical, sexual, economic, and psychological violence. Likewise, crimes of sexual violence, violent deaths of women and femicides are registered at alarming rates, including violence suffered by women with disabilities. Of the total number of domestic violence reported by those who have disabilities, 80% are women (INE, 2016). Femicide reports cite 47% of women killed by gunshot wounds fire, are between 15 to 30 years old, and suffocation deaths are prevalent in femicides of minors from 15 to 19 years old by 46% (INACIF, 2016).
More than half of the country's population lives in conditions of general poverty (54.3%). Of which, women represent 58.6% and men 60.0% of the total. Furthermore, women represent 22.8% and men 24.0% of the total of people living in conditions of extreme poverty, which leads many women to drop out of school.
SEPREM, a Guatemalan government institution focused on institutionalizing gender equity reports that despite institutional efforts, Guatemalan women continue to experience numerous forms of exclusion and violence. According to SEPREM's Plan Estrategico Institucional, 2019-2023, gender inequity and violence in Guatemala are rooted in historical and cultural patterns reinforced by a patriarchal ideology and discrimination against women and ethnic groups.
At the structural level, these inequalities root themselves when the regulatory organizations fail to apply the law. Women, feminist groups, universities, research centers, and Guatemalan government through the Secretaria Presidencial de La Mujer and other government branches, have joined advocacy groups locally and internationally to promote  gender equity, human rights, education and development of Guatemalan women.
In 2008, the Congress of the Republic of Guatemala approved the Law against Femicide and Other Forms of Violence against Women, Decree 22-2008. The law protects the lives of women, their freedom and integrity. It defines crimes committed against women, establishes the sentences, promotes criminal prosecution and investigates the violent acts.
The following institutions are responsible for compliance with the Law Against Femicide:
The Public Ministry investigates any violent act against women.
The National Institute of Forensic Sciences (INACIF) prepares the forensic analysis for the judge.
The National Coordination for the Prevention of Domestic Violence and Against Women (CONAPREVI) works to prevent, address, avoid and condemn violence against women. CONAPREVI must promote the creation and services of Comprehensive Support Centers for Women Survivors of Violence. The organization is also responsible for training officials, especially those who work in the Public Ministry, Judicial branch, National Civil Police and the Institute of Criminal Public Defense to prevent and address acts of violence against women.
The Supreme Court Justice ensures access to justice for victims, and guarantees fair criminal proceedings. The Supreme Court Justice must also ensure that there are special courts to hear the crimes of femicide, sexual violence, physical violence, psychological violence and economic violence against women, within a 24-hour service. These courts should not limit or be involved in the functions of the criminal courts.
The Defensoría de la Mujer Indígena (DEMI) and the Secretaría Presidencial de la Mujer (SEPREM), address the problem of violence against women.
The National Statistics Institute (INE), maintains all statistical information on the crimes of femicide, sexual violence, physical violence, psychological violence and economic violence against women.
The Institute of Public Criminal Defense, provides victims with free legal assistance and appoint a lawyer to represent them.
Guatemala is currently enforcing strict quarantine policies to combat COVID-19. The Ministerio Publico of Guatemala recognizes that the quarantine places women at great risk of domestic violence. The Ministerio is encouraging women to denounce abuse through two lines: #1572 and #110. "We encourage the population to denounce violence against women."