In May, I had the pleasure of interviewing Pau González, the president and founder of Hombres Trans Panamá (Trans Men Panama). Following that interview, I was delighted to be invited to a small video conference co-hosted by Hombres Trans Panamá and the Asociación Panameña de Personas Trans (Panamanian Association of Trans People) that was facilitated by representatives from the United Nations Development Program Office for Latin America and the Caribbean and the UN's Office of the High Commissioner for Human Rights. In the wake of Panama's reinstitution of its gender-based quarantine, the conference was to be attended by journalists and activists, and it focused on the gender-based quarantine's effects on trans individuals and how the measure exacerbated existing prejudices against the trans community. Presenters from HTP and APPT presented data about the incidence of discrimination as well as testimonies from trans individuals who faced discrimination from authorities.
The conference started with a presentation by Pau González, representing HTP, and Venus Tejada, representing APPT. First, they addressed language that should be used when talking to or about trans people, such as addressing the person by his or her preferred pronouns. Next, they went over a demographic breakdown of the cases of dicrimination. The demographics revealed that in the 20 cases of discrimination reported to HTP and APPT during the quarantine, the average age of the victims was 31.5 years old and that 40% of the victims were trans men while 60% were trans women. More statistics demonstrated that the main agents that perpetuated discrimination were the national police (55%) followed by the government funded Seguridad Privada (Private Security) (30%); health officials, firefighters, and landlords each made up 5% of the perpetrators. Regionally, the majority of the cases occurred in Panama (60%) while 20% of them occurred in West Panama, 10% in Colón, and 5% in both Cocié and Los Santos. Despite most cases involving the denial of access to public places and stores, 60% of the cases cite psychological effects as the most prominent consequence of the discrimination.
In addition to these statistics, the presentation included anonymous, written testimonies submitted by trans people affected by the quarantine's discriminatory policies, quotes from which appear below: 
"I am a woman, I identify as a woman and I socially develop as a woman. I can't go out on the day assigned to men and expose myself to being publicly identified as a man when I'm not one."
"I look like any man, though my ID card says I'm a woman. I wanted to avoid trouble, so I went out on women's day. The police stopped me at the super market's door. I explained that my card says 'M' for 'male,' but they prevented me from coming in because I was going to make the women who were in line anxious. I couldn't make the purchase I had to."
"In my case, no one came to stop me. I was so scared of what could happen to me that I didn't leave the house. I had to accompany my mom to her oncology appointment, but I wouldn't even dare to do that. The violation in questioning one's identity is very strong, I didn't want to face that."
Following the presentation, the floor, virtual floor, that is, opened up for discussion between the trans activists, trans allies, and journalists. Four trans individuals, Yineth Iayevzka Muñoz, Indi Lucia, Gabriel Bernal, and Bárbara Delgado, shared how they each were affected by the gender-based quarantine. While Yineth, Gabriel, and Bárbara faced overt prejudice from the authorities after leaving their houses to run essential errands, Indi was so scared of how he would be treated by the police that he did not even dare to leave his home during the quarantine and had to rely on friends to get him food and other goods. 
After listening to these brave voices and learning more about the effects of Panama's gender based quarantine on the trans community, I was left with three main takeaways:
First, fear is a constant in the life of a trans individual. In every testimony I heard at the conference, a fear of uncertainty was expressed. Yineth and Gabriel feared choosing the wrong day to run their errands. Bárbara feared what the police would do to her after being apprehended by them. Indi feared the unknown so much that he did not even leave his house during the quarantine. It is so hard to imagine what it would be like to live life in a perpetual state of fear, to not assume that kindness and respect from strangers is customary, or even guaranteed. The trans community does not have the luxury of living a carefree life; instead, these individuals must choose to either be who they are and constantly be on their guard or to repress themselves in exchange for societal acceptance. Paying a price to be yourself is an unimaginable sacrifice, and I left the conference in awe of the trans community's bravery and perseverance.
The second item I took away from the conference was the unwavering resilience of the trans community. The individuals I had the privilege of listening to were so brave and candid in sharing their experiences with the quarantine, despite facing societal shame and public humiliation. When asked about societal support and if they had received any in their fight, Pau González and Venus Tejada explained that the public's reaction has been very mixed. Although in some sectors of the population, the trans community has been met with love and support, in others, the stigma of being trans is so strong that it contributes to the systemic discrimination trans individuals face. Tejada remarked that she had "a friend take her own life" as a result of societal and familial shaming for being trans. González also noted that there have been a lot of hateful jokes and negative comments towards the trans community on social media. However, despite the lack of support from society, the trans community persists in its fight to achieve equality and respect. Just after explaining how social media users have targeted and taunted the trans community, González said that there is a need for more education about LGBTQ issues in society and more empathy towards people of different circumstances. This response demonstrates the remarkable resilience and integrity of the trans community. Instead of letting backlash and obstinance discourage them, people within the trans community continue to meet ignorance with kindness and a willingness to help better educate society.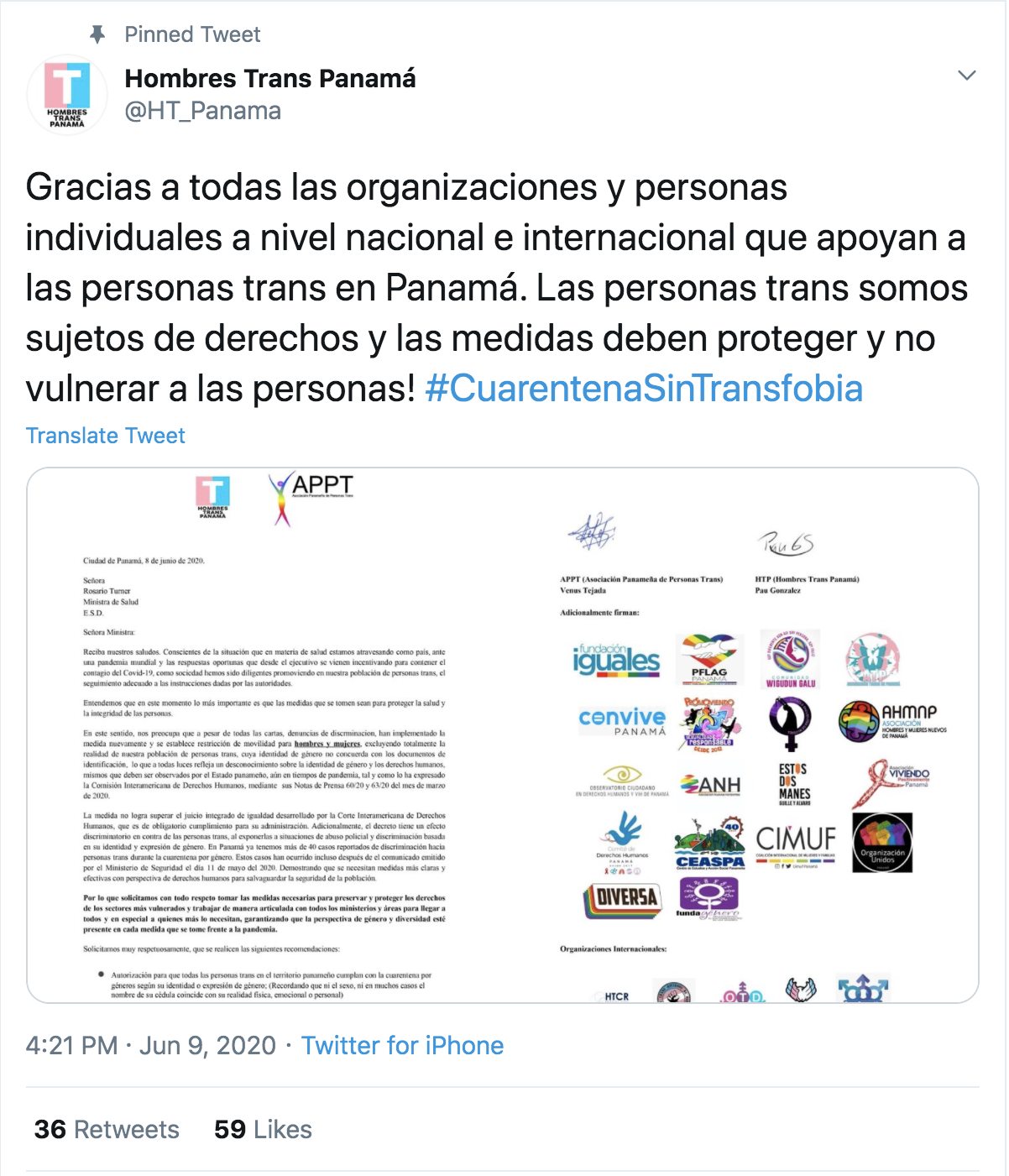 A final takeaway of mine was the trans community's need for allies. Since the very first day that the quarantine was enacted, HTP, APPT, and other trans advocacy groups have spoken out to fight the measure and inform the government of its consequences. However, these appeals were repeatedly ignored which left the trans community feeling silenced and helpless. It was not until Human Rights Watch intervened and drew international attention to the discriminatory measure that the government felt enough pressure to repeal it. Nevertheless, the quarantine was reinstated just a week later, on June 8th. Since that decision was made, trans activists have communicated their renewed concerns to the government and have been met with the same apathy from those in charge. With that said, after participating in the conference, I noted how crucial it is for people outside the trans community to speak up and stand in solidarity with this marginalized group. The gender-based quarantine is not just an LGBTQ rights issue, but a human rights issue, and it is imperative that we, as human beings, support the trans community in their fight against injustice. If we turn a blind eye to our brothers and sisters who are suffering, we are complicit in the oppression being done unto them. 
I am so glad that what I thought would be a single article about a peculiar quarantine policy led to an enriched understanding of the trans community's struggles and new relationships with leaders at the forefront of the fight for equality. Even more so, I am glad that I can use my platform to amplify their voices and raise awareness about the issues they confront every day. If you too have been moved by the trans community's strength and perseverance, I urge you to voice your support and stand in solidarity with them.
---
Zenia Grzebin | Wake Forest University
Zenia is a rising Junior at Wake Forest University who is pursuing majors in Politics and International Affairs & Spanish as well as a minor in Women's, Gender, and Sexuality Studies. Originally from Jacksonville, Florida, Zenia became interested in Latin American and Spanish Studies through her travels to Costa Rica and Spain. In the summer of 2019, she conducted research on international relations and Spanish domestic politics for La Asosiación Profesional de Sociología de Castilla y León. On campus, Zenia is active in organizations such as Project Pumpkin and HerCampus as well as a member of the Sigma Delta Pi Spanish Honor Society. She is looking forward to working with Latina Republic to amplify marginalized voices and learn more about issues affecting Latin America.