As with most cities where immigrants make up a minority of the population, Latino immigrants in New York City live in tight-knit communities throughout the five boroughs of Manhattan, Queens, the Bronx, Staten Island, and Brooklyn. Washington Heights, a neighborhood located on the northern part of the island of Manhattan, and is one of the largest of these immigrant communities, with 70% of its 200,000 residents identifying as Latino.
Though the composition of this population has diversified slightly in recent years as more immigrants from Mexico and Central America seek to make New York City their home, the historic wave of Dominican immigrants fleeing political upheaval in 1961 after the assassination of longtime Dictator Rafael Trujillo continued to grow and would eventually ossify into NYC's largest immigrant population. Today, around 75% of Latino Washington Heights residents are either Dominican by birth or come from Dominican families. 
As such, Dominican culture is very prevalent in Washington Heights. Walk down its streets flanked by beautiful pre-war apartment buildings and neighborhood-owned businesses and you will likely hear Merengue or Bachata wafting out of apartment windows and shop doors. Dominican identity is also a point of celebration and study, with annual Dominican Day parades, a Dominican film festival, and a Hispanic Society Museum.
More than half of the neighborhood's residents were born outside of the US, and this profusion of transnationalism is accompanied by a high level of engagement with their country of origin. For instance, many residents will take yearly trips to the Dominican Republic to visit family and friends, and it is common for Dominican families living in Washington Heights to invest in their home communities through monetary remittances. The immigrant community is engaged with life in the DR to such an extent that Dominican politicians will even come to Washington Heights to deliver campaign speeches.
As with many immigrant-based communities of color, the impact of the virus on Latino New York City has been especially destructive. Reports shared by Mayor Bill de Blasio have shown that 34% of the dead in New York from the Coronavirus have been Latino, a disproportionately high rate when considering that the Latino community represents only 29% of the city's population. Washington Heights is no exception to this disturbing trend, as it both represents the largest Latino community on the island of Manhattan as well as one of the highest rates of COVID transmission.
The health crisis has compounded with existing crises of poverty to give rise to some incredibly bleak scenes. For many New York Latino immigrant families with a member who died from the coronavirus, proper burials and the repatriation of bodies are not affordable options, and what remains is to bury their loved ones in mass graves on islands off the coast of Washington Heights.
This severe impact can be attributed to various disparities in access to health care, levels of poverty, and living conditions. More subtle difficulties, like a language barrier, can further complicate fraught circumstances by preventing one from seeking care at a hospital or clinic.
Moreover, 84% of Latinos do not have the option to work from home, a rate much higher than other ethnic groups. They work jobs on various of our communities' front lines which permit the rest of society to stay home but, in turn, present higher levels of risk: many find work as health care workers, cooks and supermarket cashiers, and as repairmen.
In addition to all of this, undocumented immigrants are not able to receive any of the $2.2 trillion in benefits from the Coronavirus Aid, Relief, and Economic Security (CARES) act, and will likely be excluded from any future Federal Coronavirus relief. Undocumented people are also barred from collecting unemployment benefits, another key lifeline for struggling families.
These distressing series of facts illustrate the harsh truth of how the undocumented community in the United States simultaneously lives in situations of greater precarity yet has far less access to the governmental resources than documented Americans.
Despite, or perhaps in accordance with, this lack of access to resources, robust community support networks become integral to the resilience and health of Latino immigrant communities like Washington Heights.
Though historically the neighborhood has always had a number of sizable and supportive institutions like the Met Cloisters Museum, Yeshiva University, and Columbia Presbyterian Hospital, these venerable mainstays of life in the Heights are not able to provide their usual support networks and sense of community during the pandemic.
Additionally, none of the above institutions pay direct attention to Washington Heights' Latino community, which constitutes the majority of the population. 
Where, then, might Washington Heights residents seek community in this time of crisis? Reporting on a 2013 PEW survey suggests that religious institutions may provide an answer.
The study finds that religion plays an important role in day to day life for Dominican immigrants living in Washington Heights, with data suggesting 75% of Dominican Americans followed some sect of Christianity, and around 40% attended Church at least once a week.
Given such high rates of religious faith and churchgoing, it comes as no surprise that houses of worship have become focal points of community and resilience in response to the COVID-19 pandemic.  
Latina Republic was fortunate to have the opportunity to speak with Mickey Correa, a Pastor at Christ Church Washington Heights and the Chief Program Officer at the Blanton Peale Institute and Counseling Center, located in Midtown. His dual roles as Pastor and CPO give him a strong understanding of how the pandemic is affecting important community institutions and how people are coming together to respond to the crisis.
Pastor Correa interweaves extraordinary stories of resilience that he has encountered with his personal experiences growing up and working in New York City. In doing so, Pastor Correa touches on the role of his Church as a place of refuge and acceptance, the current needs of the community, and the creativity that has arisen out of such unprecedented challenges. 
Latina Republic: What is the church's role in the health and security of the latino community in Washington Heights? Can you comment on the immigrant community, more generally?
Pastor Correa: Washington Heights was historically a predominantly Dominican neighborhood, now it is much more diverse, in the realm of the ethnicities it represents, particularly from Latin America. So we have a number of folks not only from the Caribbean, but also from South America, Central America, and Mexico. 
In terms of the responsibility of the church to the community, the big question is: Can we provide safety, a safe place for people, regardless of their status? I think this has become a pretty big question for folks.
I am also a trained social worker and therapist so I've done these kind of work with people, one on one, outside of the religious context.
So for me, it's important to create a space, where people can know that we're not just the church in the sense of religion. This is a place where people come, sing, do the church thing, but it is also a space where people can struggle together; a place where people can feel comfortable enough to share what they're struggling with. 
Oftentimes, I have noticed from parishioners or visitors who are specifically immigrant, that they have a lot of issues related to health insurance; this is a huge one. I've been here for about six years now. In one of my first couple of years at Christ Church Washington Heights, (it was actually called Broadway Temple United Methodist Church, and has been in the community around 90 years), I had a visitor who came to church.
He enjoyed the 'church' part of it, the liturgy and interacting with other people, but he had a health crisis. His status was complicated. He came to the services and for him the big issue he faced that I've seen as a social worker and that I now see in the church is: What about medication, how to cover medication? Just being able to strategize for situations like this one is both a joy and a challenge. It's a joy because we can respond, but we know we can't do that for everyone. In the ministry context of what we do, I can tell you a little bit more. 
Latina Republic:  Yes, please do. 
Pastor Correa: I think our responsibility is to create a safe place for people to find respite from the challenge of feeling they cannot walk safely down the street in their neighborhood, because of ICE threats. Or feeling that they don't know if they're going to piss off their neighbor and the neighbor is going to make some accusation.
Being able to say that they can go to a safe place is what church is about. Folks that might have had some relationship to their own religious contexts in their home country, are not quite sure how to navigate that back here. Just being available has been important.
I serve a somewhat of an older parish; a mostly impoverished people, but I think one of the things we've learned in our community is that even if we don't have many resources in our faith community, we can figure out how we can help. 
This is something that in a lot of Latino contexts, we know. I was born and raised here in New York, in a Puerto Rican family in the projects, on welfare, to a single parent, and we had to figure things out. 
Recently, a medical student finishing up his years at Columbia reached out. He had worked with a survivor of COVID and this gentleman was quite ill and lives here alone. His family is in Mexico, and he wanted to connect to a community. 
He's isolated from his family and pretty much lives in a boarder situation with a roommate. He wanted to have some sort of connection to a religious community. We're Methodist and that's our tradition. 
My entire congregation is pretty progressive, so we are embracing of multiple ideologies and theologies and I was able to connect with him. I was able to give him a call.
I thought it was wonderful that that physician was able to just reach out into the community and say: "okay, what churches are nearby; can I get a pastor on the phone, and can I make that linkage," and we were able to connect. I was able to contact this person. The most important thing in this situation is that there is someone in need of some sort of community. How can I make this space available?
Not proselytizing, but saying "we're here and we want to support you." And he's been able to connect. He has returned back to work and he's just so appreciative. The way he explained it to me, is that he was spared. We know that COVID has been hitting our communities and people of color in such a harsh way. One of the first things he said was, "wherever I can be of help to the church…I'll paint…" And this is powerful. That this person is just recovering from this awful situation that could have taken his life and he's thinking, "how can I help, what can I do?"
Latina Republic: I find it really interesting that you sort of are on two fronts of the community response to COVID, both as a religious person and not. I'm really interested in your work as a social worker, and perhaps you could tell me a bit about your organization. In addition to that, if you could tell me a little bit about the role of religious faith in the work that you do with the church, specifically in regard to the sense of community response, togetherness or resilience.
Pastor Correa: So, I'm an interesting character, I've never been someone to stick to one thing. When I went to grad school and undergrad, I needed to do a double major. When I went to grad school I did a joint MSW/Masters in Divinity so I went to a seminary and I also went into social work school.
And I've worked a number of jobs. I started off working with the homeless. This was my first job after college. I couldn't land a job in anything else, because no one is running to hire someone with a double major in history and religion.
Latina Republic: Hits too close to home. 
Pastor Correa: I wanted to do meaningful work. I didn't know if I wanted to be a therapist or a social worker. The first organization that hired me was the coalition for the homeless. During my first week there,  I heard all types of stories. I remember a heat wave and we had homeless people coming to the coalition for the homeless that probably hadn't taken a shower in weeks, months, who knows.
It was an overwhelming experience because it was a sensory experience. The smell was so malodorous, but at the same time the people's stories fascinated me. 
There were some cases of severe mental illness ,and there were people that had some awful things that happened to them. There was also the story of undocumented folks that were here and just couldn't figure it out.
I remember one story, and I think part of those stories led me to graduate school, this older woman who had come from I believe, Colombia. And I'm not sure what had happened to her. She was 'non status;' I hate using these terms and phrases.
And she was threatened by a social worker in her shelter who told her she needed to figure it out. This was an older woman who had mobility issues. She must have been in her 70s.
She was told she needed to figure out a plan for where she was going to live because the shelter system was not her end of life housing arrangement. 
And this woman was terrified, because she had been threatened in her home country, and she couldn't go back. She didn't have anywhere to go back to. She didn't have family.
And that story made me so angry. I tried calling the social worker – I was younger at that point though, and the person was also a Latinx social worker which, was a double-wounding.
But she never picked up her phone, and she never called me back. Stories like this made me want to go to graduate school and be a better listener. At that point I thought, "Okay, I'm trying to help people strategize around getting resources. How do I do this better? How do I become a better listener and do more than just sitting here and just listening?"
So I ended up going to graduate school, and I ended up working in lots of different areas. 
I currently work as the chief program officer at the Blanton Peale Institute and Counseling Center. It is fascinating work because there are intersections. Blanton Peale has been around since 1937. It's in midtown, and it's a combination of an outpatient health clinic and a training program. Blanton Peale actually started in the post depression era through the clergy of Marble Collegiate.
Vincent Peale, who had written the Power of Positive Thinking, had noticed that people in his parish were really struggling to survive the post depression era and he knew that they needed to be treated. He knew he could treat them as a pastor but he knew there were deeper issues, psychological, emotional ones that they were struggling with and needed someone to support them.
So he connected with a psychiatrist named, Smiley Blanton. They combined efforts and formed this organization, that wasn't called Blanton Peale then. Blanton Peale was renamed in 96′.
As the Chief Program Officer, I oversee our outpatient clinic and our training programs. In my work now I don't do as much direct clinical practice. I have taken a couple of cases I work on, including someone who wanted a Spanish speaking therapist. That is always a problem in our field. 
I have been at Blanton Peele almost a year, and this is one of the issues that I have been looking at.
How can we address this because we don't have as many bilingual therapists specifically for Spanish speaking folks?
So I have taken a specific case working with people who are dealing with what it means to readjust back to the United States. 
They have an interesting story. They were born here, but they were taken by their parents back to South America when they were young, probably a toddler, and that has been the core of their identity. So now returning back to this place brings a number of things because they are also with their partner who has never lived here. 
The Concept of Safe Space
I grew up in a pretty dangerous neighborhood here in New York City:  the projects of Red Hook. My elementary school principal was shot and killed when I was in fifth grade. He went to go get a student that had run out of the school; he was just that type of guy. He didn't wait for the police. He knew that there was a child that was his responsibility.
He was in the wrong place at the wrong time. There was a gang turf war going on, and he was shot and killed. So I lived in that neighborhood and my mom did not let me go out. We weren't able to go to the playground because it was a dangerous hood. 
Church was the place where we could go; it was the safe place. So this concept of the 'safe place' is important to me because it was where I essentially was able to socialize outside of school. And so that has been something that is important to me, a place where I can go and socialize with other human beings and where I could also go to learn about the idea of God, of a loving God.
A God that embraces us even when we don't feel safe in the world and where we can find a place within ourselves to feel okay; a place where we can feel that love and generate that love outside. And so that's important to me because religion has become such a dangerous thing in the world. 
And one could contend that historically it has always been sort of dangerous. It has been a turf war, 'my God is bigger than your God,' and all that. I'm a pretty progressive clergy person, so I'm all about not just looking at this book and this text and worshipping that text and dehumanizing people over an idea; what people call, theology. 
Human beings' embodied experiences are significant. It is important for me to serve a congregation and for people to feel that safety, regardless of where they're at on their faith journey, whether they believe in God or not.
It is about the questions. When you leave the space where we work, will you go out and love people? Will you go out and look at people differently? Can you still see the Imago Dei, the image of God, in others? 
For me, this is important, because there's a lot of hate in the world and there's all types of isms. I make sure to be explicit about that, about tackling transphobia, homophobia, xenophobia, isms, classism. We also talk about how religion has been complicit in allowing some of this to happen, and we talk about the love of God and how structuring ourselves in ways that are oppressive or that embody oppression is a contradiction and is incongruent, at least with how I interpret the gospel of Christ.
For the religious community that I lead, it's been important that just because of the pandemic, we would not disband.
I got a question early on from a colleague, 'do you think your congregation will survive this pandemic?' I have an older congregation, so I was a little concerned. I'm a millennial and I can figure out technology, but I don't know if my parishioners know as much about technology. These people are important, and they need to know that God is with them and that we're not going to be isolated. So we worship on Zoom. I have added a prayer service, which has  always been a challenge to get people to come to church midweek, but now they get to join us from their own home.
We meet on Wednesdays at 7:00 pm to about 7:30-7:35pm. It's been important for people to know that we have been together. 
The wonderful thing that I have experienced using virtual worship is that not only do I have some of the immigrant communities that worship here, but that they've contacted their families, so I have parishioners that have connected us with their families from the Dominican Republic. 
They have joined our worship service online or our prayer service online, or from another state. And it's just a fascinating way to know that we're dealing with a community- from a community stance, it's a way of checking in on each other, but also for some people, is a way to connect with their families that they haven't seen in a while. 
And I think that's a wonderful thing. It's been a wonderful opportunity. For my older, older parishioners that can't do the technology, I do the old fashioned thing and just give them a call. I make sure that people are also calling each other. This is just a way of building community. 
*********
By building a safe space of refuge in which a community can grow, Correa's work as a pastor at the Christ Church in Washington Heights supports needy members of his community spiritually, emotionally, and physically. His work at Blanton Peale continues this idea by providing culturally sensitive care. If you would like to contribute to the work of either Blanton Peale or Christ Church NYC through a donation, you may do so using the following links.
https://securepayment.link/blantonpeale/
https://www.christchurchnyc.online/donate 


---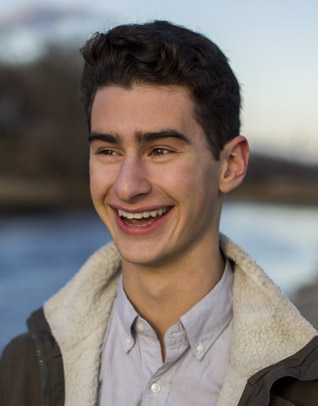 Daniel Tepler | Bates College
My name is Daniel Tepler, from Bridgeport, CT. I am a rising Senior at Bates College where I study Politics, though I recently spent a semester in Mérida, Yucatán, Mexico where I studied Mexico-US relations at the Universidad Autónoma de Yucatán. I am currently completing virtual interviews with ex-US migrants in Oaxaca for a journal article which explores the role of return migration on local electoral politics in Mexican sending communities. By listening to immigrants with fascinating stories of ingenuity and resilience, I began to appreciate personal storytelling as a tool to highlight the human impact of national immigration politics. In my work for Latina Republic, I hope to highlight captivating narratives of immigrant contribution to society and, in doing so, engender greater compassion for immigrants living in the US.