The state of New Mexico is known for dry weather and being part of the Four Corners Region, sharing its border with Utah, Arizona, and Colorado. A more relevant fact, however, is that about 49% of its residents are Hispanic or Latino, the highest percentage out of any US state. 
Many in the state under this category are descendants of Spanish colonists. In the northern region, several people speak New Mexican Spanish, a distinct dialect created by the mixture of Castilian Spanish used by 16th century colonists and the Indigenous language, Nawatl.
Other Latino folks in New Mexico have different ties in the US that go back generations. As with many people in the Southwest, their ancestors were able to migrate north freely because the punitive Borderlands didn't exist as they do now. In terms of more recent arrivals, about one out of ten of all people in the state are immigrants born outside of the US, and the majority of these people hail from modern-day Mexico. 
The story of a local nonprofit
New Mexico's strong Hispanic heritage is seen in the capital city of Santa Fe, where the percentage of Hispanic or Latino residents is 55%. This is the context in which the nonprofit Santa Fe Dreamers Project came into being. Founded in 2015 by an attorney named Allegra Love, the organization provides free legal services to immigrants to promote economic empowerment, community development, family unity, and liberation from detention. 
The Santa Fe Dreamers Project, or SFDP, has offices in major cities like Santa Fe and Albuquerque, and does outreach through rural legal clinics in Taos and Valencia counties. Its employees have also provided remote assistance to clients in several other counties in New Mexico and have served people on a case-by-case basis in 10 other states.
SFDP supports economic empowerment by helping immigrants navigate the naturalization process to have citizenship status, as well as DACA and TPS (Temporary Protected Status) that can also allow people to access work authorization. The nonprofit provides a sense of community for people seeking asylum with their latest legal clinic called SAFE Place in Santa Fe. In terms of family unity, they work to keep families together with green cards and work to protect children from deportation in the Special Immigrant Juvenile program. 
Their impressive community programs are coupled with their work in detention centers providing people with representation for bond, parole, and on the merits of individual hearings. A testament to their widespread impact, SFDP is currently providing legal services to people in detention centers in Texas, Louisiana, and Colorado, not just their own state. At the same time, SFDP is organizing against detention in New Mexico with its campaign for the public to divest from the private corporations that profit off of the bodies of people in the centers. 
There are currently 24 people on the staff, all of whom are fluent in English and Spanish save about two who are still developing that skill. Along with volunteers and partnerships with other organizations, the team makes a big difference. 
About the founder
Love never anticipated becoming an attorney advocating for immigrant human rights, however. When she moved to New Mexico, she taught a Spanish and English bilingual class at Agua Fría Elementary School. As a white person, this was her first immersion into a Latinx community, which was the predominant demographic at the school. Through becoming close with the children and their families, she came to understand that the negative portrayals and xenophobia perpetuated in the news didn't match the people she was working with. 
After an ICE raid resulted in a dad being arrested in Santa Fe and she saw the fear this instilled in her students and families, she felt the need to better understand the US immigration system. She decided to volunteer with an organization called No More Deaths that provides humanitarian aid to human beings who are seeking to come to the US at the US-Mexico border. After that experience, she felt compelled to become an attorney in order to, in her own words, "contribute to changing policy and making the world a slightly safer place."
The heart of her work
The nonprofit she founded was inspired by young people in the Deferred Action for Childhood Arrivals (DACA) program. DACA has impacted immigrant youth across the nation, and about 5,800 young people in New Mexico alone. Love shared that for some of the people their nonprofit is assisting with DACA renewals, it's the third or fourth time they've renewed with the organization. She considers herself lucky to witness the life trajectory of clients in the DACA program who were students when they first met, but now are young adults, several of whom are married, have kids, bought homes, obtained multiple degrees, and started businesses.
Some of the SFDP's staff members are immigrants themselves, including participants in the DACA program. Love is proud of the trust that exists between staff and clients that has built up over the years. She says it is crucial for any successful legal program that you make sure people know you're not there to take advantage of them, or you're not going to just show up and disappear.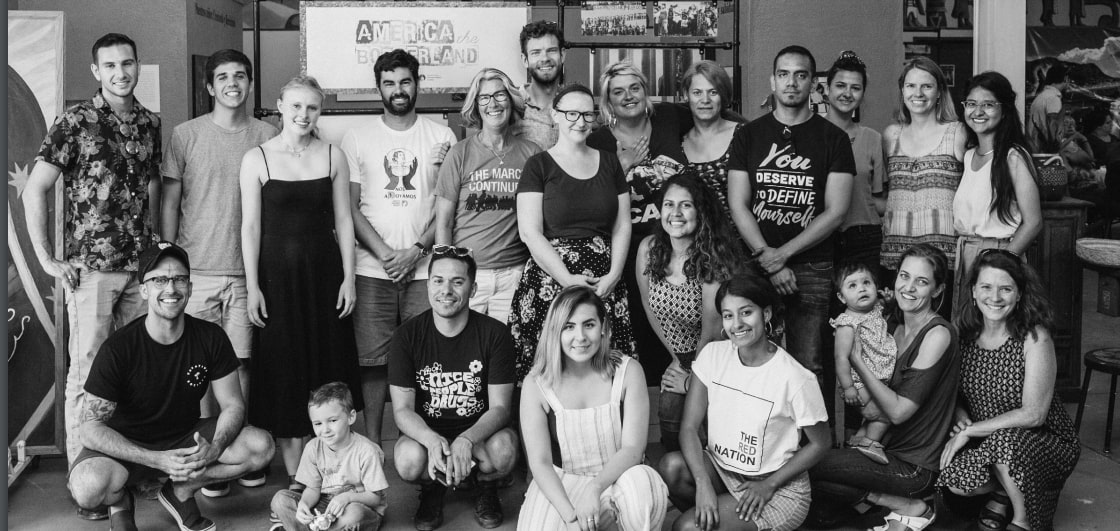 That's the key to their outreach in rural areas, where it can be harder to access services that are available in the cities. In light of this barrier, this innovative organization remodeled an RV they call "Dreams on Wheels" to aid with DACA renewals in hard to reach areas.
Love is impressed by how so many people in the DACA program are professionally fluent in English and Spanish. She views bilingualism as a strength, which is why nearly all the staff speaks both languages and their website uses both as well. She often advises other legal aid organizations in New Mexico to consider how important communication is in terms of accessing services, especially since about 1 in every 3 people in New Mexico speaks Spanish at home. Love believes that communication in lawyering, in working, in community service, in any community building, is absolutely paramount, which is why bilingual services are an important aspect of their work.
SFDP's newest clinic called SAFE Place
That's not the only way the nonprofit is tailoring its services to be resonant with the communities it serves. Love shared that in the spring of 2019, there was a marked increase of migrants seeking protection through asylum on the US-Mexico border, and this was the last major instance where these people were released into the US on their own recognizance to return to Immigration Court. As a result, there were about 60 families arriving in Santa Fe.
In response, SFDP created their latest clinic, where families can come to meet with a lawyer who helps make sure they're submitting the right paperwork to keep their asylum cases alive. Asylum is a protection that's supposed to be granted to people who are fleeing their home country because of persecution on account of race, religion, nationality, political opinion, or membership in a particular social group.
These families will eventually have asylum hearings in the Immigration Court in El Paso, Texas, but the wait is excruciatingly slow. It's also daunting because the El Paso Immigration Court is one of the most hostile in the US. It's one of several "asylum free zones," where denial rates for asylum cases are so high the courts virtually deny people the protection completely. 
In El Paso, the denial rate is about 97%. Love explained that this isn't because people don't have good asylum cases, but rather that "it's become an extremely toxic jurisdiction where the courts have been weaponized against asylum seekers and weaponized in favor of Trump's anti-immigrant, anti-asylum seeking policies."
The hostility of the El Paso Immigration Court lies in stark contrast to how SFDP recognizes that people seeking asylum are whole human beings. This is why the SAFE Place clinic offers comprehensive services outside of legal aid. For example, it provides in-house mental health counseling, and lets people know where there are resources for kid's food and school supplies, as well as diapers for young children. 
Transgender human rights and detention centers
Another major part of SFDP's focus is detention centers. Love often works with people in these centers and has witnessed the abuse of human life that occurs there. This is profound implications for transgender migrant women in detention, especially those who are HIV positive and in a crowded detention center during the pandemic. Several transgender folks held at a detention center in Cibola, New Mexico shared that they had been sexually assaulted or sexually harassed. A 23 year old transgender woman named Jenny Garcia said guards made her strip and bathe with men at Cibola, even though they knew she identified as transgender. Her months in Cibola made her feel isolated and dehumanized because her time there included the extensive use of solitary confinement.
This is why SFDP has been working to match trans women migrants with sponsors across the US who open up their homes so that they can be released from detention while their asylum case is pending. The program has been enormously successful in finding hundreds of sponsors.
In the meantime, however, corporations are profiting off of the people they keep detained. CoreCivic and GEO Group are two powerful private prison corporations with a wide reach in the US. In New Mexico alone, they operate 7 facilities, including jails, state prisons and ICE detention centers. 
Love says that "COVID-19 has just nakedly displayed just how little people care for the folks in their custody," and shared that these corporations are very resistant to oversight from local governments. That's why her nonprofit is finding ways to investigate how we are connected to this issue individually. Banks and insurance companies, for example, often have diversified stock profiles with investment in these corporations. In New Mexico, retirement funds for teachers are tied up with the prison-industrial complex as well. That's why SFDP is pushing for the New Mexico Educational Retirement Board to divest from the corporations and are spreading awareness about the problem to the public.
If you are an educator in New Mexico, your retirement funds have direct holdings in private prison corporations CoreCivic and GeoGroup. These stocks are not only ethically egregious, they are also underperforming, financially risky investments. #NMERBDivest @fronteristxs pic.twitter.com/EEHk7yRqs3

— Santa Fe Dreamers Project (@santafedreamers) August 10, 2020
The future of advocacy
After a busy five years, Allegra Love is stepping down from her role as executive director to focus on lawyering. She will continue to be an inspiration, however, leaving us with wise words about advocacy and the upcoming 2020 election.
Love says "there needs to be a radical shift in people's imagination of who immigrants are and how they fit into society." She pointed out that the large-scale problem is not Trump himself; it's our acceptance of the criminalization of people who have to migrate to live. Love knows there is no justification for the abuses that are happening today, like the people she knows who have miscarried and are chained up in solitary confinement in federal detention, where the only thing that they did was seek asylum in the United States. Although Donald Trump has definitely capitalized on people's ignorance and apathy on the issue, she knows that only voting him out of office won't just make all our problems vanish. 
However, Love still knows that voting for Joe Biden would be helpful because there is a lot at stake in the 2020 election. The Trump administration issued a memo on July 28th that significantly scales back the DACA program while it decides how to proceed in terminating it completely later on. Joe Biden, on the other hand, wants to reinstate and would ensure that Dreamers are eligible for federal student aid for college. Although we need to push further for a path towards citizenship, we also need a base level of support for that change to be possible.
It is violent to have people's human rights be jeopardized by who happens to be president. 
Your action items
The Santa Fe Dreamers Project provides an impressive array of services to help people navigate the ever-shifting immigration process. The most important underpinning of their work, however, is that they recognize the humanity in people who are violently dehumanized.
If you can support SFDP's work through a donation, click here. If you have the ability to vote in the 2020 General Election, we invite you to do so because the outcome has direct consequences on people in the DACA program who themselves are not allowed to vote. 
We want to remind you that each of us deserves to live without fear of the future. Each of us deserves to live in a society where we are treated with dignity and respect. 
Thank you for joining us to make that vision a reality.
Featured Image: Photo credit: Anne Staveley
---
Natalia Johnson | University of Minnesota
Natalia is a rising senior at the University of Minnesota, where she is pursuing a double major in Spanish and sociology. Although she was born and raised in the US, Natalia is a bicultural woman who has had the privilege of traveling to Costa Rica to visit her mother's side of the family. She has used her Spanish language abilities working as a translator for the Volunteer Lawyers Network and as a National Asylum Help Line Responder at the Advocates for Human Rights, experiences that instilled in her a passion for social justice and immigrant advocacy. Natalia is a firm believer in empathy and the power of communication. As an Immigration Writer, she hopes to bring immigrant experiences into the national narrative and will use her platform to spotlight organizations that provide hope during these extremely difficult times.