Mara-Joanne Derinor goes by @belle_la_poet, which is her stage name. Mara-Joanne's parents are Haitian immigrants. They moved to the U.S. as a young couple, after her father received permission from her grandfather to take Mara-Joanne's mother to the U.S. "That's a big move, right there!" said Mara-Joanne's grandfather to her dad. "He made the sacrifice and let her go."
"I am a first generation Haitian-American," said Mara-Joanne to Latina Republic. "My parents came over to the U.S. from Haiti when they were fairly young. My mom was 19 and my father was in his very early 20s." 
Mara-Joanne lives in Orlando, Florida, and holds many hats. At just 25 years old, she is a front-line traveling nurse, working under contract to help fill the gap across the U.S. where there are nursing shortages.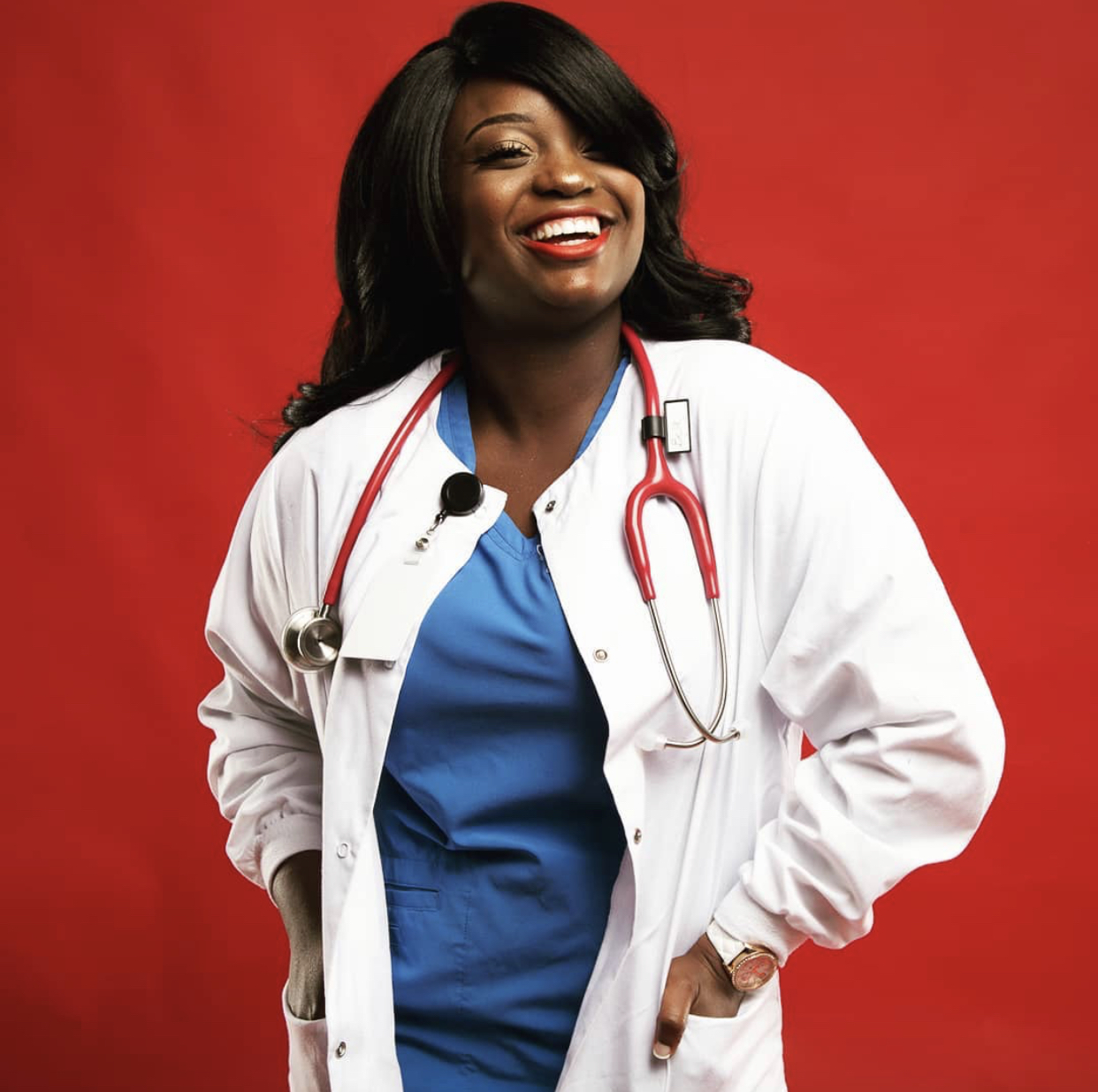 She is also a poet, an artist, a children's book author, a dancer, a director and a world traveler.  
"Currently I am in Tampa, but my next nursing assignment, I am not sure where it will be."
Ever since the surge of COVID-19 there has been an increase in demand for nurses. Even though the job puts her in contact with sick patients, she loves the profession. 
"More nurses are able to do travel nursing right now. You chose where you'd like to go and they will send you depending on the demand. I love it. It is the best decision I have ever made in my career,"  beamed Mara-Joanne. 
During our interview, Mara-Joanne told us that she credits her excellent health and COVID-free body to her mother's teas. She told us that one of the most amazing things about Haitian culture is the knowledge of plants, roots and home made remedies to boost your immune system. Her mother taught her how to make Haitian-inspired teas, and she takes them everyday.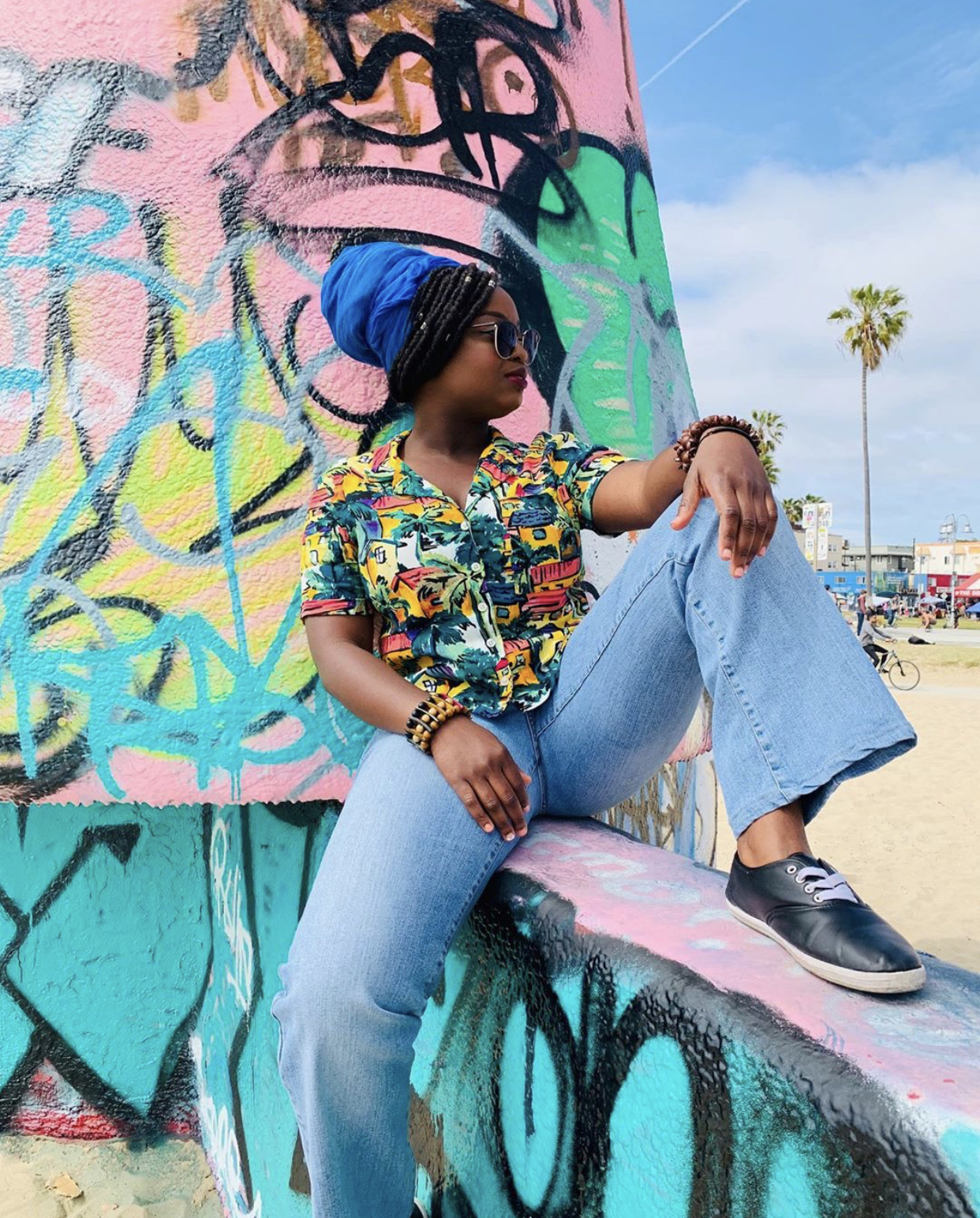 The Interview
What follows is a portrait of a Haitian-American young woman who is extraordinary. Her story reminds us of the rich heritage that immigrants bring to the United States and the incredible contributions that immigrants and their families make everyday in this country. Belle La Poet, is a true inspiration to all of us. 
Latina Republic: Let's start with your heritage and with Haiti. How frequently do you visit the island? 
I go every year. Lately, I have not been able to go due to the virus. 
Latina Republic: What does Haiti mean to you? How would you describe the culture, the spirit and the people? 
Something I love about Haitian culture is that the Haitian people are strong people. Especially with the history of Haiti leading the largest slave revolt and ending French colonialism. They stand against circumstances. They make the best out of life. 
I feel that the Haitian culture is so rich. I'm just so happy that I was born into it. Our strength  pushes me to be the strongest version of myself and to learn the history of my grandparents, and those before them. As a Haitian-American I am connected to two places, the US and Haiti; two completely different places but I am very grateful that I understand both stories. 
Latina Republic: Most Americans don't know much about Haiti. What would you tell them? 
Yes, statistically, Haiti is considered the poorest.  But also, Haiti, in the beginning, was the richest. There was gold, diamonds, treasures. In the history of Haiti you learn that Haiti had to pay France after they claimed their independence. Haiti is actually very rich. It is full of luscious beaches, the agriculture there is so rich, that is why during the time of trading there was sugar cane,  and the land was so lush, that's why the French colonized it and brought over slaves to work the land. 
Even now, if you go to Haiti, another thing I love about it is the food there is completely organic. When I go to Haiti, I eat, eat, eat and still lose weight! I feel healthier. Not only that, because the land is fertile, it is able to feed the people. Everything is so organic, and Haiti, has beautiful scenery. There are mountains, beaches, and valleys. 
A thing I would say about Haiti is that it is a place to explore. The food! Don't get me started about the food! I do travel the world, but Haitian food is incredible. The spices that Haitians use and the natural remedies that we produce keep people healthy.
Especially in the times of COVID-19, Haitians know their roots and they know which plant to boil, which root to use, and how to combine things to create a remedy. To the point where a lot of people in the country were not diagnosed with COVID-19 because they were treating themselves with natural remedies. They knew what they had to do to boost their immune system through natural remedies. 
Recently, I did a COVID-19 assignment on the front lines in New Jersey and my mom, she would make tea for me, and I started making that tea and drinking it every day. And a lot of people were testing positive,  and I was negative. I was shocked. I thought, "there is no way that I won't get it," I am working with these patients who are not wearing masks. But I have stayed healthy. 
Latina Republic: Let's talk about your many artistic talents. When did you discover your talent with poetry? What types of stories do you tell and for whom do you write? 
I have always written. Growing up in Florida, there is something you take called the FCAT. You have to take it, and once you get to a certain age, you have to take the writing portion. When I was in 3rd or 4th grade the teacher would prepare us for that. I remember every time I wrote the teacher would ask, "How do you even know these words?" I ended up scoring the highest in that exam. And I got a trophy for it, which I still have.
I always wrote. As a little girl, I always wrote in my diary. It got to the point where my brother started reading my diary and I was not very happy about that, so I decided that whatever I was writing, I would change it into a format that no one would know what I was talking about, but I knew what I was talking about.
I would do word play, or change a scenario, and this allowed me to enhance my writing skills even more. 
In college when I was 18 years old I remember there was a talent show that was happening and I saw a poet on stage. I didn't really know what she was doing, but whatever she was doing, it was really cool. After I saw her, I felt very inspired. And I just went on stage. No rehearsal, no practice. I decided I would go up there and people loved it! So I kept doing it. It came to the point I thought, I need to take this seriously. I wrote more, I rehearsed more to the point now that I am competing.
I am a 2 time winner of the Slam Competition and I m ranked #4 out of 14 poets in Dallas.  And those are accomplishments that make me want to keep going with the poetry. 
I used to write in school. I did freestyle, rap battles. I was always in class, making some type of song, getting the class to interact with me.
I always wrote in a notebook, but I didn't know that it would turn into poetry. 
Latina Republic: What types of stories do you tell through your poetry?
My stories are about raising awareness. My poetry covers self-love, domestic violence, the Black Lives Matter Movement, human trafficking, heart-break, emotional abuse, overcoming. The main theme in my poetry is social justice and raising awareness. 
Latina Republic: Who is your intended audience?
I write for a general audience. I want my message to get across to everyone. Whether you are sick, happy, heart-broken, or going through a difficult time in your life, I want my poetry to be for everyone. 
Latina Republic: Tell us about your Children's Books.
Currently, I have 4 published books. 3 of them are children's books. 
My Black is Beautiful 
The first one I wrote is, My Black is Beautiful. I wrote this book when I was in Los Angeles, based on my poem, My Black is Beautiful. I wanted children to understand the poem in a way that was more in their language. I took the poem and translated it for children to understand and grasp the meaning of that.  My Black is Beautiful raises self-esteem, self-love.
I felt growing up in the United States that being black wasn't necessarily the standard of beauty. I didn't see in the commercials or cover girls or whatever it may be, anyone who looked like me. I questioned, am I really beautiful?  
As a young woman I would go to Haiti and say, 'Wow. There are people who look like me!' America is such a melting pot it is important that we embrace everyone. We have blacks, Latinas, Asians, whites, to the point that there should not be a standard of beauty. The standard should be human.
When I was little, I used to question so much. Why are my eyes not blue? Why is my skin so dark? Why is my hair so kinky that it does not blow in the wind ? Why why why why?  That's why I created the book. I didn't want kids to go through that. When you are growing up you start to question. I want this book to be the answer to those types of questions.
The book is not only catered to young black children, in the book there are princesses from all over the world. The princesses in the book, they help her to feel self love. Though they look completely different from her, the princesses tell her, "I love your hair," "I love this about you." It not only boosts the self esteem of black children, but  it touches other children who are not black, leading them to ask, "How do I make children who don't look like me, feel included."
Benji into the Harlem Renaissance
Anyone who knows me knows the Harlem Renaissance is my time, my era. I've written college papers on the topic, especially when I studied dance. It is the start of jazz, literature, poetry. It's the peak of being artistic as a black person in America. I wanted children to understand where art and African American culture come from. So I created Benji into the Harlem Renaissance, which is based on Benji, my baby brother.
In the story, Benji goes into the Harlem Renaissance where he learns about Duke Ellington, Benny Goodman, Ella Fitzgerald and other greats. I don't want that education to die off. I want kids in this generation to learn about these people in the 1920s and become inspired. 
If you want to be a literature artist, a jazz soloist, a painter, these are the people that we can look up to and be amazed and inspired by. So, this is the story of Benji into the Harlem Renaissance. 
I also have a 3rd children's book. 
Lobisha the Lobster
This book teaches about pollution and ocean acidification. It is a book catered to pre-k, kindergarten through first grade. It gets kids familiar with why it is important to take care of planet earth and to understand how the earth is affected by our actions. If we are causing pollution and littering into the ocean we may not feel directly impacted but there are other creatures that are impacted.
It also addresses the issues of bullying. So it teaches children to go green, and be aware of pollution because humans are not the only ones affected.
I do book readings for free, where I read to children. I go to different elementary schools or I'll go to foster homes. 
Broken Crayons Still Color
This is my fourth book, and it's a poetry book for adults. It is a collection of a majority of my poems. At the beginning of the book, the poems are centered around being hurt, broken, having no hope, and as you keep reading, it gets brighter and brighter.
This book  has photography art, which are dance pictures of me with colored powder and colored smoke. Since I'm a dancer, I included that and directed that shoot as well. 
Latina Republic: What is your artistic process? How do you start? 
When people book me for events I will design a poem around the theme or what the people would like to know. I can write based on what people give me and I also write based on what I'm inspired about and what I want to raise awareness about. Sexual traffic or domestic violence, and of course my life experiences are incorporated into these pieces as well. 
I do have a few poems that I've written in Haitian Creole. I also want to start incorporating French into my art, which is also a language that is spoken in Haiti.
Right now, I'm working on a set of visual arts project that I am directing. These are very short films with my poems incorporated in them. The newest one that is about to come out is based on Haitian heritage and culture.
It's a poem about Haitian women and it's going to come out soon. 
Latina Republic: How do you manage all your projects, interests and professional career? 
My art is me. I am so passionate about it, and in tune with it. So it's not as if I can detach myself from it. The art is my lifeline. If I'm not being artistic, I don't feel that I am living to my full capacity.
The beauty of my nursing schedule is that full time is 3 days  a week. I'm also in school right now for psychiatric mental health to get my doctorate. I just finished my first semester and have a 4.0.
I believe in making the best and the most out of each day. 
Latina Republic: Have you always been entrepreneurial? Does it run in your family?
This is how I've always been since I was a little girl.
Since I was little, I was a hustler. When I was a little girl I loved dolls. And back in the day you could buy a doll for a dollar. I would go up to my uncle and tell him, "I'll comb your hair for a dollar."  I've always known, you have to work to get what you want. In high school I wanted to go on field trips and so I created a mobile bakery. 
Latina Republic: Can you tell me about dancing and directing?
I have my dance degree. When I was in college I taught dance and I also choreographed. There is a piece I choreographed, called The Last Dance and I also choreographed a ballet piece. I have performed a poem onstage while I danced, so it was my poetry mixed with my dancing. 
So many people ask me, how do Dance and Nursing come together?  The Boss Residence is basically an art therapy business where I do dance therapy as a part of it. I go to nursing homes and I do dance therapy for those who have Alzheimer's, and dementia. You can see the difference that it makes in their lives when you incorporate dance therapy. They love it so much.
It's funny because at first they ask, "Who is this lady? Why is she making us do these things?" They don't remember my name, but when I walk into a room they associate me with art therapy and their faces brighten up.
They are happy because they know it's dance therapy time.
My ultimate goal is to have my own dance studio. 
Latina Republic: It looks like you love to travel! What has travel taught you about life? What do you look for in the places you visit? 
I always love to travel. I always love to go somewhere. Traveling makes me realize how big the world is, how small I am, and how small a situation I am going through is.
I love learning about different cultures, different heritages, different ways of people. I have been to Kenya, Tanzania, Honduras, and other countries. What I find when I travel is peace. I find peace.
I also find excitement for life; excitement to keep living, to keep exploring. 
To learn more about Mara-Joanne Derinor,  you can follow her on IG, @belle_la_poet and @thebossresidence
@belle_la_poet books readings, poetry performances, motivational speaking, art therapy, dance therapy, and can be booked as a vendor to sell books.
You can also contact her via email: [email protected] and through her YouTube: Mara-Joanne Derinor
You can find her children's books and poetry books on amazon, under her name, Mara-Joanne Derinor.


---
Soledad Quartucci | Executive Director
Soledad is the founder of Latina Republic and is originally from Buenos Aires, Argentina. Soledad lived the immigrant experience in the US, which shaped her as an advocate for immigrant rights. Her passion for the immigrant experience in the U.S. led her to pursue a PhD in US immigration history. She enjoyed over a decade of her professional career in academia, but was pulled in a new direction when she learned about Friends of OC Detainees through a student. She was immediately inspired to volunteer and visit women held in detention in Orange County. By learning about their struggles and the motives for leaving their home countries in Central and South America, Soledad saw a need to understand and communicate the regional causes that pushed migrants outside their homes. By staying in touch with women who were deported to Central America, Soledad gained insight into local problems and encountered leaders and organizations in Central America that were dedicated to making their communities stronger, safer, and self-reliant. What started as a forum for storytelling in an effort to destroy stereotypes that depict migrants in an inaccurate light, turned into a nonprofit formed to help support courageous leaders and organizations that work hard every day to improve their countries. The study of migrants fleeing to the US, led Soledad to develop an equal passion for advancing the rights of Latinx families in Southern California where the stigma of public charge and a pattern of immigrant single-headed households necessitates action steps, information and local partnership. Soledad is an oral historian with a passion for human rights.