Since 2013 roughly 1.8 million Venezuelan refugees have fled to Colombia seeking refuge. The populist Venezuelan government slipped into a dictatorship in the 2000's under the rule of Hugo Chavez, the president from 1999-2013, as corruption became rampant. Industries such as oil production and telecommunication were nationalized, turning the free market into a monopoly. Chavez rewarded those who supported his party, the United Socialist Party of Venezuela (USPV), with money, jobs, and various other benefits.
Chavez also imprisoned and limited media usage of oppositional political figures. During Chavez's presidency the economy flourished due to increased rates of oil exports and prices, however he was still deficit spending. When Chavez died on March 5, 2013 and Nicolas Maduro was elected to step in on April 14th, 2013 things quickly began worsening. Venezuela was once the economic powerhouse of South America, but as the price of oil began its decline, so did its economy. At the time, oil consisted of 95% of the country's exports, and there had been little investment in the economic longevity of the country. 
From 2013 to 2015 the price of oil dropped from ~$100 a barrel to ~$29 a barrel. Inflation went from ~20% in 2013 to 53,798,500% in 2020, and today 9 in 10 Venezuelans can't afford daily food with roughly seven million people in need of humanitarian assistance.
Since Maduro took office, he has stayed in power by ruling by decree under the claim of "economic war" with the USA, EU, and various other countries.
As of March 2020, about 5.1 million refugees have left Venezuela, with the highest percentage seeking refuge in Colombia.
 "The country was in extremely horrible conditions. Extremely bad in the sense that you would see people eating out of the trash everywhere, and where I lived bridges would fall and they wouldn't repair them. It looked like a war raging in our town and nothing was being done to fix the damage." – Simón Gamboa, President of Utraven.CO
Countless nonprofits have been founded to provide food, shelter, and medical attention to the endless waves of refugees entering Colombia.
However, due to the sheer number of Venezuelan refugees (5.1 million), their lack of documentation, and unfamiliarity with their rights in Colombia, many survive by taking jobs with poor working conditions or begging on the streets. After the initial shock of arriving in a foreign country many refugees confront the difficult questions:
What now? How do I provide for my family? How do I make a life for myself here?
Simón Gamboa, strives to help refugees like himself answer these questions. He is one of the founders and president of what he describes as an alternative labor union named, Utraven.CO – the Union of Venezuelan Workers and Colombo-Venezuelans, Colombia Chapter.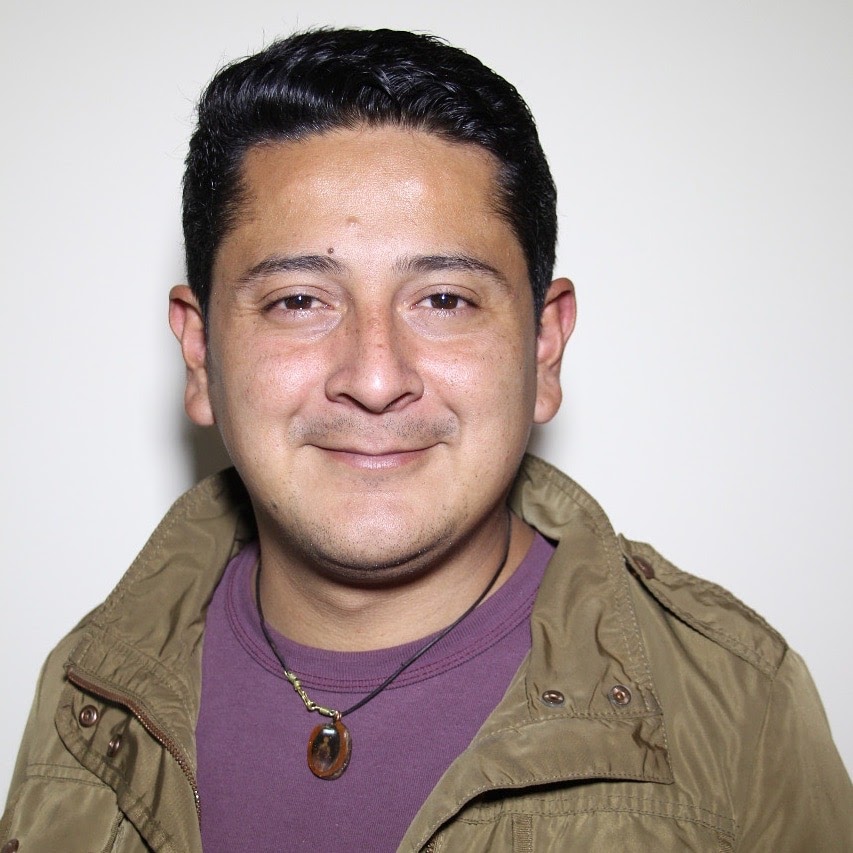 Founding Members:
Antonio Gómez, Simón Gamboa, Anderson Gómez, Richard Garcia, Rosangela Blanco, Alfredo Gómez, Liodys Porras, Henry Torres, Yanira Gonzales, Alvaro Vega
Their mission:
To organize Venezuelan migrants through a workers movement that practices Alternative Unionism.
Their Vision:
To consolidate ourselves as an organization that operates through assertive solutions that contributes to the growth of Colombia and while promoting the individual and collective well-being of Venezuelans and Colombo-Venezuelans.
Principles:
United Action      Collaboration     Independence     Solidarity    Pluralism     Democracy 
Values:
Trust    Respect     Excellence
Gamboa emphasizes, "this is the first labor union of its kind in South America because we represent migrants… and the monthly affiliation fee is not required." Instead, "we ask people we've helped for their support so we can continue to benefit more Venezulan migrants like themselves". 
Gamboa identifies as Colombo-Venezuelan, meaning he was born in Venezuela to parents who immigrated from Colombia. He has the right to claim Colombian citizenship, which he struggled to do when immigrating to Colombia due to the lack of infrastructure in Colombia's registration department.
Now in their older age, his parents are migrants again, in their country of origin. He says, "my parents call Venezuela their country. It's difficult because my parents are here in Colombia and people see them as foreigners."
Even though as Colombo-Venezuelans they are supposed to have the same rights as any Colombian, they face similar barriers as do Venezuelan migrants. 
"Us, Colombo-Venezuelans are double migrants. We say this because we are Colombian migrants who now must return as Venezuelan migrants. In my mom's case, she was born in Colombia, but did her whole career and built up her work credentials all in Venezuela. When she returned to Colombia they did not recognize those achievements. None of those experiences serve for anything, they mean absolutely nothing… she cannot access services for the elderly because the Colombian system is not prepared for this. Therefore, the Colombian returning from Venezuela faces the same problems as Venezuelan migrants in Colombia."
Gamboa's personal experience inspired him to join others in the founding of Utraven.CO to serve Venezuelan and Colombo-Venezuelan migrants. Gamboa wanted to ensure that Colombo-Venezuelans could seek help through his alternative labor union.
Currently, Utraven.CO focuses on supporting Venezuelan and Colombo-Venezuelan refugees with jobs to obtain benefits and safe working conditions. Any Venezuelan or Colombo-Venezuelan worker can go on their website and submit an inquiry. Then a member of his team responds, connecting refugees with employers and with various government resources.
They have received roughly 3,000 inquiries from Venezuelan and Colombo-Venezuelan refugees thus far, and are constantly working to respond and help refugees facing job inequity. 
"We accompany, suggest, and support refugees because in reality we cannot invent laws, mechanisms, or all those things the Colombian government already has in place. What happens is that connection of information from the Colombian government does not reach the Venezuelan migrant population. So we are the cable connecting the two…"
Hermano venezolano y colombo-venezolano que has sido victima de despido injustificado, finalizacion de contrato, entre otros te invitamos a ingresar tu caso en nuestra pagina web https://t.co/nYUCbCuHyC Recuerda que asi como tienes deberes, tambien tienes derechos. pic.twitter.com/I20Y9J5KvU

— Utraven.Co (@UtravenCo) April 7, 2020
The video above, posted by Gamboa on the Utraven.CO twitter account on April 7th, 2020, guides Venezuelan and Colombo-Venezuelan refugees on the importance of filling out a questionnaire on the Utraven.CO website so that the labor union can assist refugees who have lost their jobs due to COVID-19. Ultraven.co plans to submit all the grievances to the Labor Ministry to protect and advocate for refugees' labor rights. He emphasizes that this steps are the best way to overcome the hardships they face as refugees resulting from COVID-19. 
Gamboa's vision is to bring job offers to the refugee camps. Currently, Utraven.CO does not have the license to find or offer jobs to refugees due to lack of funds for the license fees. Without the license they can be charged with human trafficking. Gamboa is working to collaborate with partner organizations that already have this license. 
Gamboa's Motivation to Found Utraven.CO
Gamboa fled his home in the town of Cardenas, Tachira in 2017 after being threatened by the Venezuelan government of imprisonment for treason. He worked as a city council member and social activist who stood publicly against the Maduro regime.
"I couldn't rent a house, buy a car… the inflation made it so money didn't serve for anything. There was little food and we would go out and protest because of it….We had been protesting for two years until one day the governor of our state, who was part of the regime, publicly threatened a group of us council members of the municipality. That is, he identified us due to our party affiliation. It turns out that each time he reported someone, the next day they got put in jail. And when that happened I said, 'No, I can't any more. No.' I'm not going to go out anymore because it turns out that everyone they had previously incarcerated were my friends that I met in the political arena when I was young. I know their families. All the families of our friends were suffering horribly seeing how they were kidnapped and tortured. Their moms were almost dying in the flesh."
Shortly after arriving in Colombia, he attended a conference where NGOs supporting the Venezuelan immigrant population get together annually in Bogotá. At the time he was not affiliated with any organization and after listening to the work they were doing realized the ideas he had were already incorporated into these organizations.
So, he asked the important questions: How can I create the most impact? What is an urgent need that other NGOs have not tackled yet? Gamboa brainstormed with a few friends he met at the conference and ultimately they landed on the idea of an alternative labor union, which became Utraven.CO, founded on the 4th of May, 2018.
"It is important to not get stuck in thinking rigidly, and making sure to bring in fresh ideas in social action because this way we can generate an incredible impact. A labor union in general is interested in there being jobs, plus good labor conditions. However, our goal is not only that, but to aid the refugee situation by providing work. And that is a revolutionary idea because we want to go to the refugee camps and not bring food, but bring job offers."
He has strategically identified this desperate need for the migrant population in Colombia and has a clear vision on how to help refugees in the long term. Gamboa explained the shift he hopes to witness from immediate need to a long term, sustainable, refugee aid program.
"The migrant camps are filling up and there is no one thinking about the second step in migration, which is to get work. Work allows you to be independent. In what sense you might ask? Well, you don't have to be living with humanitarian assistance anymore. If you work you don't need to live in a refugee camp, you will economically develop which is very important for you and your family… you have money to rent an apartment, to buy food, and provide for your family… Your children will be able to get an education and you will be able to pay for educational costs. Work is what needs to be incentivized." 
Gamboa aims to change the mindset around assisting migrants as well as shift the way that migrants think of themselves. He explains,
"We must work to get rid of the idea many migrants have in their head: that they have fled their country to go die in an encampment." Due to the mass number of migrants needing immediate assistance there is little infrastructure to help them transition out of "waiting for food, medical attention, and for Venezuela to become a habitable place again." 
Gamboa emphasizes that migrants cannot wait for this. He believes it could take fifteen years for the country to recuperate. He adds,
"The mentality needs to be: okay, I am here and will get humanitarian assistance, I will get food, gain back my strength, and make sure I receive medical and psychological attention. Then they must leave so space can be made for incoming refugees. But the idea is not to throw people out without supporting them. We will help them find work to sustain themselves."
Barriers Utraven.CO Faces
Undocumented 
Gamboa says the undocumented nature of the refugee crisis is a major barrier in his work to help migrants receive employment benefits.
A Venezuelan refugee must have a passport that is stamped at an official migration control post to be registered in Colombia and qualify for one of the Special Stay Permits, known by the Spanish acronym PEP, that give refugees access to health care, work, and education. 
However, passports are extremely expensive and most refugees do not have the means to obtain one or renew their passport. About 60% of Venezuelan refugees have an irregular immigration status in Colombia, meaning they have no documentation and/or have entered the country unofficially.
This results in many refugees being exploited. 
"Venezuelans arrive without passports. It is impossible to solicit one. There isn't a way to even verify your identity and this is why for Colombia the Venezuelan migration is very difficult."
Difficulties of Obtaining and Having a Work Visa
Colombia has enacted PEP's since 2017 to allow refugees to receive a work visa on four separate occasions and the application is only open for about three months.
The government does not announce ahead of time when the next three month period will be, leaving it to luck who happens to be in the country with the correct documentation. 
Gamboa says the government is refining the PEP each time it is open and has made various efforts to register refugees who have entered the country through unofficial crossings. 
One improvement that was made for the PEP open from December 2019 – February 2020 was a Colombian employer could register an irregular Venezuelan employee after two months of informal employment.
Gamboa's team has been applying pressure to the Ministry of Foreign Affairs for the enrollment process of PEP to be open year round and accept other documents besides a passport. 
"The work that we want to do is continue to pressure the government of Colombia to first make solid steps towards regularization of migrants. Meaning all Venezuelans who are in Colombia at any point in the year can solicit their immigration regularization process. If a migrant obtains a PEP they can look for work just like any Colombian. But there are limits to the PEP. The PEP only has a clause that you can do manual work… this is a barrier we are still facing even after three years of work… The Colombian government has no way to verify that a Venezuelan refugee has received a professional degree because the institutions inside of Venezuela are so corrupt."
Even once a Venezuelan refugee has obtained a PEP there are many barriers they face. The PEP is valid for two years, with the option to renew the PEP for an additional 2 years. Only 14% of the roughly 600,000 Venezuelan refugees in January, 2020 who had a PEP were formally employed.
Many Venezuelan refugees report the job market is difficult in Colombia due to low employment rates on the border of Venezuela, employers not wanting to deal with the hassle of an employee who has a PEP, the inability to validate Venezuelans professional degrees, and xenophobia.  
"The regime that has taken over Venezuela does not care about migrants. They consider us traitors of the nation. And we are undocumented…. there isn't even a way to verify if I have not committed any crimes in Venezuela. We are stateless. There is no nation that is looking out for us. We are at the mercy of the country that receives us."
How Utraven.CO Helps Refugees
Utraven.CO helps refugees obtain contracted work with benefits when PEP applications are not open.
"This company contacted us and said, 'we don't want to lose our Venezuelan workers, they are very good, if we formalize our company we cannot contract them, so they will be left without work.' As a labor union we went before the Colombian Immigration Department and presented the case to solicit protection for these Venezuelans to receive work visas and keep their jobs. We achieved this even though at this time the PEP application was closed. Under the management of our labor union we were able to get them recognized as refugees and qualify them for refuge in Colombia. With that refuge they can be contracted and now those Venezuelans do not only have a wage, but social security, medical insurance for themselves and their family, the ability to open a bank account, access to build their credit, and to all other social services."
Utraven.CO also facilitates connecting migrants with existing resources. For example, they help sex workers obtain benefits. Prostitution is legal in Colombia, but many Venezuelan refugees do not know this and do not realize their rights. 
"Women come to Colombia not knowing prostitution is legal and operate in a very incognito manner because they think they are committing a crime…. They think they don't have rights. In not knowing their rights they don't know they can get STD tests paid by the state… sex workers live in very over crowded communities usually with their children because they don't think they have the credentials to obtain a contract to rent an apartment or even know that the state will pay for their children to go to Kindergarten. So there is a lot of work in this area."
Utraven.CO has created a network of support amongst Venezuelan workers and Colombian employers. They promote positive changes in the workforce for Venezuelans and advocate for what still needs improvement.
Below is a photo of Venetinto, a company that began from one Venezuelan woman who sold coffee on the street. She has now created a formalized company of women who sell coffee on the streets of Bogota.
Utraven.CO plans to work with Venetinto to help unionize the workers and obtain more benefits. 
 The Future
"We have to always be conscientious of the fact that the Maduro Regime does not feel remorse, that for them this is normal, this is just politics. Because definitively the regime is a criminal organization that can only hold its power by maintaining its citizens in a state of fear and oppression. So this is very serious, very intense. Until other nations continue to take the regime out by the roots, there is an immense amount of migrants fleeing who need assistance due to this injustice. And that is what Utraven is here to do."
Almost 60% of Venezuelan migrants are irregular in Colombia, leaving them unable to access health care, employment, education, and other social services. In 2020 the New York Times reported that the international community has only spent $1 billion on the Venezeualn crisis in seven years, which is around $125 per refugee in comparison to $1,500 spent on Syrian refugees, calling this a meager effort to aid Venezuelan refugees.
This has left Colombia, a country who is still in the throes of redeveloping it's economy, to support 1.8 million Venezuelan refugees with little aid from the international community. 
"The pandemic was the best thing that could've happened to the Venezuelan regime. The regime was against the wall in regard to the way they had blocked the economy with the lack of fuel, gas in the home, food, and medicine. The pandemic was the best excuse for them to send everyone home and say the lack of electricity, gas, food, and fuel was due to the pandemic. It's truly horribly astounding that the pandemic has helped the regime so much." 
Due to Covid-19 thousands of Venezuelan refugees who have lost their jobs in Colombia, must work in unsafe conditions, and/or have gotten ill and have no medical insurance for treatment when sick.
The regime's grip on Venezuela has only tightened since the pandemic started. As we continue to fumble through Covid-19 and emerge from this pandemic we must not forget our neighbors to the South, a community of 5.1 million refugees and millions more still in Venezuela in need of humanitarian assistance. 
What the U.S. and the International Community can Do To Help
"People need to report on what is happening, so there is evidence of this injustice and people understand the situation… I think there is still a lot of work left to do for us to make the American people understand what we are experiencing and convince them to support us in a way that will actually benefit those affected by the situation in Venezuela. Because all I know is alone we cannot stop this."
It is clear that more international support is needed to aid Venezuelan refugees. Gamboa argues that increased visibility is key in developing empathy and therefore action from other nations and people. Economic and political pressure has been pivotal in weakening other regimes.
The EU, Canada, the USA, and various other countries have applied pressure in some ways, but not enough to completely remove the Maduro regime from power. Now with Covid-19, Venezuela is not on any nation's radar, and as countries begin to recuperate from the effects of Covid-19 it will be important to re-apply pressure to the Maduro regime.
Supporting NGOs and other organizations, like Gamboa's alternative labor union, through means of funds and spreading awareness can help alleviate the immediate and long term needs of refugees.
Gamboa knows he alone cannot stop the Maduro regime, but what he can do is help the Venezuelan refugees to rebuild their lives with dignity and find work so they don't have to depend on long term humanitarian assistance. He says he is proud of the following achievements in his mission to help Venezuelan and Colombo-Venezuelan migrants:
Elected by my community as councilor of my municipality, Cardenas, Táchira Venezuela in 2013.

Established myself in another country and thrive here after being exiled. 

Committed to the vocation that I continue to have for my work with my Venezuelan people. I have been able to materialize this in the form of an alternative labor union that I strongly believe in, and I will continue to do this labor for my country from this space. I always advocate on behalf of the interests of my Venezuelan brothers and sisters. 
As he looks to the future he hopes to accomplish the following in 2021:
There are so many things we would like to do to help Venezuelan refugees but we don't have enough personnel, time, or resources. When I talk about resource, I mean even having an office; a building to work in. I work from here in my room. My office is a desk with my computer. The windows in my room are my white boards… that is where I have everything written down. From this little bit of infrastructure is where I operate. From here, we do all our work, creating ideas, ideas, ideas. And I surprise myself with what we have created from here.
I hope to be serving migrants at camps. To bring our knowledge and understanding and work face to face so we start to benefit migrants as soon as they cross the border.
From the doors of Venezuela, right away, we want migrants to be empowered with the familiarity and knowledge to obtain a job and therefore be independent as soon as possible.
To learn more about Utraven.CO and contact President Simón Gamboa visit their website http://utraven.co/ and check out their social media pages:
Twitter: https://twitter.com/UtravenCo
Instagram: https://www.instagram.com/utraven.co/?hl=en
Facebook: https://www.facebook.com/utraven.co
---
Oriana is a recent graduate of Bates College with a B.S. in Chemistry and a minor in Dance. She was co-raised by her mother, who was born in Puerto Rico, and her Argentine grandmother. At the age of seven, her family relocated to Argentina for three years. Passionate storytelling was a core aspect of how her grandmother raised her, painting pictures in her mind of Buenos Aires in the sixties and her arrival to the U.S. as an immigrant. As Oriana grew older, her grandmother recounted stories of Los Desaparecidos. This was one of the first times that Oriana identified the power of stories to humanize human rights issues. During her junior year in college Oriana studied abroad in Barranquilla, Colombia where she heard stories everyday on the bus to school from Venezuelan immigrants describing the reality they live in. In her classes, she learned about the unjust history of the Indigenous population and later visited various Indigenous reservations where she was confronted with how the history continues to play out until present day. These experiences deepened her understanding of how personal stories allow the reality of the injustice to have a stronger impact. Oriana is motivated to work with Latina Republic to provide a platform for individual stories to be heard, so we can better understand, empathize, and be motivated to take action in human rights issues.