In 2008, Guatemala passed a major overhaul of their Violence Against Women Laws (VAW) to create a new standard of enforcement for crimes motivated by gender. The laws, formally called Decreto Número 22-2008: Ley contra el Femicidio y otras Formas de Violencia Contra la Mujer (Law against Femicide and other Forms of Violence Against Women), were the government's attempt to make Guatemala–which ranked as one of the most dangerous countries for women in Latin America–, safer by establishing a governmental obligation to prosecute perpetrators and provide social, medical, and legal assistance to suvivors and their families.
The new set of laws is incredibly powerful on paper, but their implementation has been met with a series of challenges. Where the government has fallen short, however, non-profit organizations like Asociacion Generando Equidad, Liderazgo, y Oportunidades (ASOGEN)  have picked up the slack by offering legal advocacy, psychological help, shelter, workshops, and countless other forms of support for survivors and their families.
The language in Decreto 22 says the government has the obligation to see reported cases of femicide, sexual assault, and gender-based violence through the court process by prosecuting the cases with "urgency." It formally legalizes women's rights to live a life free of all forms of violence, including psychological, emotional, and economic violence.
The decree itself is several pages long and gives a detailed description of the duties assigned to the government, following a report of femicide or crimes against women. These include the provision of free legal services, access to free and low-cost housing, medical and psychological attention, and interpretation services for indigenous women and their families to better access these resources.
The secondary aim of the decree, aside from deterring violence against women through prompt punishment of perpetrators, was to create a more equal society that corrected the power imbalance between men and women. Many of the obstacles towards gender and racial equality Guatemala faces today are rooted in colonialism.
As with other colonized countries, indigenous women experienced routine victimization by conquistadores and other state officials, and indigenous people of all genders faced mistreatment and forced labor. Soldiers and other repressive state forces used sexual violence as a weapon against women, and especially against indigenous women, during the Guatemalan Revolution (1954-1996) as well.
Another relic of colonialism, a machismo culture, promotes the subordination of women as obedient housewives and creates a society largely supportive of husbands and fathers punishing the female family members who refuse to fulfill this role. These are two of the biggest obstacles to effectively implementing Decreto 22.
Secretaría Presidencial de la Mujer (SEPREM) is a government institution of Guatemala dedicated to improving the lives of women living in the country and creating true equality for women of all races. They generate reports on gender equality in the country and offer suggestions to the government to remedy these issues.
In their most recent report, they acknowledged the efforts of the government to reduce the violence women in the country face, while emphasizing the historical roots of these issues. Their plan includes improving the enforcement of laws, such as Decreto 22, that protect women from violence and punish the perpetrators by facilitating improved coordination between the various governmental agencies responsible.
They also want to equalize opportunities for work, education, and political participation for women across the country by improving social services and focusing on increasing access to social resources for women in rural areas where the discrepancies between men and women are the most extreme. This is also where indigenous populations are most highly concentrated.
In 2019, Guatemala began its second Tribunal Conciencia (Tribunal of Consciousness), a sort of class-action sexual assault case that takes place in the National Court. The first took place in 2010 and was held by the Sepur Zarco community to hold military officers accountable for their crimes against women during the Revolution.
This was the first time Decreto 22 was successfully prosecuted in the country, and the first time any national court of any country held military and state forces responsible for crimes of sexual violence that occurred during an armed conflict. However, cases since the first Tribunal have been far less successful.
During the 2019 tribunals, medical examiner Jorge Corona spoke about the limitations medical examiners face in adequately caring for survivors of sexual or gender-based violence. He indicated that many facilities don't have the capacity to offer the medical care required by the new laws, partially due to the sheer number of cases, and partially due to the lack of training for officials and funding for medical supplies.
Each victim is entitled to an emergency medical exam, including preventative medication to ward off sexually transmitted infections (STIs) like HIV, and emergency contraceptive to prevent pregnancy. They are also required to advise survivors of their right to report the assault, a bit about the process of doing so, and elevate cases to the attention of the Ministerio Público (Public Ministry) so that they can be dealt with according to the survivor's wishes.
In 2019, Guatemala reported over 10,000 cases of violence against women, and 86% of these crimes were committed against girls between 10 and 14. Where states fall short, Non-Governmental Organizations (NGOs) step up to the plate to offer advocacy, support, and resources for survivors.
ASOGEN operates in Chimaltenango and Sacatepéquez and collaborates with the Ministerio Público, Femicide Courts, Childhood and Youth Court, and Family Court of those departments to offer support for survivors that are in need of their services. As stated above, they go above and beyond legal advocacy and offer medical attention, psychological and counseling services, workshops, temporary shelter, and consultations and advice over the phone. In 2019 alone, ASOGEN provided services to 414 survivors of gender-based violence.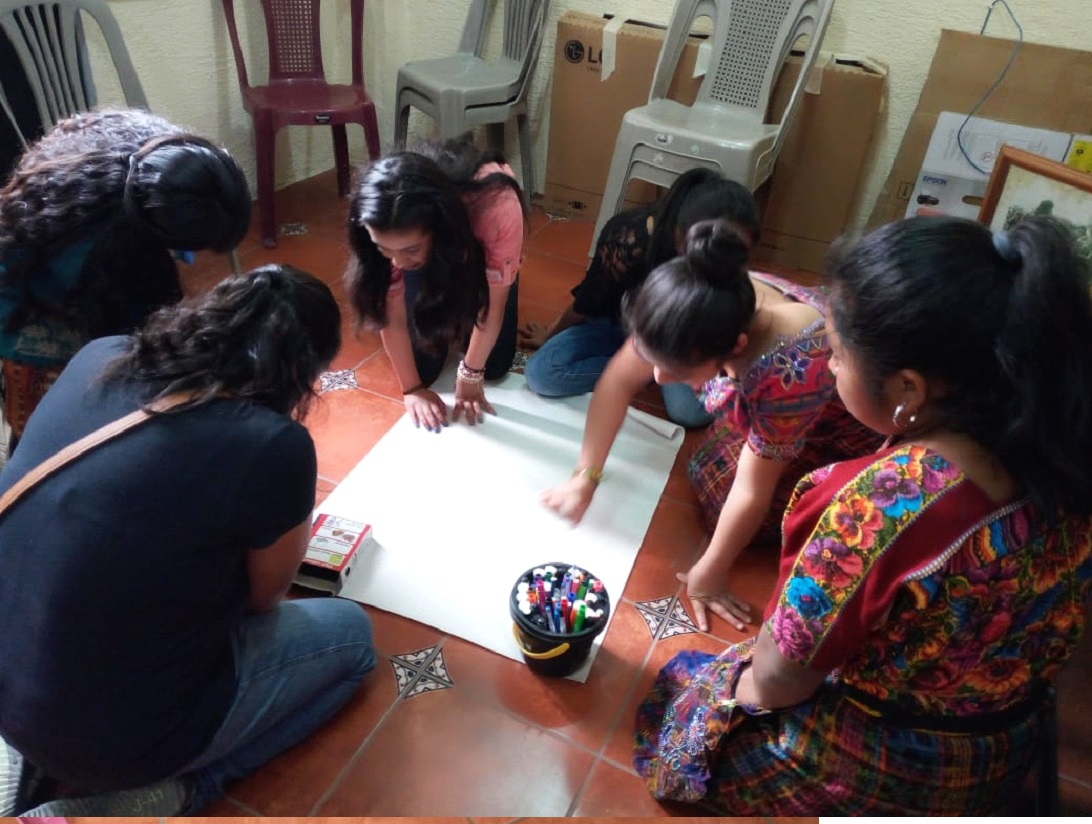 The employees at ASOGEN are all incredibly kind and helpful individuals. They select their language carefully when talking about their clients, specifying that they are "survivors." Victims are women lost to femicide. ASOGEN offers support to these families as well, guiding him through the court process and providing advocacy to get justice for their lost loved ones. They don't just define sexual and gender violence as sexual assault or harassment; ASOGEN offers support to women who are in situations of psychological or economic violence, human trafficking, and more.
Their services are provided free of charge, and they are especially concerned with helping indigenous women who live at the intersection of colonialism and machismo, making them all the more vulnerable. They also tend to live in rural areas where access to legal and medical services are the most limited.
ASOGEN has a team of lawyers, psychologists, medical professionals, and social workers that work with survivors to support them throughout the entire legal process and beyond. Their work doesn't end when a case is done; they continue to support their clients with counseling, work groups, and shelter as long as they need it. Because of the difficulties prosecuting cases and the cultural forces of machismo, about 20% of ASOGEN's clients don't see their cases through and sometimes even move back in with the perpetrator.
In these cases, ASOGEN meets with women to ensure they still feel emotionally supported. After these meetings, 60% of women continue prosecuting their cases and accept legal help. Just like the tribunales, many of ASOGEN's clients are under 18. The charts below show, by percentage, the ages of survivors of new cases in 2019 that survived sexual assault (first image) and sexual harassment (second image). 
By and large, the employees at ASOGEN agree with SEPREM and the journalists covering the 2019 tribunals. In a meeting with ASOGEN's leadership, Danessa, Paola, Lisbeth, Indira, and Mariana, members of the executive and legal team at ASOGEN, all agree that stricter enforcement of the laws are necessary to protect women in the country and effectively deter violence. While most of them agree that, if applied as written, Decreto 22 would be effective, Mariana and Lisbeth have important caveats to add. Lisbeth said there needs to be more cooperation with the police,
"If they call the police to help or rescue them, they never get an effective answer. They don't save them."
Mariana agreed, but emphasized the roots of machismo in the laws as they are written. She said,
"We have a law that is based on machismo thoughts, right? Enforcement not only depends on the application of the law, there would also need to be a reconstruction of culture, a new modality, a new normality… to normalize this feminist culture where women are empowered."
ASOGEN has been hit particularly hard by COVID-19. The states they operate in have some of the highest infection rates in the country. Though they try to operate mostly by phone, sometimes survivors don't have access to a device and come to the office seeking help. They've been taking precautions to ensure their employees and clients stay as safe as possible; handing out antibacterial soap, masks, and other supplies to women and their families.
Typically the shelter only houses women for three months, but they haven't been able to leave due to the pandemic. The shelter is still running, albeit at reduced capacity, and they continue to provide food, water, clothes, and even jobs to women living there. It costs about $600 per month to keep the shelter running.
Quarantine has made it even more dangerous for women and children living in situations of domestic abuse. Many women, especially indigenous women, don't feel safe going to the police in situations of assault. They do, however, trust NGOs like ASOGEN to help them get to safety.
Although there has been a decline in reported cases of abuse during COVID, experts suggest that situations are dire for women living in abusive or unhealthy domestic situations due to the extra time spent at home, increased financial pressures, and social isolation. While all these measures are necessary to ensure public health, it leaves women with almost no avenues to escape this violence, especially when shelters are at capacity or otherwise unable to accept new clients due to the dangers of spreading COVID.
When speaking to just a few of the employees of ASOGEN, they spoke about their work with passion. They have truly dedicated their lives to pursuing justice and creating a more equitable society. They acknowledge the obstacles of machismo and a lack of enforcement from the government, but are determined to support as many women as possible. When asked about the most beautiful part of their job, they all responded similarly. Indira, an attorney, said,
"I think going to court to support women and showing them a way to a better life… using these methods to empower women to make them understand they aren't alone is the most rewarding part."
Lisbeth, another member of the legal team, agreed. She said,
"The satisfaction I feel in getting positive results for these women, that win their cases, that their lives change for the better and improve really… For me that's marvelous, right?"
Marianna, another lawyer, added,
"The satisfaction comes from seeing them smile, that they have been given their dignity back in a certain way."
The women at ASOGEN repeatedly emphasized their desire to empower women through their work, tailoring their responses and services to the needs of each individual woman who comes to them seeking help.
Their clients enthusiastically agree that their work meets this goal. A young woman currently in the trial process receiving legal advocacy and counseling had this to say:
"I've received so much support from ASOGEN. Through the legal process, the workers there have given me so much help. Especially Paola, she is the one who listens to me almost all the time. I share with her what I write and she always encourages me to write more… I see writing now as a way to help myself, as therapy. Before it was a way to grieve, a way to cry, now it has meaning."
---
Hannah is a senior at Harvard University studying the History and Literature of Latin America, Government, and Spanish. She's currently writing a thesis about the connection between the state-sponsored violence of the Guatemalan Revolution and the lack of prosecutorial and judicial success for women who are survivors of sexual violence in the country today. When writing about communities she isn't a part of, Hannah emphasizes their voices and experiences, telling their stories as they want them to be told and highlighting the successes of organizations and movements working to make their communities better. Hannah wants to go to law school and practice some form of social justice law; whether that's immigration law or criminal defense with a social justice lens, she wants to focus on using her privilege to help marginalized folks get the justice they deserve. She currently volunteers with a bilingual preschool program, La Escuelita, near her hometown in Wisconsin and works with the Small Claims Advisory Service to offer legal information to Spanish speakers in Massachusetts going through the small claims process. As a Latin American correspondent, she hopes to further her understanding of women's movements and legal advocacy in Guatemala, as well as elevate the stories of survivors of sexual violence through articles and her own thesis.