"As a political leader I have the obligation to question myself, to analyze myself, to understand and engage in paradigm shifts, with struggles, with the yearnings of new generations because we are legislating for the future. At this time I understand that, more than my personal or political opinions, we are before a problem that requires a public policy approach. With this law we are granting visibility to something that already happens." Senator Silvina Marcela García Larraburu, who voted against the new abortion law in 2018 and in favor in 2020
The battle to legalize abortion in Argentina has been hard-fought by both sides. This article aims to objectively look at all sides of the debate and track the changes in public opinion and lawmakers' views since the first time such a bill was brought before the legislature.
As with other Latin American countries, Catholicism has a tight grip on the life and ideologies of many citizens. Argentina in particular has an especially close connection to the religion which was only strengthened in 2013 when Pope Francis, formerly known as Bishop Jorge Mario Bergoglio, became the principal leader of the faith for the entire world. Francis hails from Buenos Aires, Argentina and has been a prominent figure in Argentine Catholicism since the 1960s.
With the passage of this bill, Argentina joins the extremely exclusive club of Latin American countries that allow early abortion for any reason. Uruguay, Cuba, Guyana, French Guyana, and Puerto Rico all have similar laws on the books that provide an easy path for pregnant women to have safe, legal abortion within the first 14 weeks of pregnancy.
As the largest country in Latin America to allow early, on-demand abortion, the percentage of women in the region with access to a safe abortion procedure jumped from 3% to 10% with a simple senate vote.
Pro-choice activists around the region have renewed vigor in the wake of the new bill. Other Latin American countries have laws similar to the prior Argentinian law that allow for exceptions to an otherwise complete abortion ban, such as Chile, Colombia, Belize, and Brazil.
Several other countries have complete bans, even in the case of involuntary abortion. In Nicaragua, Honduras, El Salvador, Dominican Republic, and Haiti, mothers can be punished for miscarrying if the doctor believes she did it intentionally.
Worse, women who have clandestine abortions that result in complications often avoid seeking medical help for fear of being arrested. Countries with specific exceptions often have similar provisions to punish mothers suspected of an illegal abortion.
Oftentimes, such restrictions are only indigenous for rural, poor, or indigenous women. Women and girls with well-connected families in Argentina and across Latin America have much wider access to abortion, even in countries with near complete abortion bans.
A popular saying, "las ricas abortan, las pobres mueren," or "rich women abort, poor women die," is emblematic of these problems. Debora Diniz, a Latin American academic from Brazil, elaborated on the issue, saying,
"With the changes in legislation in Latin America, women don't need to go to the U.S., don't need a visa to get an abortion. More middle- and working-class women connected to feminist groups are now having access to something that is basically the story of wealthy women for a long time."
In Brazil, and other countries with restrictive abortion laws, women seeking an abortion have often made the trip to other countries with less restrictive regulations to safely access the procedure. While it is still largely women that have greater financial means, Argentina's legalization of abortion has opened doors for Brazilian women.
Citizens traveling between the two countries don't need a visa, which means poor and working class women are able to make the trek as well. Days after the new Argentinian law went into effect, Brazilian women seeking abortions flocked to the country. Sara, a woman from Brazil, described her decision to travel to Argentina for the procedure. She said,
"Having a child that I don't want, and have no conditions to raise, and being obliged, would be torture. What has helped me since I discovered I was pregnant is that I have a chance. I still have an alternative."
The last time abortion made it to the senate floor in Argentina was 2018. Over 15 hours of debate resulted in a 38-31 vote that narrowly missed legalizing abortion, for any reason, within the first 14 weeks of pregnancy. As with 2020, advocates for both sides were vocal; holding rallies in the capitol and around the country, publishing opinion pieces in various periodicals, and taking to social media to garner support for their cause.
A popular hashtag, #NiñasNoMadres, arose in 2019 when an Argentinian 11 year old was denied an abortion after she was raped. The hospital stalled the procedure until she was forced to have a c-section. Anti-abortion activists visited her in the hospital, and allegedly gave her vitamins to speed up the development of the fetus.
In fact, some sources report lower turnouts from pro-life advocates during the 2020 iteration of the bill. Despite the pandemic, though, groups on both sides of the issue gathered in droves outside the Capitol before and during the final debate. 
As of late, women's rights activists across the region have become increasingly vocal around abortion rights. Although many women still oppose abortion, there has been a new "green wave" of renewed activism.
Women's rights groups have adopted wearing green scarves as a symbol of their unity, but there are women in the marea verde that oppose increasing access to abortion. The symbol has been used across Latin America, including Brazil, Mexico, and Chile, specifically by abortion rights activists, but the scarf itself is simply a token of feminist ideology. 
The divide among women is as prominent as the divide among men, and maybe even more so. The Argentinian Senate has 72 members, 28 of whom are women. Only 19 of them voted in favor of the 2020 abortion bill. Some of the most vocal opponents to the new law have been women who are part of conservative or religious groups. 
Statistics around public support for unrestricted, early abortion vary widely as well. Two studies that claim to have used the same methods, around 2,000 phone call surveys, found incredibly different results.
The Latin American Strategic Center for Geopolitics, which has been collecting data on public opinion about abortion since at least early 2019, has found that approval for easily accessible early-term abortion has grown from 43.2% to 55% from 2019 to the end of 2020 alone. However, Giacobbe & Associates Public Opinion found that 60% of Argentinians surveyed did not want the new law to pass. 
Prior to 2020, abortion in Argentina was allowed in specific situations when the life of the mother is at stake or the pregnancy was the result of a rape. The law had stood since 1921, until now. Interestingly, many of the same lawmakers voted on both iterations of the bill, and some even changed sides.
Some politicians backed the bill not because they agreed with the progressive message of women's bodily autonomy, but recognized the public health consequences of not having safe, legal abortion for women who want it.
President Alberto Fernández, who ran on a center-left platform that promised gender equality, abortion rights, and expanded gay and trans protections, has used this angle to appeal to more conservative lawmakers who were apprehensive about the bill.
The World Health Organization agrees, and has stated that underground (or "clandestine") abortions are one of the top killers of pregnant women in Argentina.
There is plenty of evidence to back the public health angle of passing such abortion laws. Aracelli Orellana, an Argentinian pro-choice attendee of the Capitol rally whose friend, Marisa Sanchez, passed away from an unsafe abortion procedure, said,
"I'm very emotional for all those who couldn't be here today." That sentiment is shared by plenty of other advocates, even President Fernández, who said, "The debate is not saying yes or no to abortion. The dilemma that we must overcome is whether abortions are performed clandestinely or in the Argentine health system."
The very public case of the 11 year old who was not allowed an abortion discussed above is, unfortunately, not a rare occurrence. The publicity from that story has resulted in other women coming forward to discuss their difficulties obtaining an abortion, many of them sharing stories of the women they knew that died due to unsafe abortion or a dangerous pregnancy they were made to carry to term.
Several human rights treaties ratified by Argentina also seem to favor the passage of the law, the Committee for the Rights of Children, and international body in charge of interpreting these types of treaties, has called for Argentina to decriminalize abortion to protect the lives and health of adolescent girls.
The Latin America region as a whole has the highest rates of deaths related to unsafe abortion and is the only area in the world where pregnancy rates for girls under 14 continue to rise. Senator Carlos Alberto Caserio, who voted in favor of the new bill, framed his position in this public health context. He said,
"The state has the function to correct social inequalities. Abortion happens and the conditions aren't the same for everyone. We don't come here to promote pregnancies or say that abortion is good. There is no one causing genocide."
Some pro-life advocates that recognize this discrepancy in healthcare access have stuck to their guns against what they consider to be murder. A highly popularized Pope Francis quote on the matter appeared on several conservative media sites. He said,
"Is it fair to eliminate a human life to solve a problem? Is it fair to rent an assassin to solve a problem?" His calls to pro-life advocates in the country have echoed loudly through many religious communities; despite the Pope's insistence that abortion is not a religious issue but an issue of "human ethics," his message hasn't tracked well with those outside his Catholic sphere of influence.
Some religious supporters of the abortion bill agree that it isn't an issue of religion, but understand the persuasion of the public health angle. Several senators shared those sentiments when they voted in favor of passing the bill.
Some religious advocates who supported Argentina's new law, such as the country's Minister of Health, Ginés González García, chastised the Vatican's strong condemnation of the abortion bill.
"I don't agree with this because if this is true then the problem the Vatican has is great because in Italy they do this, in France they do this, because in Spain they do this, Ireland does this and they're Catholic countries. The most Catholic countries in Europe. If they want to put this doctrine in practice, they need to do it with the central countries, too. They can't act like this with ferocity with Latina America. This is not done in Europe."
Folks that agree with García argue this contributes to the stigma around expanding abortion protections. 
There are pro-life advocates, however, that completely reject the statistics that back the public health defense of legalizing early abortion. A series of opinion pieces were published days apart in the Argentinian newspaper, La Nacion, one calling the criminalization of abortion a failure, and the other calling the law, which was being debated at the time, a failure from a policy standpoint.
The latter, by Pablo de la Torre, argues that, instead of improving the country's public health situation, the new abortion law will make it even harder for the country to find doctors. According to de la Torre, Argentina's doctors are underpaid and working in subpar conditions, which has led to a doctor shortage in the country.
With the new law, that includes a legal penalty for doctors who don't fulfill the request for a legal abortion within 10 days, de la Torre insists this will deter future doctors who object to the procedure on ethic or religious grounds, leading to an overburdened public health system.
He goes on to say the laws were drafted with "lightness and irresponsibility… without seriously considering what the real consequences would be."
Some senators agree with de la Torre's attestations. Senator Mario Raymundo Fiad said,
"Abortion is undoubtedly a social drama that is presented as the solution at hand, yet it will not avoid the underlying problem. Slogans say that girls should not be mothers; certainly, they should not be. Girls must not be abused, and women must not live in violent environments. Does the abortion project solve these tragedies? No. All it will do is make abortion not clandestine, and instead, make clandestine, rape, abuse, poverty and inequalities. If this becomes law today, abortion will no longer be clandestine, but the real problems will remain in the dark. This project leaves women alone, it offers them an abortion and nothing else."
Senator Esteban Jose Bullrich agreed, and he called the public health statistics the law is based on into question. He said,
"It's a bad law because it has technical problems, it violates freedoms. And it is based on false statistics. I argue that there are not 350,000 abortions per year in Argentina. In no country in the world are abortions more than 50 per cent of annual births." Conservative lawmakers and religious organizations alike have indicated that they intend to challenge the new law in court.
Regardless of what conservatives say, there is a shift occurring in Latin America. The region is liberalizing, slowly but surely, and loosening the grip of Catholicism on its public policy. While less restrictive abortion laws can lead to neighboring countries double down on their prohibitive policies, there is still a trend towards progressive public health and women's rights laws.
The fact remains that policies that heavily restrict or prohibit abortions have been shown to actually increase the number of women who have abortions. In the U.S., Canada, and Europe, where abortion is most widely available, just 17 of every 1,000 women has an abortion in a given year.
In Latin America, that number jumps to 32 per 1,000. The criminalization of abortion not only increases the likelihood that a woman will seek one out, but also makes it infinitely more dangerous when she does so.
Researchers believe that "hundreds of thousands" of clandestine abortions occur in Argentina each year, which resulted in the hospitalization of around, 40,000 girls and women in 2016 alone, and the deaths of at least 65 Argentine women from 2016 to 2018. These statistics are thought to be underreported.
Many abortion advocates have centered their argument around these statistics and simply want public policy that protects the lives of pregnant women, many of whom are teenagers or even younger, and unborn children with the same vigor. Senator María De Los Ángeles Sancun, after voting in favor of the new abortion law, had this to say,
"What is discussed is clandestine abortion and legal abortion. In 2018 I said that every death from clandestine abortion was a state femicide by omission. I believe in the sorority of women… There must be no woman who, because of her social condition, is forced to practice abortion."
---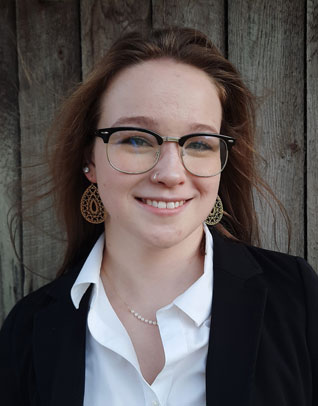 Hannah Fontaine
| Harvard University
Hannah is a senior at Harvard University studying the History and Literature of Latin America, Government, and Spanish. She's currently writing a thesis about the connection between the state-sponsored violence of the Guatemalan Revolution and the lack of prosecutorial and judicial success for women who are survivors of sexual violence in the country today. When writing about communities she isn't a part of, Hannah emphasizes their voices and experiences, telling their stories as they want them to be told and highlighting the successes of organizations and movements working to make their communities better. Hannah wants to go to law school and practice some form of social justice law; whether that's immigration law or criminal defense with a social justice lens, she wants to focus on using her privilege to help marginalized folks get the justice they deserve. She currently volunteers with a bilingual preschool program, La Escuelita, near her hometown in Wisconsin and works with the Small Claims Advisory Service to offer legal information to Spanish speakers in Massachusetts going through the small claims process. As a Latin American correspondent, she hopes to further her understanding of women's movements and legal advocacy in Guatemala, as well as elevate the stories of survivors of sexual violence through articles and her own thesis.