Cabo Polonio is a small fisherman town of about 90 residents. It is located on the coast of Uruguay and is situated right next to the Cabo Polonio National Park. The proximity creates an engaging relationship between public and private ownership, as tourism continues to attract those in search of mystic serenity while protecting the natural park and its environment. Once considered dangerous and cursed waters, many people now flock to Cabo Polonio for the relaxation of being closer to nature due to the limited amount of resources available for tourists, such as water, electricity, or wifi.
To get to Cabo Polonio, visitors must  either walk into town or park their cars in a parking lot outside the National Park. The town's residents are able to enter through the National Park with their own vehicles. This rule is vital to the protection of the National Park, as building roads can do harm to the environment.
Since tourism is high in the summer months of late December to late March, homes in Cabo Polonio turn into accommodations for tourists and other Uruguayans.  The Viejo Lobo Hostel has been in business for nearly 10 years and it is open year-round. Here, there's an emphasis on maintaining a community some refer to as a hippie culture,  a welcoming environment for those who come for a visit.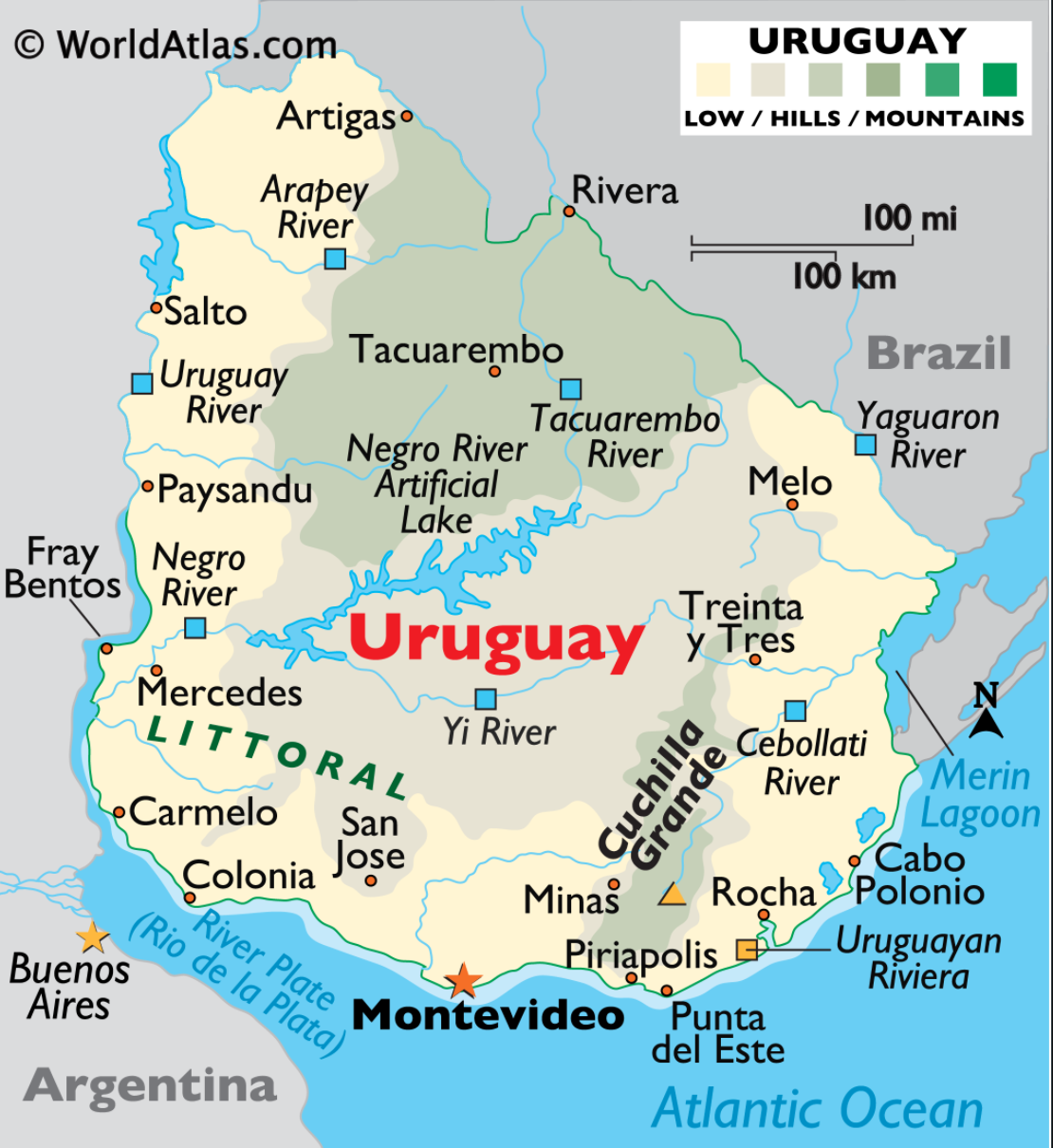 Latina Republic interviewed Guillermo Thompson, who has been managing the Viejo Lobo Hostel for the past three years. The Hostel takes pride in housing artists and various explorers who visit to take part in projects and  spiritual activities, such as meditations and yoga retreats to develop consciousness and expand self-awareness.
The Viejo Lobo Hostel is known for spreading serenity and relaxation to the many who flock to Cabo Polonio to forget the outside world and connect with nature. In the following interview, Guillermo Thompson shares what life is like in Cabo Polonio; the impact of the Coronavirus pandemic, and his predictions of what Cabo Polonio's future might look like.
Latina Republic: What is your relationship to Cabo Polonio? 
Guillermo Thompson: I feel fortunate. Even though I didn't grow up in Cabo Polonio and I'm not originally from here, my parents always took me camping here since I was a young child. We used to come to Rocha, which is like a state or  district in Uruguay.
Traditionally, Rocha was always a place for artisans and artisan fishing with  lots of lakes,  coastlines, sand dunes and forests. Out of all these little fishermen communities, Cabo Polonio is the one that still remains true to what it used to be because it is part of a National Park. It is prohibited to construct and have roads and so forth. It has preserved what it used to be, while every other fishermen town in Uruguay has become notorious with tourism and has developed. 
Latina Republic: When did the commercialization of bringing people into Cabo Polonio on 4x4s begin?
Guillermo Thompson: That started probably in the late 80s, early 90s when an eccentric French man who owned  a small shop in Valisas, the town next to Cabo Polonio, realized that there was a lot of potential to attract Europeans and tourists, Argentinians and so forth to Cabo Polonio. He began investing on these 4x4s, which he bought from the army. They are like UN, World War One trucks, with huge motors and huge wheels. 
Latina Republic: When the large trucks transported in new visitors, were locals okay with it?
Guillermo Thompson: Back in the 50s, 60s and 70s, this was mainly a fishermen's town. There were a few families living out of fish here, artisanal fishing, not industrial fishing. Then in the 70s and 80s, when Uruguay lost its democracy  and we started a process of a military dictatorship,  a lot of liberal people started leaving the capital, Montevideo, because they were tired of the oppression and the censorship. Tagging along with the hippie movement that was going on in the world, they started coming here and settling. So you get two kinds of vibes where you get very local people that are fishermen or sons of fishermen whose grandfathers were fishermen, and then you get that second wave of people, the hippie type more liberal kind. 
Latina Republic: With having such a captivating history, are there certain norms that have stood out in Cabo Polonio that have created a relaxed atmosphere that people around the world flock to experience?
Guillermo Thompson: The mysticism about Cabo Polonio is that there is no Internet, there is no electricity, and there's no regular community services. So if you come to Cabo Polonio, it's to disconnect. That's kind of the general idea, but again, in reality, for example, everybody has solar panels nowadays. Since the last World Cup, everybody has put a screen on their house and Direct TV. So it's a little bit different nowadays, but the general sense is that you come here to disconnect. 
Latina Republic: When was Viejo Lobo established and what is its mission in shaping Cabo Polonio?
Guillermo Thompson: Viejo Lobo wasn't the first hostel, but it is the longest running one coming to around maybe our ninth year. Viejo Lobo is a place frequented by people who want to elevate their consciousness. We use art as a way to do so and so we are constantly inviting artists to come and do art residencies here to explore their art form.
There is a constant flow of artists that come here every month as we provide them three meals a day and a place to stay. In return, they help around the hostel for about four hours a day, leaving the rest of their stay to develop their projects. Aside from the lighthouse, the beach, the sea lions and the sea wolves, there are other things going on. You may find a girl doing acroyoga, for example, or someone making electronic music on their computer, or a tattoo artist practicing their art form on some people. 
Latina Republic: In researching Cabo Polonio, the phrase hippie commune surfaces a lot in association with the place. Has Viejo Lobo helped to cultivate this image of Cabo Polonio?
Guillermo Thompson: We are not responsible for the whole fame of Cabo Polonio, but we definitely see the potential to elevate that. We take responsibility for making this place the magical place everybody wants it to be in. Viejo Lobo makes it a priority to safely accommodate families and people of all ages and backgrounds. By creating a safe space for everyone, visitors are able to explore the surrounding nature as well as go within themselves to connect with their consciousness and tap into their creativity. Activities such as group music jams, yoga and meditation classes, and blank spaces to draw on are ways to let visitors be themselves and artists to develop their projects.
Latina Republic: With tourism being heavily affected around the world today, how has Cabo Polonio been affected by the Coronavirus pandemic?
Guillermo Thompson: There were very few cases and Uruguayans responded very well. So in terms of Cabo Polonio, we haven't had any reported cases, but what affected Cabo Polonio was the quarantine and the fact that the borders have been closed for almost everyone outside Uruguay.
This year, I noticed a lot of people were coming here to get answers because of the mysticism about Cabo Polonio being a magical place or the idea of, "I need to disconnect" that most people have been looking for while dealing with major life changes from the pandemic.
Latina Republic: What do you see for the future of Cabo Polonio?
Guillermo Thompson: I think part of the beauty of Cabo Polonio is that, subconsciously, people know that Cabo Polonio won't be like this forever, and that's part of its beauty. Everybody wants to come and see it so they can tell their kids: There used to be a place like Cabo Polonio, where there was no electricity and no development. This kind of nostalgia attracts visitors, but thinking about the environmental side of things,  the business aspect of things or the political side of things,  it's probably going to change. The more notorious the place becomes, the more attention it will grab from business interests, money investors, and tourists in general. 
Latina Republic: With a new government in power, how will it impact Cabo Polonio?
Guillermo Thompson: The left was in power for the last 15 years so a lot of things improved in terms of social justice, like education, the environment, health care and so forth, but then there was a lot of suspicion that because the last government  knew that their time period was coming to an end and it was uncertain if they were going to win again or the right was going to win, they were really in a rush to do a new agreement with the community here for another 10 years. Part of the conditions were to take a lot of the houses down and their argument was for environmental reasons, such as having to take houses down because they are really close to the beach and the sea level is rising so it is damaging the natural environment here. And the people in town and everybody that came to know this, were really upset because they felt it was very rushed with no certain information and there was distrust in the government as they believed houses wanted to be taken down so investors could come in. The new government that is now in power came out to tell the community in Cabo Polonio that their houses would not be taken down.
Globalization has made exploring the unknown parts of the world more accessible whether it is learning about a place through the internet or taking the opportunity to travel and visit for yourself. As the world continues to mobilize and technologically advance, there are little pockets around the world that continue to be disconnected from the "hustle and bustle" larger cities have grown accustomed to. Though Cabo Polonio is best known to be a place to disconnect from our busy lives, in actuality, Cabo Polonio gives you the opportunity to connect with yourself and appreciate the nature that is abundant around us all. The Viejo Lobo Hostel honors a community that seeks to connect with nature and rather than leave behind a carbon footprint, leaves e a piece of their creative mind for others to see while taking with them memories of the serenity of Cabo Polonio. 
To learn more about visiting Cabo Polonio, visit their official website at Cabo Polonio National Park. If you are looking for a place to stay, visit the Viejo Lobo Hostel's website and always remember to respect the National Park. 
---
Mya Parra
| Florida International University
Mya Parra is a junior at Florida International University, majoring in International Relations and Latin American and Caribbean Studies. Growing up in a Venezuelan household and in a predominately Hispanic community, Mya has always been surrounded by stories of past lives in Latin America before the American Dream inspired Latino immigrants to migrate to Miami, Florida in hopes of a better life. It is through the continuation of story telling that Mya understands the significance of bridging first and second generation Hispanic Americans closer to their roots. Wanting to connect more with her Venezuelan heritage, Mya decided to pursue a career in expanding her knowledge of the history and current socio-political climate in different Latin American countries in hopes to contribute in improving vital institutions throughout the region. As a Latin American Correspondent, Mya looks forward to tethering the United States and Latin America together through highlighting positive stories of efforts made by individuals in their given countries as well as contributing to Latina Republic to continue amplifying significant local voices to larger audiences.