Guatemala is a mega diverse country with more than 360 microclimates. The country enjoys a productive soil with varied species of flora and fauna that provide a variety of ingredients used in the preparation of several dishes. Local cuisine offers a  fusion between the Mayan and Spanish gastronomy, which makes Guatemala a gastronomic touristic destination.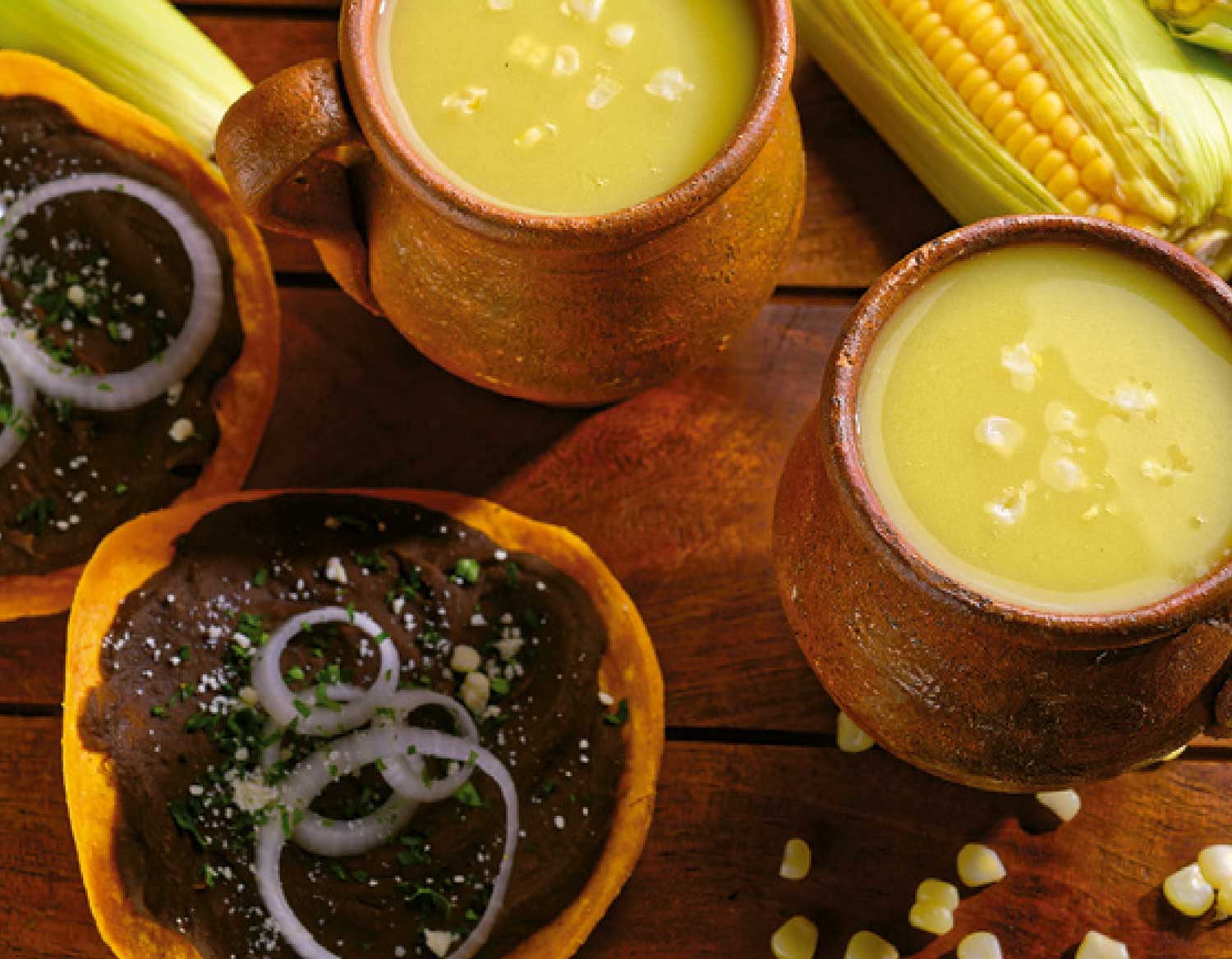 "Many current culinary customs originated more than two thousand years ago, which provides further proof of the continuity of the Mayan culture in our country. Therefore, it should not surprise us that eating habits of our daily lives are part of our Guatemalan natural and cultural heritage," INGUAT, Mayan Roots of the Guatemalan Gastronomy.
Guatemalan cuisine inherited from generation to generation combines flavors, smells, colors and textures. As part of the gastronomic culture of Guatemalans, food occupies a prominent place in commemorative activities, for example, the "Fiambre" on the "Dia de todos los Santos," and in ceremonial activities such as the "Kak´ik," when delicious cocoa drinks are consumed. Torrejas and the soft drinks of "Chinchivir" are traditional dishes and drinks enjoyed during the religious activities like The Holy Week, and during holiday activities, when Guatemalas prepare roasted corn and corn atoll, among others.
An important tradition to note is that for the preparation of most regional dishes, the pre-Hispanic implements such as grinding stone, stone mortar, jugs, clay pots, clay vessels and jícaras are still used.
"Corn has always been one of the central elements in the Mayan worldview since it is a symbol of creation, food, life and continuity of the human being. Therefore, it constitutes one of the pillars of the Mayan religion," INGUAT, Mayan Roots of the Guatemalan Gastronomy.
For many Guatemalans, corn is the basis for the preparation of several foods such as "tortillas," "tamales," and "chuchitos," among others.
Guatemalan food and drink products that can be found in the seven tourist regions of the country have achieved international recognition such as "designation of origin" honors for rums and coffee.
The best way to get to know Guatemala and its cuisine is to explore its gastronomy through seven tourist regions, such as: The Chirripeco Tea tour in Alta Verapaz, the rum tour in Quetzaltenango, the avocado tour, the coffee tour, the macadamia tour and the chocolate tour in La Antigua Guatemala, the regional food tour in Xela and the market tour in Antigua Guatemala.
Guatemalan cuisine is divided into seven tourist regions, which take into consideration the fairs and traditions of each of region, exalting differences in dishes and drinks.
The seven regions are:
Modern and Colonial Guatemala
The region includes Guatemala City and Sacatepequez, where travelers can enjoy dishes such as red and black tamales, cold meat (fiambre), chipilin tamalitos, chuchitos, tostadas and corn atoll. As well, in the patron saint festivities visitors can taste other snacks such as grenades, churros, fried plantains, cotton candy and roasted corn, additionally to the famous enchiladas, stuffed chili, fritters and turrets.
On All Saints Day there visitors can enjoy "Fiambre," a meal that involves a preparation of two to three days, which has been declared Intangible Cultural Heritage.
Highlands, Lively Mayan Culture
This includes departments such as Chimaltenango, Sololá, Quiché, Quetzaltenango, Totonicapán and Huehuetenango. Their most representative dishes are güisquil chilaquiles, chojín, suban-ik, stew with potatoes, watercress with chirmol, rolled up pork, boxboles, white tamales, enchiladas, chicken with pulique, potato patch, sweet tamales, fritters, chicken in pepián, chicken in jocón, chambray tamalitos, dough atole, marrano´s hand in chirmol. This region is rich in artisanal sausages, as well as chancol cheese.
Petén, Adventure in the Mayan World
As its name indicates, the department of Petén has typical dishes such as the rolls of chaya, ixpelón, petenero tamales, shiquinchée patties, petenero white fish, and itchiles.
The Green Caribbean
Conformed only by the department of Izabal, with dishes such as the coconut bread, flour tortilla, sweet potato bread and the famous broth called "Tapado", which received the "Best promotional Local Dish" award.
Verapaces, Natural Paradise
This area is conformed by Alta Verapaz and Baja Verapaz, with their meals of Saquic, cobanero tamale, jubil, Kak'ik, tupes, beef belly, white beans, rice with celery.
Mystic and Natural East
This region consists of the departments of Zacapa, El Progreso, Chiquimula, Jutiapa and Jalapa, with their representatives dishes of quesadillas, patties, bagels, yolk bread, iguana in aguache, Izote Flower, chicken stew, corn bread, pickles, rice with ribes, loroco patties with cottage cheese, shepes, yucca with pork rinds, marrano stew, cream chicken, spinach pulique and quesadillas.
Pacific, Exotic and Diverse
With the departments of Escuintla, Suchitepéquez, Retalhuleu, Santa Rosa, and San Marcos that present the dishes of seafood broth, stuffed chiles, leg broth, turtle soup, shrimp with chipilin, miltomate meat, güisquil desserts, yellow meat, chafaina and corn tamale, green bahas, banana mole, turkey mole, shredded beef and bataneco chojín.
In Guatemala, six dishes have been declared Cultural Patrimony of the Nation: chicken Jocón, Kaq´ ik, Pepián and bananas in mole, Mixco chocolate and Pinole.
Participating in a gastronomy tour in Guatemala allows visitors to extend their knowledge of world cuisines. It is also one of the best ways to experience Guatemalan local culture and traditions.  Every good meal with its textures, aromas, local ingredients and mode of preparation comes with a story. The best way to participate in the sensory experience is to try local cuisine and learn about the millenary practices and traditions of local cooks.
******
Latina Republic thanks, Julio E. Orozco, Commercial Counselor, Embassy of Guatemala in Washington, D.C.
Source, Content, Photography, Ministerio de Relaciones Exteriores, Instituto Guatemalteco de Turismo
For more information, contact INGUAT, Instituto Guatemalteco de Turismo
Tourist Assistance 2290-2810
visitguatemala.com 
---
Soledad Quartucci | Executive Director
Dr. Soledad Quartucci is the founder and CEO of Latina Republic, a 501(C)3 California-based nonprofit organization. Latina Republic is a reporting, research, advocacy and charitable organization advancing human rights in the Americas. We fill the void in coverage of urgent social, political, human rights, economic and gender inequalities affecting the Americas. Through our allies in Latin America, we highlight contributions, heritage, history, leadership and innovation. Latina Republic reports on stories that integrate local strategies to the betterment of the region. We make space for and empower unheard voices and celebrate the rich histories of Latin America.