Arpillería is a Chilean-born textile art form found in several Latin American countries that is stamped with each region's personal style. The quilt-like style of art is unique for its colorful fabric and impressively stitched details often mirroring the rural scenery in the artist's daily life. Green hills, livestock, and farmers are some of the many images that one may find in an arpillera.
In the 1970s, there was a significant shift in the weight of the messages embedded in the art's patchwork. A brutal dictatorship took hold of Chile from 1973 to 1990, under which thousands of citizens were accused of dangerous left-wing ideology and punished for demonstrating government opposition. Such surveillance suffocated freedom of speech and thus inhibited any form of expression that could be remotely insubordinate. 
Several women, however, cleverly embroidered messages of solidarity and resistance into their arpilleras, knowing that government officials overlooked sewing because of its reputation as a mundane, household chore. These arpilleras recounted the brutal stories of the violence and injustices projected onto their creators, including the realities of witnessing loved ones become some of Chile's 30,000 desaparecidos (people abducted by the government) overnight. As a result, women unknowingly revolutionized apillería and catapulted the art into what viewers now identify as an established resistance movement. 
Today, the art form can be found across Latin America, and more broadly, around the world. Organizations in Latin American countries, in particular, have adopted arpillería workshops in remembrance of the human rights violations suffered by the local people, as well as a way to help citizens heal through their lasting trauma from these events. Beyond Chile, these organizations can be detected on the internet across but not limited to Bolivia, Colombia, Brazil, and Peru.
Mama Quilla, a Peruvian NGO, is one of the many that have garnered both national and international attention for their moving arpillera pieces. Their political pieces often reflect the period of violence that occurred in the 1980s and 1990s. Communist party the Shining Path had launched a guerilla war throughout the country that displaced half a million Peruvians and claimed 30,000 lives, mostly Indigenous people. The NGO itself was born out of displacement; survivors of the armed conflict banded together to form a support system amidst the uncertainty and fear of the war.
President Isabel Alacote Vilcatoma has led the organization over the past two years and advocated for victims of the Peruvian internal conflict, yet the outbreak of Covid-19 has only complicated her role. A native of Ayacucho, one of the regions most heavily impacted by violence at the beginning of the '80s, she was displaced to Lima in 1984. Vilcatoma has worked with Mama Quilla ever since she found community with other women who experienced displacement.
What inspired the foundation of Mama Quilla, and when was it founded?
[Mama Quilla] itself has existed for many years. It is made up of displaced peoples during Peru's period of violence. The name comes from two words in Quechua. Mama means mother, and quilla means moon. Members chose the name because [the group] was the only light guiding us in those times. Nights were so dark and terrible that we took refuge anywhere we could: mountains, holes, etc. We had to save our lives from the violent terrorism in our home between 1980 and 2000. The moon is our light of salvation and faith, and it guides us. That's why we chose the name Mama Quilla.
"Women have always been united and had a lot of strength, and we are perseverant."
Mama Quilla has functioned formally as an organization since 2011. But the organization, a group of displaced people since '84 or '85, is controlled and supported by the parish. The parish here is in Ate-Vitarte, a district in Lima. A group formed there among the people from the sierras of Peru. They fled from terrorism to save the lives of every one of their members. 
In my case, we were eight orphaned children because the terrorists killed my parents. This tragedy caused us to move to Lima. From Lima, we went to Huaycán. It's a young town. Mainly, there are immigrants from different parts of Peru.
Can you talk about Mama Quilla's team?
From 1984 until now, there have been many people involved in the organization. Previously, we had more than 120 people, primarily women, but some men, too. But as time went on, people started to lose hope or grew tired of fighting for their rights. So many people either decided to leave voluntarily or died.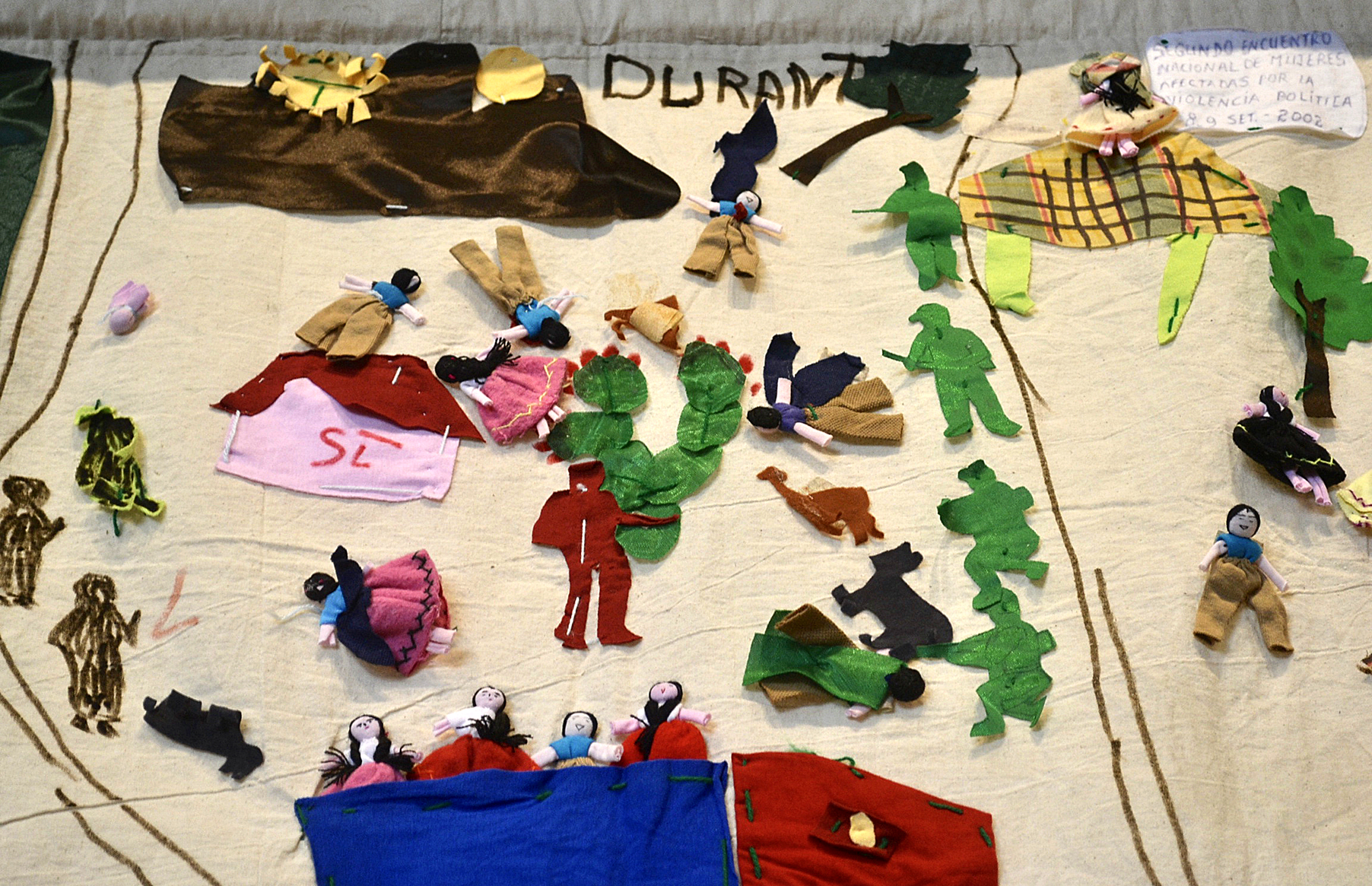 Now, [Mama Quilla] is completely made up of women, and to some degree, it is a type of union. Women have always been united and had a lot of strength, and we are perseverant. Men don't have the same enthusiasm or interest in that sense. Most of these women are older. Some are as old as seventy-five years. In my case, I'm one of the "young ones." But we are still united despite everything that has happened to us, and now throughout the pandemic. We don't get together physically, but we are in contact every once in a while.
The organization has changed drastically over the years. Members may have their own goals. One may have a family, many children, grandchildren, or they have to find a job. They have to find a way to survive. But we are provincianos (from the province of Ayacucho), and most are illiterate. That fact is important.
When did Mama Quilla start to create arpilleras, and how did you learn the techniques to make them?
Mama Quilla's arpillería started a long time ago. In a way, it started our nation. Most of my colleagues are speakers of Quechua. Some speak Spanish now, but years ago, it was very challenging to express in words how one felt, what had happened at home. They were scared to describe it, or they couldn't because many hadn't studied beyond grade school.
Through workshops, psychologists, and NGOs, members started to develop different "abilities." University students and NGOs took an interest in our group, and vice versa. They knew what [these women] had gone through and how to get them to talk and provide more holistic information. They knew how to get them to express what they felt throughout those difficult years.
As a result, [the women] started to work with textiles. First, they began to create images however they could because we aren't artists or writers. So every person drew their own way, the way they knew how. That's how a professor from a Catholic university came to the organization. She introduced [Mama Quilla] to arpillería. By tradition, we already learned to sew, embroider, and weave.
With arpillería, we began to work with cloth pieces and shape them into people, animals, or trees. In our culture, a remendo is a textile piece that covers a rip in clothing. You couldn't sew it the same way. Instead, you cover something with a piece of textile and sew it on. It's basically how you make arpilleras. In Quechua, we call it remendar. We did it without even knowing that it could be called arpillería.
Arpillería, for me and my group, is a therapy that heals wounds that we had and continue to have. It is the only way that my peers could express themselves. It is also a type of resistance so that people, both on the national and international level, would know what happened in different parts of Peru. Not only in the provinces, but in Lima, the capital, too.
That's why [the organization] has a collection of arpilleras, seven emblematic works, and three art pieces that summarize the history of what happened. There's a piece before the armed conflict took place. Then, the violence starts and that's how we position our work in Huaycán.
"[Arpillería] is also a type of resistance so that people, both on the national and international level, would know what happened in different parts of Peru."
Did you know from the beginning that practicing arpillería would have therapeutic benefits?
We weren't aware. Our fathers, mothers, and ancestors had already taught us to sew, to embroider. So we had already been doing it, but we didn't know [arpillería] by name. We knew what yarn was in Ayacucho, but again, not the name. But with workshops, we started to learn and came to understand what it was. Arpillería is like a painting, you grab your tools and start to paint. We, like many people, do it with fabrics. It's not an oil painting but it's a textile painting.
Is this a tradition that Mama Quilla passes down to younger generations?
In these times, I try to teach my daughter. She at least has an idea [of arpillería]. With crafts these days, she already knows how to do it even though she hasn't put it to practice. I would love it if she learned and loved it enough to do it in the future. But yes, many young people do it. There are opportunities to show young people at Mama Quilla.
We host workshops whenever we have the chance. Students are mainly the ones interested in them. I have had the opportunity to host workshops everywhere. At Lugar de la Memoria (a museum in Lima), at the National School of Fine Arts. But young people are very interested. Just as much as the elders are.
Like I've always said, now they are more adept than we are. They are much more knowledgeable and adaptable to drawing. So I just give them fabric and guide them a bit. So yes, it passes from generation to generation. 
Normally, when we give workshops, [participants] make what they want to make. We don't tell them, "do this." I had the chance to teach workshops in Lugar de la Memoria, and with young people and students, we made a piece that summarized the age of violence. It stayed with the museum in Miraflores, Lima. It was a collaborative project with workshop participants. They loved it because at first, it seemed complicated to do. 
It's a beautiful piece of work. In the moment, ideas flow. It's not like you have a blueprint and you do it a certain way. One applies their own creativity and they can do it however they want. So we ended up completing a project and it was left there. We worked with many young people and students and older people. They became "tied" to the project.
Is there a country or community that invented arpillería? Who is responsible for its conception and what was its original intent?
I don't know its origin exactly, or where. But here in Latin America, we came to know because of Violeta Parra in Chile. She was alive long ago, before the Pinochet dictatorship in Chile, but the context is more or less the same as ours. They've maintained the original format, with original techniques.
I knew of it. I was able to participate in an exposition at Lugar de la Memoria with Chilean arpilleras here in Peru a few years ago. I also met a few arpilleristas here in Peru at the Ruraq Maki fair. From what I understand, Violeta Parra contributed the most to the movement. She is the most well-known and she made it popular. Right when the dictatorship in Chile ended, the violence began in Peru. That's how we contribute to this type of work.
Our work is on the same level, so the technique is there. We've kept the technique, but we also modernize it. We do the same type of work about violence and resistance. We also use polos, hoods, and handbags. We are making more commercialized things.
I think that the art was always there. Since long ago, there is research that indicates that arpillería has existed since the Incas. What happened is that since the internal conflict, it's turned into a way to survive. The repression we felt was so strong, the economy was a mess. But arpillería, in the case of Mama Quilla, just like Chile, is a denunciation and a reclamation of our rights. To make sure that people, whether they are or are not political figures, don't forget about what happened to us. So it is a form of resistance. It's helped us, and it has continued until today.
For example, there are many arpilleristas here in Peru that focus on the pandemic. In my case, we are doing an arpillera about the pandemic separate from one another because my peers are very vulnerable. In the place where we normally work together, we can't enter right now. Everyone has to do it in their own homes.
It's very difficult to work in a group, so we are not developing projects right now, although everyone is doing their own individual work. I am doing some arpillera face masks, which I and some friends are doing as a hobby. We work with different themes, but we remain persistent.
How do people react to your work? Does the public already know about the challenges that members of Mama Quilla face?
There are many ways that people can interpret the work. People like arpillería, but everyone has their preferences. Some people like the theme regarding the violence of the internal conflict, but others like simple stories like El Capulinita (a Mexican comedic actor), The Seven Dwarves, Snow White, and the like.
It can also be a personal story. I won't know their or their family's story, their children's upbringing. They want me to develop one of these themes. One time they asked me to make one about marriage. Others can be touristic places in Peru. It can also be about a religious place. Or simply flowers. There are different themes that people ask for and one must simply comply.
Local museums typically ask us for our [arpilleras] related to the internal conflict. Normally, we exhibit the projects in different parts of Lima. They've traveled around for many years. Last time, I think I was in Brazil, they were doing an exhibition in France. The works done about the internal conflict have had a good run.
But it is at artisan fairs where we exhibit other things and other types of work. It's a type of expo and sale. For example, we participate at the Ruraq Maki fair from time to time, which is an extremely important artistry fair in Peru. There, we've displayed a collection of artwork, but we also had products to sell like handbags.
We also sell the artwork, but we don't necessarily make it to sell. But the work that we put up in an exhibition, that we don't sell. [The exhibition] is a collection of seven pieces of art and it is the memory of those in Mama Quilla. You could also say, although I don't want to exaggerate, that it is Peru's memory. We've been able to display these in all kinds of places.
What do you think of other groups, both domestic and abroad, that have also taken up arpillería as a form of therapy? Why do you think it has spread throughout Latin America?
Arpilleras are different throughout Latin America. Everyone has their own style. It is interesting, but in a way, we are united telepathically. All of a sudden, it's the best way to express what one feels and also resist what is happening to us, our environment, and our roots. Beyond resistance or to let the world know, it is a way to survive. You do this type of work, it only requires a little bit of your income, and I think that's why we practice it in Latin America and beyond.
"It's like having a baby in your hand, and you're there so that it grows healthily. Or like a plant, a seed, and you water it so that it grows beautifully. That's how we try to make the arpilleras."
I think it's really important to work like this because it shows us what we still want to preserve: nature, the good things we have, even life itself. Because if we don't, if someone goes to a police station or to the press to denounce [what's happened to us], they listen to a certain extent, but that's it. There's no photo, no paper that convinces them, "we've already denounced this, we've considered this…."
A piece of art, despite being an artistic work, stays with us. In any part of the world, there will always be an arpillera and it will always have a distinct theme. It could be happiness, sadness, or it could demonstrate resistance in a certain place where they are chopping down more trees than they should. 
That's why it's really important to work with arpillería. It is a challenge, but it is therapy. If you are scared, frustrated, you can't express yourself, you can do so through textiles. You express yourself how you want to, your way. Whatever you want to put, you put it there. Nobody can tell you, "don't put that there."
One can put anything they like without someone correcting them. In the fabric, you express whatever. That's why so many people do arpillería. Right now, it is growing and it is a very important type of art for everyone. It looks difficult, but you just have to work at it with care. It starts to flow and you don't have to force it. You can put whatever, whenever you want.
I once said it's like having a baby in your hand, and you're there so that it grows healthily. Or like a plant, a seed, and you water it so that it grows beautifully. That's how we try to make the arpilleras and unburden ourselves of everything we've been through.
Above everything, these times are difficult and it is stressful to be somewhere without being able to leave. With the freedom that one had [before the pandemic], there were many things but at least you could go out. Now we are trapped, so it is a way to destress. 
---
Noelani Bernal
| University of Chicago
Noelani is a rising senior at UChicago, pursuing majors in Global Studies and Romance Languages with a particular focus on Latin America, Spanish, and Portuguese. Originally from Southern California, her interest in studying Latin American culture cultivated while she was enrolled in a K-12 Spanish immersion program. Since then, Noelani has worked to expand access to higher education in Mexico and Brazil through EducationUSA, taught English to Spanish and Portuguese-speaking communities, studied Portuguese and Brazilian culture intensively in Rio de Janeiro, and conducted research on the cultural impacts of rapid environmental change on vulnerable communities primarily in the Brazilian Amazon. As a Latin American Correspondent, Noelani hopes to shed light on grassroots movements that give a platform to communities who face the brunt of environmental change, all while making their stories more accessible and relevant to U.S. readers.