Democratic Senators, Amy Klobuchar and Patrick Leahy, and Republican Jerry Moran, reintroduced bipartisan legislation that seeks to lift the trade embargo on Cuba, although without repealing parts of the law that address human rights or property claims.
In a statement, the senators said the Freedom to Export to Cuba Act would remove legal barriers for Americans doing business in Cuba and pave the way for new economic opportunities by boosting US exports and allowing Cubans greater access to American products.
The Cold War is over and living in the past is no longer an option. It's time to lift the embargo on Cuba. I've introduced bipartisan legislation to do just that.

— Amy Klobuchar (@amyklobuchar) May 20, 2021
The senators noted that the legislation would repeal provisions in previous laws that prevent Americans from doing business in Cuba, but that its passage would not revoke parts of the law that refer to human rights violations on the island, or property claims against the Havana government.
Senator Klobuchar said lifting the trade embargo will open the door to a large export market and create jobs in the United States:
"Instead of looking to the future, U.S.-Cuba policy has been defined for far too long by conflicts of the past. As we work to rebuild our economy following the pandemic, lifting the trade embargo will open the door to a large export market and create jobs in the U.S. It's time to turn the page on the failed policy of isolation by passing our bipartisan legislation to end the embargo once and for all."
"The unilateral trade embargo on Cuba blocks our own farmers, ranchers and manufacturers from selling into a market only 90 miles from our shoreline, while foreign competitors such as China benefit at our expense," Moran said. "This legislation will expand market opportunities for U.S. producers by allowing them to compete on a level playing field with other countries. It is time to amend our own laws to give U.S. producers fair access to market to consumers in Cuba."
"This bill would do away with a misguided, failed policy of unilateral sanctions that harms the Cuban people and shortchanges American companies and American workers. It would never pass Congress today, but a tiny, vocal minority stubbornly opposes its demise. The consequence, besides blocking U.S. exports and income for America's farmers and manufacturers, is that our competitors are reaping the benefits of our shortsightedness. It should be debated and voted on in the Senate," Leahy stated.
The Freedom to Export to Cuba Act repeals the current legal restrictions against doing business with Cuba, including the original 1961 authorization for establishing the trade embargo; subsequent laws that required enforcement of the embargo; and other restrictive statutes that prohibit transactions between U.S.-owned or controlled firms and Cuba, and limitations on direct shipping between U.S. and Cuban ports.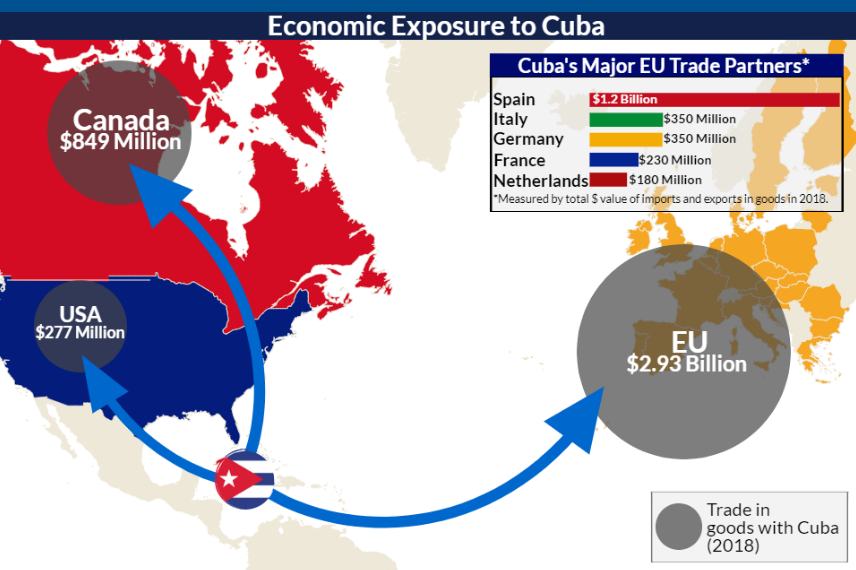 For the 28th consecutive year, "the UN General Assembly adopted a resolution calling for an end to the economic, commercial and financial embargo imposed by the United States against Cuba." United Nations, November 7th, 2019. 
"In its broader context we view the embargo—not just as a punitive act against Cuba but as an impediment to Caribbean regional development as a whole," declared Keisha McGuire, Grenada's Ambassador to the UN.
For his part, Republican Moran said that the trade embargo on Cuba "prevents US farmers, ranchers and manufacturers from selling in a market just 90 miles from its coast while foreign competitors such as China benefit."
He also noted that the legislation "will expand market opportunities for US producers by allowing them to compete on equal terms with other countries," adding that it is time to amend the laws "to give US producers fair access to the market for consumers in Cuba." Democratic Senator Leahy agreed with him, saying that the bill "would end a wrong and failed policy of unilateral sanctions that hurts the Cuban people and defrauds US companies and workers."
"Today it would never be passed by Congress, but a small vocal minority stubbornly opposes the bill's demise," Leahy predicted. The senator observed that the consequence of the trade embargo, in addition to blocking exports and incomes for US farmers and manufacturers, is that competitors are reaping the benefits of what he called "our myopia," and he encouraged debate on the legislation in the Senate.
The legislation has been endorsed by Engage Cuba, the Washington Office for Latin America and the Latin American Working Group, among other entities favorable to restoring relationships between Washington and Havana.
Engage Cuba is a national coalition of private companies, organizations, and local leaders dedicated to advancing federal legislation to lift the 60-year-old Cuba embargo in order to empower the Cuban people and open opportunities for U.S. businesses. The Cuban authorities have indicated that the sanctions imposed by the United States for six decades are the main obstacle to the economic and social development of that country.
Cuba will bring the resolution it presents every year to the United Nations General Assembly (UNGA) next month to call for the end of the blockade, and which in 2020 had to be postponed due to the pandemic.
"Cuba relies on agriculture imports to feed the 11 million people who live in Cuba and the approximately 4 million tourists who visited in 2019, prior to the pandemic. The U.S. International Trade Commission found that if restrictions on trade with Cuba had been lifted, exports like wheat, rice, corn, and soybeans could increase by 166% within five years to a total of about $800 million.The blockade has caused incalculable humanitarian damages. It is a flagrant, massive and systematic violation of human rights. It qualifies as an act of genocide under Articles II (b) and (c) of the Convention on the Prevention and Punishment of the Crime of Genocide, adopted in 1948. There is not one single Cuban family that has not suffered the consequences of this," charged Cuba's Foreign Minister, Bruno Rodríguez Parrilla
Since November 24, 1992, the UNGA has spoken out every year against the harmful sanctions, reflected in an almost unanimous vote in favor of the elimination of the blockade. In the most recent vote on a motion in the UN in November 2019, it obtained the support of 187 of the 192 member countries.
Earlier in September 2020, a coalition denounced the cruelty of withholding remittances in a global pandemic:
"We unequivocally denounce the Trump administration's decision today to erect yet another obstacle for those sending remittances to family members in Cuba. Prohibiting family members from supporting one another amid a pandemic and food shortage in Cuba, and closing remittance channels without securing a viable alternative, is cruel and runs contrary to American values," The Center for Democracy in the Americas, Cuba Educational Travel, CubaOne Foundation, Cuba Study Group, Engage Cuba, Latin America Working Group, WOLA.
Last February, 2021, 56 groups urged the Biden-Harris administration to take immediate action to normalize U.S.-Cuba relations through this letter.
Meanwhile, the European Union and Cuba are collaborating on a sustainable development agenda for 2030.
The Council on Foreign Relations recalled that as a candidate, Joe Biden pledged to reverse Trump's policies on Cuba, which he said did not advance human rights or democracy. "Since taking office, the Biden administration has affirmed its commitment to lifting remittance restrictions and enabling Americans to travel to Cuba, as well as to review other Trump administration actions."
When blockades and sanctions made in the name of human rights end up causing human rights violations to the people they intend to protect, it is time to retire harmful and outdated policies and look to development instead. Lifting the trade embargo will introduce new opportunities to Cuban and American industries, businesses and families. The Biden-Harris administration stands at the brink of history making with US-Cuba relations. What legacy do they wish to leave behind?
The time to act is now.
---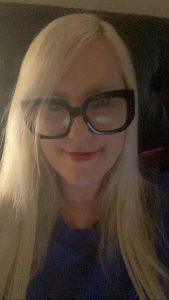 Soledad Quartucci | Latina Republic
Dr. Soledad Quartucci is the founder and CEO of Latina Republic, a 501(C)3 California-based nonprofit organization. Latina Republic is a reporting, research, advocacy and charitable organization advancing human rights in the Americas. We fill the void in coverage of urgent social, political, human rights, economic and gender inequalities affecting the Americas. Through our allies in Latin America, we highlight contributions, heritage, history, leadership and innovation. Latina Republic reports on stories that integrate local strategies to the betterment of the region. We make space for and empower unheard voices and celebrate the rich histories of Latin America.