Pandemic Prevention in Bolivia: Vaccine Distribution 
With more data on COVID infection rates and vaccine distribution patterns becoming available, it's easy to pinpoint which countries have adequate resources and policies in place to protect their citizens. While there is no "correct" response to a global pandemic, researchers have applauded the Bolivian response to coronavirus and their ongoing efforts to acquire more vaccines.
The landlocked South American country had an incredibly timely response to COVID. After the first case was discovered there on March 10, 2020, the government immediately closed schools, cancelled events, closed borders, and implemented a nationwide lockdown starting March 22. Of course, the economy fell in response to business closures and the government faced pressure to reopen ahead of election season.
On June 1, 2020 the national government maintained curfews, mask mandates, and school and border closures while leaving social gathering policies, public transit regulation, and workplace guidance up to local municipalities. While this resulted in a small increase in infections and deaths initially, since that first spike Bolivia has fared relatively well.
An obstacle to containing the virus not unique to Bolivia is the prevalence of the informal economy. Like many Latin American countries, many families rely wholly or partially on income that comes from selling goods at open-air markets. These markets are often in central locations and become community gathering spaces. Since employment is informal, there were no protections for employees when the markets were closed due to COVID-19.
As a result, open-air markets and the public transportation employees and consumers required to get to them were designated "essential" early on in the pandemic, despite being recognized as spots where the virus was spread easily. Although informal and transportation employees had some of the lowest testing levels, those workers and their families accounted for almost 50% of confirmed COVID cases in Bolivia.
Many other countries faced the same problem; it's difficult to strike the balance between public safety and ensuring citizens have adequate income. Even with government subsidy programs, there still needs to be spaces where consumers can access the goods they need to purchase to survive.
Across the globe scientists have pointed out that low income communities have been the most impacted by the pandemic, regardless of their country of origin or how the government elected to handle the virus. However, Bolivia's tactic of sub-national regulation allowed outbreaks to be controlled locally, rather than implementing national policies when small-scale containment would be as, if not more, effective.
Bolivia had similar issues acquiring tests and personal protective equipment (PPE) as the United States. While mask mandates became commonplace, workers were expected to find and purchase their own equipment and tests. This resulted in disparate infection and death rates for wealthy municipalities; citizens with the means to buy their own PPE and tests obviously fared better than those who had to reuse PPE or go without tests. Even government subsidy programs caused infections to spike since citizens had to go collect their benefits in person, resulting in large numbers of people lining up and entering small government buildings in rapid succession.
With all that said, there are many important lessons to be learned from Bolivia's COVID-19 response. Sub-national regulation, while not perfect, has shown to be more effective than one-size fits all national policies, especially in countries where wealth distribution and employment sectors are divided rather sharply along municipality lines. The areas where Bolivia fell short, such as PPE and test distribution, were tough spots for nearly every country.
As the world moves forward with vaccine distribution, containment measures are being overshadowed by efforts to obtain and administer enough doses to achieve herd immunity. On Thursday, July 1, Bolivia announced an agreement with the Chinese pharmaceutical company Sinopharm for six million doses of the vaccine over the next two months.
President Luis Arce, in a televised address on June 30th, informed the public of the plan to import three million doses in the month of July, with an additional three million doses scheduled for delivery in August. 
This comes as the third wave of infections in Bolivia are on a significant downward trend. Arce has cautioned the public to stay vigilant and is encouraging all citizens over the age of 18 to get vaccinated as quickly as possible. The fourth wave prevention plan also includes better cooperation between national and local governments, especially around accessing COVID tests and PPE for essential workers. 
Although Bolivia is below the regional average for vaccine distribution, Arce is hopeful that the acquisition of several million doses is an important step in increasing their vaccination rates. The Chinese ambassador to Bolivia, Huang Yazhong, released a statement following Arce's announcement on Wednesday evening. He said,
"As of right now, China… has already supplied 450 million vaccines to almost 100 developing countries…The Sinopharm company will be working hard so that these six million vaccines can arrive as soon as possible to accelerate the fight against the pandemic in the sister country of Bolivia."
Both the ambassador and the president attribute the vaccine deal to the friendly relations between the two countries. Bolivia and China first established diplomatic relations in 2018, which has proved to be an essential part of fighting COVID in the country. The negotiations reportedly began at only 500,000 doses, but the friendly relationship between the "sister countries" means the Chinese government is inclined to support Bolivian vaccination efforts. Yazhong even indicated that more doses could be supplied to the country if the need arises. 
While Bolivia's vaccination rate is below the regional average for South America, the Sinopharm vaccines are expected to boost the rate in the country significantly. If increased availability alone doesn't incentivize citizens to get vaccinated, several municipalities are thinking about or already offering rewards for vaccinated individuals.
The city of Sucre Chamber of Industry, Commerce, Service and Tourism are offering discounts to individuals who have received one or both doses of the vaccine, including discounts on food and tourist experiences. Restaurants in La Paz who require all patrons to show proof of vaccination are able to expand their dining capacity. Reportedly, these efforts are working well enough that governors in other provinces are brainstorming similar programs.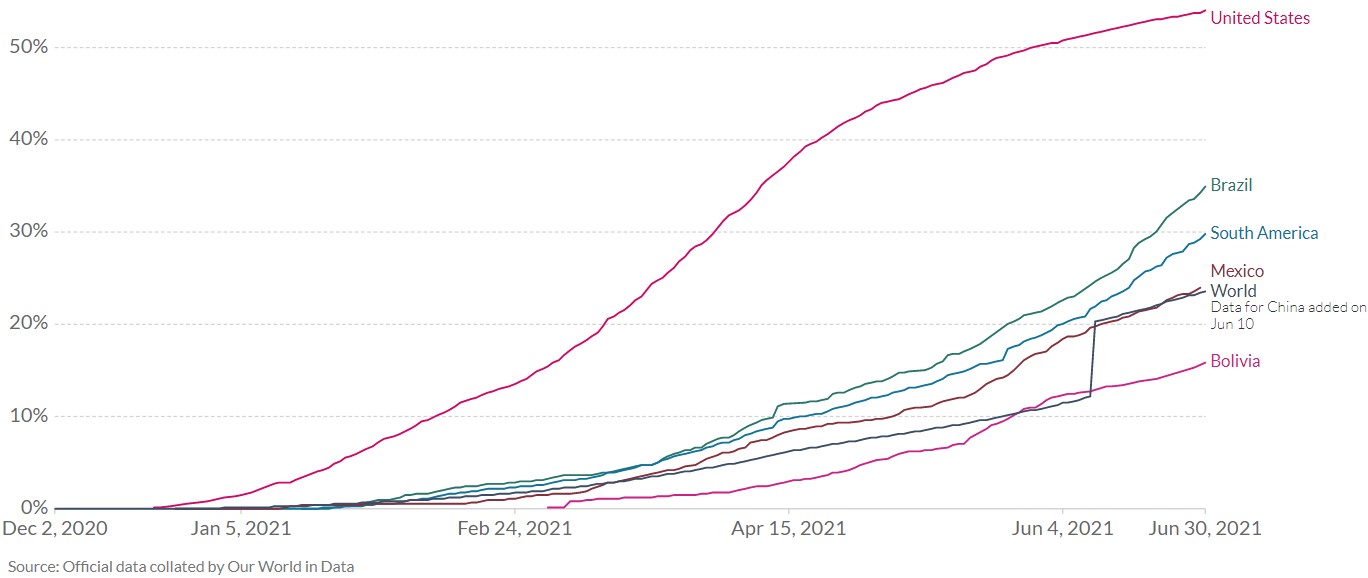 This is just another perk of Bolivia's program of sub-national COVID prevention response; effective policies spread around the country while those that aren't helpful are only tested on a small scale, which can prevent national outbreaks. While only time will tell if the incentive programs will work on a large scale in Bolivia, it has been effective in other countries, including the United States.
Overall, the Bolivian response to the pandemic has been a process of trial and error, much like the rest of the world. Sub-national regulation, even during reopening, has shown to be an effective way to mitigate the spread of the virus. With increased access to the vaccine, the process is only going to get smoother from here on out.
---
Hannah Fontaine
| Harvard University
Hannah is a recent graduate of Harvard University who wrote her thesis about the connection between the state-sponsored violence of the Guatemalan Revolution and the lack of prosecutorial and judicial success for women who are survivors of sexual violence in the country today. In the fall, she will be attending University of Wisconsin- Madison for law school where she plans to focus on immigration and criminal law. Hannah has been working with Latina Republic since October 2020 and her favorite part about writing articles is using quotes from interview subjects to emphasize their voices and experiences, telling their stories as they want them to be told and highlighting the successes of organizations and movements working to make their communities better.