Kids in Need of Defense, also known as KIND, is a key actor in the family reunification process, as it provides vital legal assistance to undocumented children. KIND's vision is "a world in which children's rights and well-being are protected as they migrate alone in search of safety."
Latina Republic had the opportunity to speak with Kayleen Hartman, Managing Attorney of Family Separation and Special Programs, and Laura Just, Director of Legal Protection. Kayleen Hartman manages work with separated parents and children now in the U.S., and Laura Just's work includes reunification of families where a parent and/or a child has been deported. We are thankful to have had both join the call to give us a comprehensive overview of KIND's reunification work domestically and throughout Central America. 
In this candid interview, both lawyers highlight their personal challenges as attorneys and as Americans, as they try to come to terms with the fact that the trauma inflictor behind the unspeakable pain and unhealable wounds of children who have been separated from their parents, which persist even once reunited, is the U.S. government. The trauma of family separation was intentionally inflicted by our government officials, through policies intended to cause pain to deter families from migrating. The internal turmoil that this causes is immense, but so is the feeling of hope that organizations like KIND and attorneys like Laura Just and Kayleen Hartman give us. They inspire us as they work to right this great wrong and put families on "the path towards wholeness."
This Q&A covers the fight to bring families back together, to make them whole, and to heal this government inflicted trauma. Thank you to Kayleen Hartman and Laura Just for sharing this crucial information and these moving stories with us. 
Q&A
Latina Republic: What does the reunification process, in simplest terms, look like from KIND's U.S. program and the international one?
Laura Just:  So the international process currently is under the Family Reunification Task Force, and they are working through a protocol so that the deported separated parents are able to come back to the U.S. to reunify with their kids. That really is it in a nutshell.
Latina Republic: Thank you. How is KIND involved with the Ms. L Steering Committee currently?
Laura Just: We've been involved with the Ms. L Steering Committee since its inception in 2018. Our U.S. programs have done a lot of work with folks who are in the U.S. and may have reunified in the U.S., and then our international programs team focuses on assisting families that are back in their countries of origin. We have international reintegration programming for children returning to their countries of origin in Guatemala and Honduras. 
And so in 2018, when a lot of the separations were first starting to happen on this large scale, a lot of those kids were funneled into those programs for assistance after they returned. 
Then we've continued to work with deported parents at the steering committee. Other members of the steering committee are locating [parents], because all of the search efforts for all the people who were separated are still ongoing. So we're not doing active searches on the ground. That's another NGO, Justice In Motion. They do amazing work finding those people, but we're involved after folks are located, depending on if certain needs are identified in their cases, they can be referred to us for additional assistance.
Latina Republic: Wonderful. Building off of that, what is KIND's unique role within the Biden Administration's Family Reunification Task Force? I assume there's a lot of overlap there.
Laura Just: I don't know that we can say that we have a role specifically in the task force. The task force is only government agencies. 
Latina Republic: What is KIND's relationship with the task force? Can you reach out to them for help? Or have they been kind of radio silent? I've heard a variety of opinions on the task force from conducting these interviews with other nonprofits and NGOs.
Laura Just: The task force has had a number of open briefings now for different stakeholders. Those have been semi-regular – every couple of weeks, as I recall, that keep everybody updated on the process.
Kayleen Hartman: Just to rephrase a little bit, too. I do think some of the unique things that KIND offers in its  interaction with the task force is that [KIND has] an on the ground U.S. based presence, where we are and have been working with a large number of separated children and other families here in the U.S., as well as our work with deported parents, helping to provide information to them about their legal options.  
Latina Republic: Yes, of course, that's the most important part. So, how does KIND connect with unaccompanied children to represent them? 
Laura Just: I'll let Kayleen answer that one. 
Kayleen Hartman: For the most part, unaccompanied children are referred to KIND by service providers who work in the Department of Health and Human Services shelters that house the children once they leave the border. If a child is released to a sponsor in one of the 11 cities where KIND has an office, we can be referred the case for legal representation. Once we accept a case, we work to find a pro bono attorney among our partners to help the child make their case for U.S. protection, or we represent the child ourselves.
Latina Republic: Thank you. So what are the unique roles that KIND U.S. plays in assisting [separated] undocumented children?
Kayleen Hartman: On our [U.S.] team, we do direct immigration, legal services, as well as pro bono mentorship on our cases. So that is really about immigration relief, meaning to try to gain U.S. protection for the children. The children who were separated were put into removal proceedings, where they have the opportunity to apply for relief. 
And so what we are responsible for in that context is either directly representing them ourselves, or finding them a pro bono attorney among our nearly 700 partner law firms and corporate legal departments, and then mentoring that pro bono attorney on how to complete the case. That so far is pretty standard in terms of the work that KIND does across the board. A couple of other pieces that we have been working on are representing our clients in Federal Tort Claims actions against the federal government for the harms that they suffered as a result of family separation. And that's really unique for us at KIND, that we are actively requiring the government to be responsible for the harm and asking them to make our clients whole.
Latina Republic: Yes. So just to clarify a little bit, how does an unaccompanied child in Central America or their country of origin find KIND representatives abroad to help them out?
Laura Just: In our return and reintegration work for children who are returning to their home country from the U.S., children  are primarily referred to us while they're in the U.S., and that's true for separated and non-separated children. But if they're going back to the areas that we serve, we have five partners in Guatemala and Honduras, three in Guatemala, and two in Honduras who can help them reintegrate. 
So if they're going back to one of those areas we're able to connect them with reintegration resources when they get back through our local partners. A lot of times, let's say if a child is in Office of Refugee Resettlement (ORR) custody and they're deciding to take voluntary departure, the case manager there at the ORR shelter might make the referral to KIND for reintegration services for the returning child. 
For kids who are already in Central America, if they're separated, they're kids that maybe the steering committee has located, and has then referred to KIND for assistance. But we don't have offices or a presence ourselves in Central America. 
Latina Republic: Okay, thank you. So KIND documents the conditions of the children who are being reunified. Can you describe some of the testimonies that have been documented? Or are there any common patterns in what these children may be experiencing?
Laura Just: Common patterns for the types of cases or the types of separations?
Latina Republic: For example, how the children are emotionally, who supports them along the way.
Laura Just: At this point in time, there's very few separated children still in ORR custody. So if they're in the U.S., they tend to be with a sponsor. ORR places kids into sponsorship situations. And if they're back in Central America, they are potentially with the deported parent or they're with other family. That tends to be what we see at this stage.
Kayleen Hartman: In some cases, a child is separated from a parent who was quickly deported and placed with a nonparent relative who cares for them. In other cases, a child  arrives with a parent, is separated from that parent, but then is eventually reunified with the other parent who was already living here [in the U.S.]. Some children have been reunified with their parents in the U.S. Regardless, there is still an enormous amount of recovery happening for these children. And I think it can't be emphasized enough how durable the trauma of separation is and how evident that is. 
I've spoken with parents who are in tears because they don't know how to console or what to do about children who are still dealing with bedwetting at night as a result of their trauma, who are waking up with night terrors, who at a park run and hide behind their mother and father because they saw an armed police officer across the way and thought it was Border Patrol or you know, CBP coming back for them again to restart the whole nightmare. 
So, in terms of the conditions, regardless of whether they're with parents, whether they've been reunited with a sponsor, the trauma itself is very much present and very tangible. And I think one of the best things that we're able to do is connect clients with mental health services. This was a result of the settlement of a federal lawsuit requiring the government to pay for mental health services that addressed the mental health needs of children, of parents, and then they also do whole family therapy as well, because one of the things that we see is the trauma of separation impacted both individuals. 
It impacted the parent and impacted the child, but it also really impacted that bond, that intra-family bond that is very much still in the process of repair. And that's in the best case scenario, right, where the family is already reunited. For the families that are just now being reunited all of that work is still ahead of them.
Latina Republic: In terms of the mental health services, are there any specific organizations that are working to provide mental health services?
Kayleen Hartman: Yes, Seneca has been appointed by a federal court to provide those legal services. And they either directly provide the mental health services themselves, or they locate local providers and contract out to provide those mental health services.  KIND also has social services coordinators across all of our sites, who can help these families access emergency needs and mental health services. 
Latina Republic: Okay, thank you. For the next question, what's the most challenging aspect of the work you do at KIND? Could each of you take this in terms of family reunification?
Kayleen Hartman: I can tell you mine. I've been working with either unaccompanied minors or asylum seekers, adults in detention, people in difficult circumstances who have often experienced deeply traumatic pasts for quite some time before beginning work with separated families. I think, when I stepped into family separation work, what was immediately apparent to me, in terms of the level of difficulty of this work, is that the source of the trauma in this case is the government. 
It was painful to watch clients suffering, knowing that the Trump Administration's family separation policy was intentionally cruel, not just an incidental side effect that nobody cared about. 
The story that really stuck with me is that of a mother that we were talking to and interviewing as part of her case, and she talked about the horrible things that they'd been through, both in her home country and then on her journey and the feeling of unsafety and terror, and the desire to protect her children and an inability to do so.
And she said that her mantra the whole time, when they were in the country of origin, in transit, her mantra the whole time was, "If I get to the border, we're safe; if I get to the border, we're safe; get to the border, we're safe." And then she said, "Little did I know that that's where the real nightmare would begin." 
And that was an experience that for me, as an attorney, almost made my blood run cold, because you realize, [family separation] was totally optional, and totally intentional. And I think that's probably the most challenging part of that, is this sense of helplessness in the face of an intentionally cruel government. 
I will say that, I think that the counterpart to that is that it also means that the most rewarding is seeing the opportunity to try to be part of the process to make some of these families whole or to put them on the path toward wholeness again.
Latina Republic: That was my next question. What was the most rewarding part? So thank you. Laura, if you would like to answer the most challenging, most rewarding?
Laura Just: Sure. You know, up until very recently, I would have said that the most challenging thing that we deal with is the fact that, day in and day out, we speak to these families, who say "the only way that I could reunify with my child is in the U.S." So, [they say], I can't have my child, come back there, come back to wherever our country of origin is, I can't go to the U.S., but that means that we have to stay separated because it isn't safe for the child to be back here [in the country of origin]. I mean, [they] left for a reason. 
And so you have these continued, really enforced separations. Now for some people, I mean, we've come up on four years for some of these folks who were separated in mid 2017. And now,  it's very rewarding that we are being able to offer [reunification in the U.S.] to people because it's what they've said, over and over, "what I want is for us to be able to go to the U.S." 
So to have now this developing path where we can do that is wonderful and we're so excited for the families. But I think the challenge, exactly as Kayleen said, is that just putting the family member back in the U.S. with the child doesn't put you back where you were three or four years ago. It's the beginning of the work. I think Kayleen said it really well. We're so happy to be able to do this, but at the same time recognizing that it's, in some ways, just the beginning of another journey for the family.
Latina Republic: Yeah. So when legal representation is successful, what is the best outcome for the families? It's obviously being reunited, but is reunited in the U.S.? Is it in Central America? Does it depend on the family? Does it depend on their situation? What's the typical, best outcome you see?
Laura Just: Yes, exactly as you said; it's individual to the family. What we really want to do is make sure that whatever the individual child or the individual family is coming to us for and saying, "This is what I would like to happen in our case," we want to help them get to that goal. So it really depends on the individual.
Latina Republic: Okay, and what happens when legal cases are unsuccessful for undocumented children? Hopefully for family reunification most cases will be successful now under this administration.
Kayleen Hartman: When a legal case is unsuccessful, the bottom line, whatever happens in terms of the nuts and bolts of it, the bottom line is that the child is denied the opportunity of a safe and stable life in the United States. Their  ability to make and establish a life in a place where they feel safe is at risk or destroyed.
Latina Republic: Are there opportunities to appeal cases like this? 
Kayleen Hartman: Yes, there are. So, if the case is denied, you can file an appeal, first with the Board of Immigration Appeals, and then with the circuit court. So, all of that is resource intensive, it depends on a lot of things in terms of what can actually be done, if the case is denied in the first instance. 
So it's important to keep in mind as we have this conversation, that you're talking to people who are talking to people who have lawyers, because we are the lawyers that they have. And the voice that's not being heard right now are all the children who don't have attorneys at all, who have no access to counsel. 
And that's going to be a huge piece of the family separation work going forward, that we're aware that a lot of the families that we're talking about right now, are the ones who were able to find lawyers, and we know that those are in the minority of the total universe of separated families.
Latina Republic: Thank you. Are you working with other organizations to reunite families? You mentioned, Justice In Motion is working to find parents in Central America. Are there some other key organizations you've been working with?
Laura Just: Yes, love this question. This has taken a village, this whole effort. So Justice in Motion. I could not say enough about them. We could not do any of the work that my team is doing without them. Al Otro Lado in California has also been instrumental with these returns even pre taskforce, they were doing some amazing work advocating for individual cases. 
CLINIC is very much involved, ASAP (Asylum Seekers Advocacy Project), LCCR-SF (Lawyers Committee for Civil Rights of the San Francisco Bay Area). So those last two organizations have been very involved, as Kayleen mentioned, on the FTCA (Federal Tort Claims Act) claim side [which involves claims suing the U.S. government for injury]. That's really just the folks who are working a little bit more on the return to the U.S. cases. So there are lots more that are doing this work in the U.S. too. 
We are also working with the ACLU, who are the plaintiff's counsel in the Ms. L litigation. So we talked to them a lot about potential remedies for families and solutions. 
---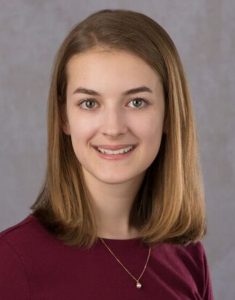 Erica Drufva | Wheaton College
Erica Drufva (she/ella pronouns) is pursuing her undergraduate degree at Wheaton College in Norton, MA. She is double majoring in Hispanic Studies and International Relations. Erica has a passion for oral history, especially surrounding migrant experiences. She aspires to work in immigration law and immigration policy analysis so she can make a positive impact on the lives of people who are migrating to the U.S. In addition to her interest in advocating for migrants, Erica also strongly supports human rights efforts such as the fight for racial justice, women's rights, indigenous rights, and lgbtq+ rights. She is excited to work with Latina Republic in order to uplift migrant stories and learn more about migrant issues on a deeper, more personal, level.