Capitán Hawk-A Magical Corner of El Salvador
Just forty minutes from the Salvadoran capital entering the modern and wide highway to the Puerto de La Libertad on El Amatal beach, there is a small yet beautiful place to get away and enjoy a well-deserved rest away from all noise. Visitors find it in the quaint Capitán Hawk's Marine Camp. The beautifully-located, private camp is filled with air conditioned family bungalows and rooms for couples.
"Here you can enjoy a lot of privacy away from everything. You feel inner peace. We have a pool and viewpoints for our visitors to enjoy the scenery, " explains Alberto Cordero, who is in charge of the Capitán Hawk center.
The bungalows are made of straw while inside they are well-equipped, modern room made to maximize comfort for the visitors. Cordero states that the beauty and tranquility of the camp has attracted Salvadorans across the country and tourists from all over the world.  Part of its attraction is Capitán Hawk's prime coastal location on the beach shores from where guests can enjoy beautiful sunsets.
The story of its origins point to Capitán Hawk's owner as a man who loved the sea and admired pirates and motorcycles. His friends called him, Capitán Tom Hawk and the name stuck, becoming the inspiration for the Hawk camp, says Alberto Cordero.
The beaches of La Libertad are beautiful, with an endless stream of private and public tourist centers that open their doors to foreign and national tourists. La Libertad beaches are known for their giant waves, surfboards, and an enjoyable sea breeze.
Capitán Hawk has cool rest areas where sea lovers can enjoy artisan food from the area such as, seafood, fried fish and, cocktails of all kinds, such as shell, squid, crab, octopus and ceviche. You can also enjoy the national drinks. "Our camp does not have a restaurant, food is allowed but not drinks. These can be consumed through our bar. Through a collaboration with a women owned restaurant, visitors can enjoy an assortment of fresh sea food, meat and chicken," shares the manager.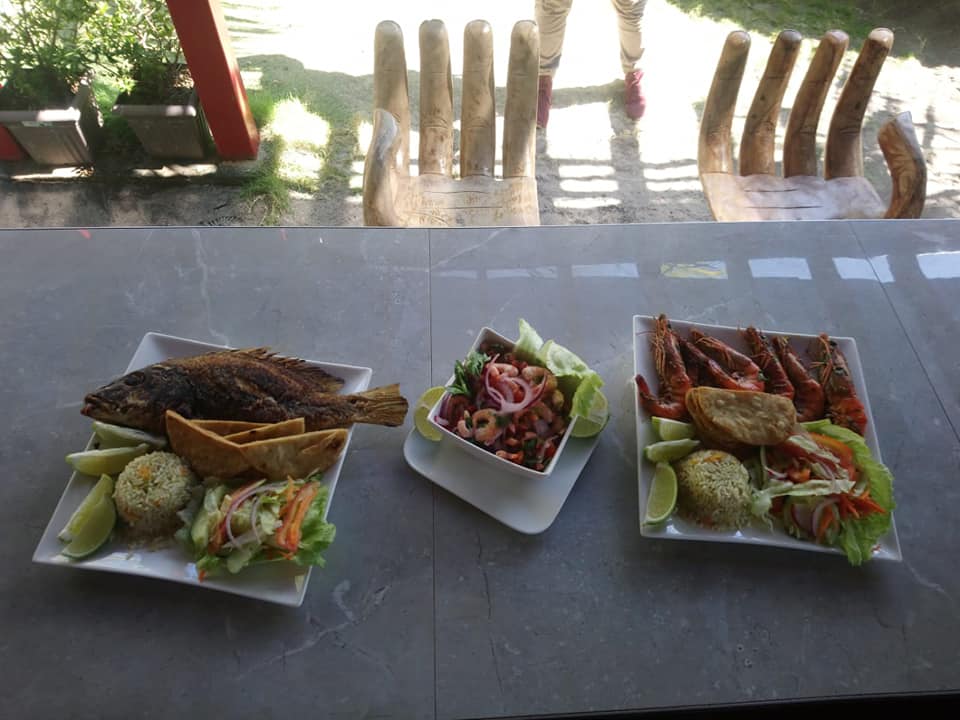 In this place you can enjoy the sea breeze, walk along the white sand beach, relax in air conditioned family rooms and watch the sunrise from your terrace. The rooms are equipped with comfortable beds, cable TV, hammocks, kitchen and dining room. All rooms provide alcohol gel.
Access to the camp is three minutes from the road that is in good condition. The camp follows all biosecurity measures, and has capacity for 60 people.
Capitán Hawk is a Vip Marine Camp. It has Bungalows and Palapas in front of a deserted and paradisiac natural beach about 25 minutes from San Salvador.  Capitán Hawk in La Libertad offers accommodations, an outdoor swimming pool, a bar, a garden, a private beach area and a terrace. A continental breakfast is available every morning at the camp site. Fishing can be enjoyed nearby. San Salvador is 25 mi from Capitán Hawk, while La Herradura is 29 mi from the property. The nearest airport is Monseñor Oscar Arnulfo Romero International Airport, 12 mi from the accommodations.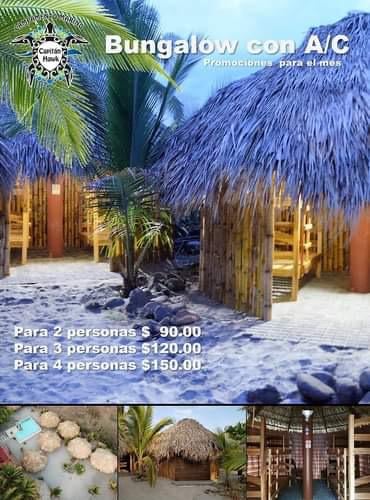 A day visit has a value of $10 per person. The hours are from 8 am to 6 pm, and includes a private beachfront palapa, hammock, chairs, table, parking, surveillance, access to the pool, access to the beach, showers, bathrooms, changing tables and other benefits of the camp.
The ecological bungalows are created for families and friends who enjoy a natural environment. They consist of 2 cabins with air conditioning and rechargeable solar lighting. The experience is unique since you can hear the sounds of the ocean at night and the singing of the birds at sunrise. The promotion of bungalows includes a private palapa in front of the ocean, a lit pool until 10 pm, a bonfire on the beach on the weekends, traditional breakfast and premium entry fees in low season.
The premium day pass opens at 8 am to 6 pm. Bungalows' schedule check-in is 3pm and checking out is 2 pm the next day. The Capitán suite is ideal for couples looking for comfort and privacy. It consists of a room with a double bed, air conditioning, a full bathroom and a private garden. Its value is $150, currently it is in promotion for $100 including a private beachfront palapa, lighted pool until 10 pm typical breakfast and premium entrance to the camp in low season from 8 am to 6 pm.
The current promotion of $38 day pass for 2 includes a bungalow with bed and air conditioning. The pandemic had turned this beautiful place quiet. Captain Hawk has reopened its doors and invites the Salvadoran diaspora to visit for a day or overnight, and welcomes all tourists and locals to come enjoy the beauty of the place while supporting the local community. "We have a spectacular 2.8 km beach where different species of birds and marine and coastal animals live," says the manager.
"Somos pet friendly!" invites the manager.
To make a reservation: 
locally: 7602 7947
+503 7602 7947
---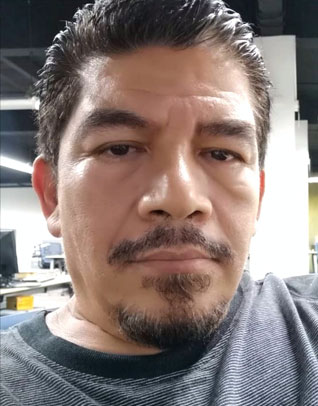 Mauricio Alexander Cáceres García
Cáceres is a renowned Photojournalist and Documentarian from El Salvador. His work showcases the power of human stories. Among his specializations, Cáceres has reported on The Migrant Route along the Guatemalan border, Mexico and the United States. He accompanied migrants along the migrant route to the US on four occasions. Cáceres has a degree in Migration from the Universidad de Centro América, UCA. Cáceres has served as an Editor of the newspaper Más, EDH and elsalvador.com. He has extensive experience in national and international news coverage, studied journalism has won several photography awards throughout Latin America, including second place on a photographic contest centered on the migrant woman, and earning the Santa Clara de Asís prize for his report on the migrant route.