Every second, the equivalent of a garbage truck full of clothing and textile goods are dumped or burned releasing half a million plastic microfibers into the ocean each year. Consumers are buying cheaper clothes made with non-durable material causing them to discard clothing at a more rapid pace. This cycle is called fast fashion, and Charlotte Brum specializes in informing the public about clothing waste and fast fashion to hopefully stop this cycle. She explains,
"The problem with fast fashion is that clothes expire. This is part of a programmed obsolescence of brands so that the fourth time you put them on, they start to wear out and you have to go to the store one more time to buy them again."
Fast fashion is leading to increased clothing waste which has a detrimental effect on our environment.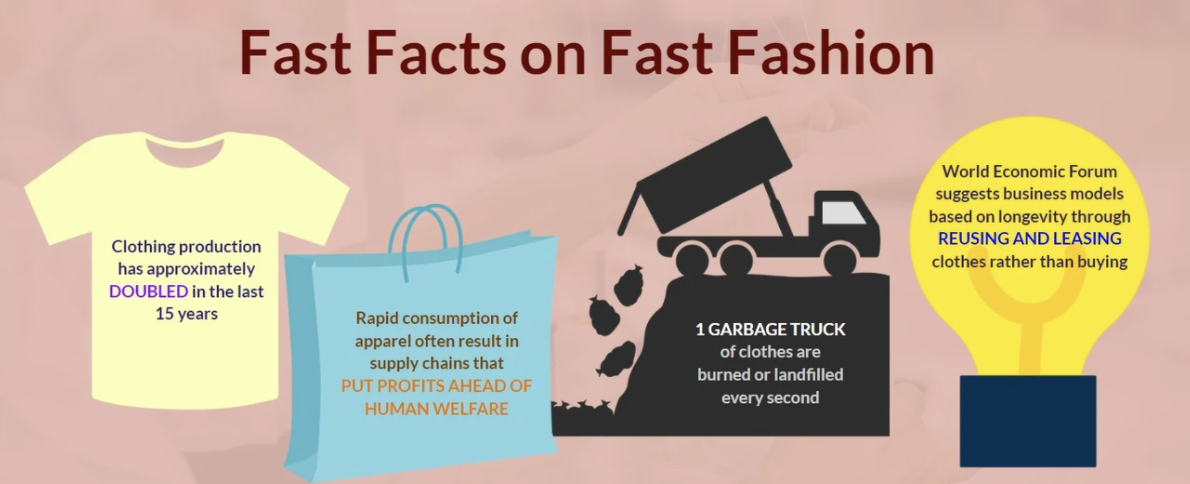 The fashion industry takes popular designs and produces them in mass quantities at a cheaper cost. Once the product reaches the consumer, the shopper wears the clothing item an average of seven times before it is discarded. Greenpeace reports that 73% of the clothing produced annually ends up in landfills. This means the majority of clothing produced each year is discarded as waste polluting our Earth. 
"They produce them on a large scale, quickly, of low quality and with a short useful life, offered at low cost and in very short periods of time. This means that 6 to 8 collections are released per year which greatly increases the waste." -Dr. Martha Irma Balandrán Valladares (Faculty of AgroTechnical Sciences of the UACh).
Clothing also requires large quantities of water in its production. A shirt requires 2,700 liters of water while one pair of pants requires 11,800 liters of water. When clothes are only worn a few times, water is constantly wasted for their production. Once these clothes are discarded, their dye infiltrates drinking water systems contaminating it. The Mexican Center for Environmental Law (CEMDA) reports that the fast fashion industry is responsible for 20% of the planet's wastewater and 10% of carbon emissions.
Many name brand clothing companies manufacture their products in Mexico because labor costs are cheaper in Mexico compared to other countries. This leads to more dye from clothing infiltrating Mexico's drinking water systems and a disproportionately large amount of clothing waste occurring in Mexico. This also allows fast fashion clothing items to infiltrate Mexican markets competing with local artisans. 
Promoting Ethical and Sustainable Fashion: Vaaiu
Vaaiu is a fashion brand in Mexico City that works with rebocero artisans from Tenancingo, Mexico to produce authentic and environmentally friendly clothing. The artisans dye the threads with local materials and create the designs while Vaaiu manages the final production stage to ensure products are durable in the long term. 
Latina Republic had the opportunity to speak with María Bravo, the owner of Vaaiu to learn more about Vaaiu's sustainable fashion practices. Vaaiu is formed by a group of people who believe in Mexico, in ethical fashion and sustainability. The fashion brand includes vulnerable groups in their processes. The company is also doing their part to help build a better Mexico. Vaaiu works with a network of twenty rebocero artisans from Tenancingo, State of Mexico. They are the ones who dye each of the threads and work on their looms to give life to the unique designs of Vaaiu's shawls. Vaaiu allocates a fixed percentage of their earnings to improve the artisans' factories. The protective blanket bags that accompany Vaaiu's products are made by women in prison. Vaaiu works with materials with a low environmental impact, such as cotton and vegan leather.
For Bravo, the road to sustainable fashion started at a young age. Bravo recalls,
"Ever since I started at the University, I took a lot of classes on sustainability. I used to have this anxiety about buying things and throwing them out in a few months. My family, especially my dad, always tried to find items that worked for a long time, instead of buying things all the time. Since then, I have been looking forward to working on a sustainable brand…Creating the products is a very complicated process, but we want to preserve the tradition of the rebocero artisans by fusing the textile with contemporary designs to preserve this long time tradition. We design 100% Mexican products using local labor and local material with handcrafted designs and environmentally friendly materials."
The company's goal is to preserve Mexican art while bringing in new modern and contemporary designs for their consumers. They use cotton and vegan leather to ensure their clothing and accessories have a minimal effect on the environment.It is important to Vaaiu that sustainability and social development combine to produce sustainable clothing and accessories, 
"All the time we are trying to make something more sustainable, and at least do something good for someone. For me, I am a huge believer that sustainability and social development have to work together because without sustainability there are no people left and without people we could not produce these products."
By creating products with a longer life span and working with local artisans and women in prisons, Vaaiu is able to combine sustainability with social development in their business. Vaaiu is also hoping to educate consumers on the decisions we make as purchasers,
"We need to buy products that have a longer life span. It's about quality and not quantity. This is a very cliche phrase but I do believe in it. Also, it's about becoming aware of the materials we purchase and not only buying things because they're pretty, but really thinking through what you're buying. The sweater you buy might be really pretty, but in two months they will have those little balls and you'll never wear it again." 
Surrounded by the world of fast fashion, Vaaiu is committed to producing a sustainable fashion brand that also impacts local communities,
"By supporting rebozo artisans and their invaluable work, learned from generation to generation, we can preserve their tradition and culture reflected in each rebozo. At the same time, we believe that by including women in prison in our processes, we can help build a better Mexico." 
Unfortunately, Fast Fashion has infiltrated markets causing people to believe they are buying artisan goods when it is actually produced by a machine. Bravo explains
"People think a machine makes every textile. I work with different groups of producers and artisans, and I have been more in touch with people working on handcrafted goods. They have difficulties because people think it's overpriced. People do not see the value and work behind them. Sometimes people say this bag is cheaper, but those producers are pretending to make artisan goods when it is really not. There is a machine making it. For me it is very hard to help people understand the value of these more ancient and handmade products."
Further, Vaaiu is committed to being transparent with consumers to allow them to make educated choices about the products they purchase, "As a brand, being more transparent on the actual benefits and cons about your products should be available. This is very hard because you are always thinking you can do better, but as a business you also are trying to survive."
Besides caring for the environment, Vaaiu is committed to helping inspire creativity within the fashion industry in Mexico, "We can drive the development of Mexican artisans so that their designs are more fairly valued. We seek to open a new market for Mexican artisan communities by creating innovative products that are attractive to new consumers." Their products are 100% Mexican. The materials used to create the clothing are from Mexico, and all of their labor processes occur in Mexico as well. They are committed to saving the environment while also empowering local artisans throughout Mexico.  
María Bravo explained the future plans for Vaaiu,
"We are trying to open businesses in the US and Canada. That is something I really want to do. With this new plan, going international, I really want to start working with cactus leather, I want plant based materials. I really want to do this step because it is important. It is hard with the pandemic to invest in it, but it is important."
While other fashion companies are mass producing goods leading to increased pollution and waste, Vaaiu is creating a positive social impact with their clothing. They include vulnerable groups within their production process increasing their autonomy while being cognizant of the environmental impact of their clothing. As fashion trends come and go, Vaaiu is committed to ethical and sustainable fashion because the clothes we buy can cause irreversible environmental damage. 
As customers, it is our responsibility to buy products that positively impact the environment. Bravo recommends thinking before purchasing, "We should as consumers be more cautious and try to learn more about materials and longevity. Which materials last longer and why you want to wear them."  
Not all clothing is made the same way. Bravo explains that within the fast fashion industry, clothing is made at a rapid pace. Many people think all textile goods are made the same way, but understanding the environmental impacts of the products we purchase is the first step into living more sustainably. 
To fight fast fashion Greenpeace recommends the following, "Buy clothes from local designers with sustainable brands, with this you not only support the environment but also support the dreams of an entrepreneur."
As an entrepreneur, María Bravo has proven good clothing does not have to come at the expense of our environment. She adds, "The younger generations do not see the value in this type of textile. In Mexico we have so much cultural richness and we have not appreciated it."
To learn more about Vaaiu and their products check out their website at https://www.vaaiu.com/ or their instagram @vaaiu.mx.
---
Michael Davis | Tulane University
Michael Davis is a current undergraduate student at Tulane University studying Finance and International Relations through the Altman program in International Studies and Business. His interest in Latin America began when he took his first Spanish class in 6th grade. Since then, Michael has traveled throughout Latin America learning about entrepreneurship, policy, and globalization. He is interested in sharing the stories of young entrepreneurs who work to expand development within Latin America. He believes their stories can inspire others and reshape the narratives of Latin America. In Latina Republic, he is excited to highlight these voices in his stories to deepen his own understanding of Latin America as well as his readers. He looks forward to inspiring innovation with his stories through Latina Republic!