Ana Paula Céspedes Rivet is 24 years old and, although in 2018 she represented Paraguay in a beauty contest, she is currently a Guarani pilot, the daughter of a family with a tradition in aviation. Paraguay's La Nación has nominated her, outstanding woman of the week.
She began by telling La Nación that from a very young age she was already involved in the world of airplanes because her grandfather and father are also pilots.
The pilot is the first woman in her family and the third generation to be dedicated to aviation. She commented that she also has cousins who are involved in the world of aviation. "This comes from a few generations ago and since I was a girl, I looked at the sky looking for the planes," she mentioned.
Facets of art and beauty
Once she finished school, she knew she wanted to become a pilot, a constant dream in her life. "In 2015, I finished school and in 2016 I started taking flight courses. Thank God I was given the opportunity. I had the support of my parents to be able to fulfill that dream and today I dedicate myself to that. I am super happy," she added.
Ana Paula also delved into modeling and singing. She confessed that singing is more of a hobby, since she never studied the art. Her relationship with the world of fashion was more pronounced years ago, but she continues to work with brands on social networks.
"At one time, I would upload videos with a friend who has since, graduated from filmmaking in the United States, but back then they were homemade videos and I always liked singing, but nothing professional. I did modeling at school and a little later, I participated in the Miss Supranational contest and I represented Paraguay in 2018, and after that I retired from the world of fashion, and from the world of misses, "she said with a laugh.
Beginnings in Aviation
In 2016, with the help of her parents, Ana Paula took private pilot courses. She explained that to be a pilot, one has to start by taking a private pilot course, which includes a theoretical training and 40 hours of flight experience.
"Once you do that, you graduate as a pilot, there you have your license and you can start flying, you start to gather hours, and then you are able to do the instrument flight course, the commercial pilot course and the twin-engine course. This would be 4 courses in total, of which, over time, I completed. It is not something from another world, but we know that it is a bit expensive and it also takes time due to the fact that you have to gather flight hours, " she indicated.
Ana Paula pointed out that all pilots keep track of their flight log where they write down all the flights they make and the number of hours they accrue. Ana Paula has been a civil aviator pilot for 5 years and has approximately 900 flight hours. She is currently in general aviation.
She said that while she doesn't know where she sees herself in 5 or 10 years, she is confident it will revolve around flying. "Being up there, continuing to learn… life will tell me later which course I will take, but as long as it's flying, everything will be fine," she emphasized.
Céspedes Crew
One of the things the Paraguayan pilot enjoys the most is flying with her father, who is her inspiration. "I fly with my dad, but we don't have a structured schedule because although we have scheduled flights sometimes you need to leave that same day or the next day. I can be at home watching a movie and they can call me, then I make the flight. We understand each other a lot in the cockpit, we are used to each other, there is a lot of camaraderie too, I learn a lot and I continue to learn from him. He is my great inspiration and he will always be," she said.
As for her personal life, Ana Paula is the eldest of two daughters and she gets along very well with her younger sister. "She doesn't like to fly, but she's a chef and a sommelier," she stressed. She said that her partner is also a pilot and they got engaged last March. She commented that the engagement is very recent, so they are in the preparations. The Paraguayan pilot assured that she is not good at cooking, but she emphasized that she loves to exercise and also watches movies, series and, more than anything, listens to music to relax a little.
View this post on Instagram
"If someone else can, you can too."
For Ana Paula, no one has to feel less or let someone else judge them for who they are. "One is much more than that and nothing is impossible. If someone else can, you can too. This is something that I say a lot. When things get a little difficult, stand firm and continue on to meet the goal," she argues.
She also remarked that nowadays it is a bit more common to see a woman in the cabin. "In Paraguay I don't know exactly how many women there are who are pilots, but I know that there are many women already in the field. Initially we were 2% of women worldwide who were in this and today it has grown a lot, around 5%. Maybe it is not too much, but it counts and it is a little more common to see a woman in the cabin. I see female commanders who are inspirational on a daily basis," she stresses.
This story appeared in Paraguay's press, La Nación , an important local press that features a distinguished woman column #mujer destacada celebrating Guarani women. Photography by Gentileza and @anapaulacespedes instagram account. 
---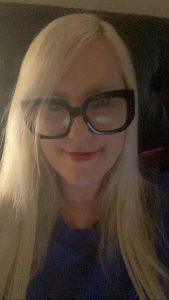 Soledad Quartucci | Latina Republic
Dr. Soledad Quartucci is the founder and CEO of Latina Republic, a 501(C)3 California-based nonprofit organization. Latina Republic is committed to improving the diversity and professional development of storytellers in the media industry as representation matters and affects the stories we tell. Latina Republic makes space for and empowers unheard voices and trains the next generation of leaders in the United States.