Hay Festival Colombia to Begin Next Week
The Hay Festival, which brings together literature and arts, is celebrating its 2022 edition in Colombia with both in-person and streamable events.
Once described by Bill Clinton as "the Woodstock of the mind," the Hay Festival reunites some of the most important figures in modern literature and the arts to discuss not only their own work but current ideas such as democracy, equality, the environment and human rights.
The annual literature festival takes its name from the small Welsh city of Hay-on-Wye, often called "the town of books," where the festival first took place.
This year, the city of Cartagena will host its seventeenth edition from January 27-30, along with similar events in the cities of Jericó (January 21-23) and Medellín (January 25-27) which will also host their own editions of the festival.
Watch a video with the highlights here: 
Although it is originally a literature festival, over 180 speakers from 20 countries including notable artists, musicians, academics, scientists, thinkers and innovators are set to participate in hour-long conversations and interviews. The topics of these talks seek to touch on some of the world's most important issues like democracy, inequality, the climate crisis and the role of culture in spreading new ideas.
The festival in Cartagena will feature events with Colombian writers such as Juan Gabriel Vásquez and Piedad Bonnett. Nationally renowned journalists such as Daniel Coronell, María Jimena Duzán and Daniel Samper Ospina will also discuss current affairs.
In addition to that, an opening concert featuring La Mambanegra, a Colombian virtuoso orchestra, will perform on the opening night of the festival. Jacobo Vélez, leader of the orchestra, will teach how to articulate and present a music project in a later workshop.
In the Spotlight
Rodrigo García Barcha, son of the Nobel-winner writer Gabriel García Márquez and Mercedes Barcha, will be one of the guest speakers in the Adorados Gabos talk. In his first book Gabo y Mercedes: una despedida (2021), he tells the final moments and death of one of the most important writers in Colombia and the world. Through its pages, García Barcha provides a closer look at the iconic couple from a son's perspective.
Talks centered around current affairs like Imagina… igualdades (Imagine… equalities) will feature Spanish academic Adela Cortina, who will address the questions of whether the world will overcome the chaos that the Covid-19 pandemic left and what the future will look like after that. Another point of the event is to talk about the idea of creating a more sustainable world after the pandemic.
The talk La degradación de la guerra (The degradation of war) will be another highlight of the festival. Jon Lee Anderson, a long-time reporter for the New Yorker with a close relationship with Latin American, will discuss the need for revising society and culture in order to fight the devastating effects of war, which remain visible for generations.
Other talks will feature acclaimed guest speakers from a wide variety of areas. For instance, New York Time journalists Cecilia Kang and Sheera Frenkel, who will discuss the role of social media in the spread of misinformation.
The next day, Daniel Brühl, Spanish-German actor and director who has played roles in films like Inglorious Basterds and Captain America, will talk about his latest film Next Door and his career path in acting and filmmaking. British sports journalist Matt Rendell will also explain how young Colombian cyclists have transformed the country's image.
Furthermore, Argentinian journalist and writer Martín Caparroso, Spanish philosopher Adela Cortina and Colombian writer Juan Cárlos Flórez will address the complex issue of how to combat inequality in Latin America.
Open to Everyone
In cooperation with the University of Cartagena, the Hay Festival has scheduled several free talks for students under the name of Hay Joven. College or high school students, especially those interested in writing and storytelling, will find great benefit in these events.
British journalist and writer Gemma Caimey, who currently works for BBC, will lead a workshop that will teach young students how they can use their voice to their advantage through radio, podcasts and audiobooks. And María Jimena Duzán, who currently writes for Colombian newspaper El País, will share the process of story creation using her latest documentary Los patrones de la guerra.
As part of its community outreach initiative, the festival has also put together free journalism workshops that are open to anyone. Colombian journalist Catalina Gómez Ángel, who worked in Afghanistan covering the fall of the government and the Taliban takeover, will teach one of the reporting workshops in the Hay Comunitario Program. Raquel Martínez-Gómez, winner of the EU Prize for Literature, will lead the writing workshop entitled Jóvenes en la brumas de la desigualdad (Young people in the mists of inequality).
Aware of the many difficulties that young people have to face, especially during a pandemic, Martínez-Gómez will provide young Cartageneros the tools to narrate their life stories through collaborative instruction. Children will also have the opportunity to listen to the tales of the child-poet Chamaquili, narrated (and sung) by Cuban writer and poet Alexis Díaz Pimienta.
How to Attend
The Hay Festival has many editions in Latin America and around the world, with some of the most recognized taking place in Querétaro (México), Arequipa (Peru) and Segovia (Spain). As always, this event will be open to the general public.
For the Cartagena version, tickets are available to purchase both on their website and at the venue. Remote attendance will be free, but attendees will need to book their spot through the website. Students can get tickets for up to 10 events and the opening concert at no cost.
Due to the ongoing pandemic, the festival will abide by current health regulations and will require that in-person attendees show proof of vaccination and wear face masks for every event.
See the official PDF calendar of the Cartagena edition here, and a full list of guest speakers and their biographies here.
---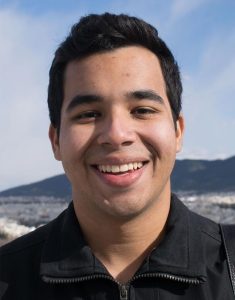 Javier Cataño García | University of South Florida, Tampa
My name is Javier Cataño García and I am pursuing a M.A. in Spanish, with focus on linguistics and literature, at the University of South Florida, Tampa, where I also teach undergraduate Spanish courses. I was born and raised in Colombia, but I have lived in the United States since August 2021. I have always had a special interest in foreign languages and geography, and I am looking to channel that interest through Latina Republic. I also have some training and experience in English-Spanish translation and interpretation. Although my professional career has been centered in teaching, I enjoy delving into other areas such as music, cooking and journalism. I hope to find new directions in my career through Latina Republic.