Last Tuesday on the first of February, Garifuna (Garnagu) and Harvard Grad, Dr. Luther Castillo Harry, was sworn in as Honduras' Secretary of Science, Technology, and Scientific Innovation. This is very exciting considering the rich history that Dr. Harry has had as a community leader and the lived experience that he has as a member of the Garifuna community, an Afro-Indigenous group spanning the Caribbean coast of Central America.
Dr. Luther Castillo Harry was born in La Mosquitia, Honduras, home to four of the nine afro-indigenous groups of Honduras, and a place that to this day does not have access to many basic needs. La Mosquita has been referred to as the "lung of Central America" or as a mini-Amazon in Honduras as it is a beautiful, lush mountainous area with deep greenery and plenty of vibrant flora. This area is known for its rich natural resources and beauty as well as its history. This region has been the ancestral home for many indigenous groups such as the Garifuna people, Misquita, and Tawkhas and is thus full of reminders of their long history in Honduras.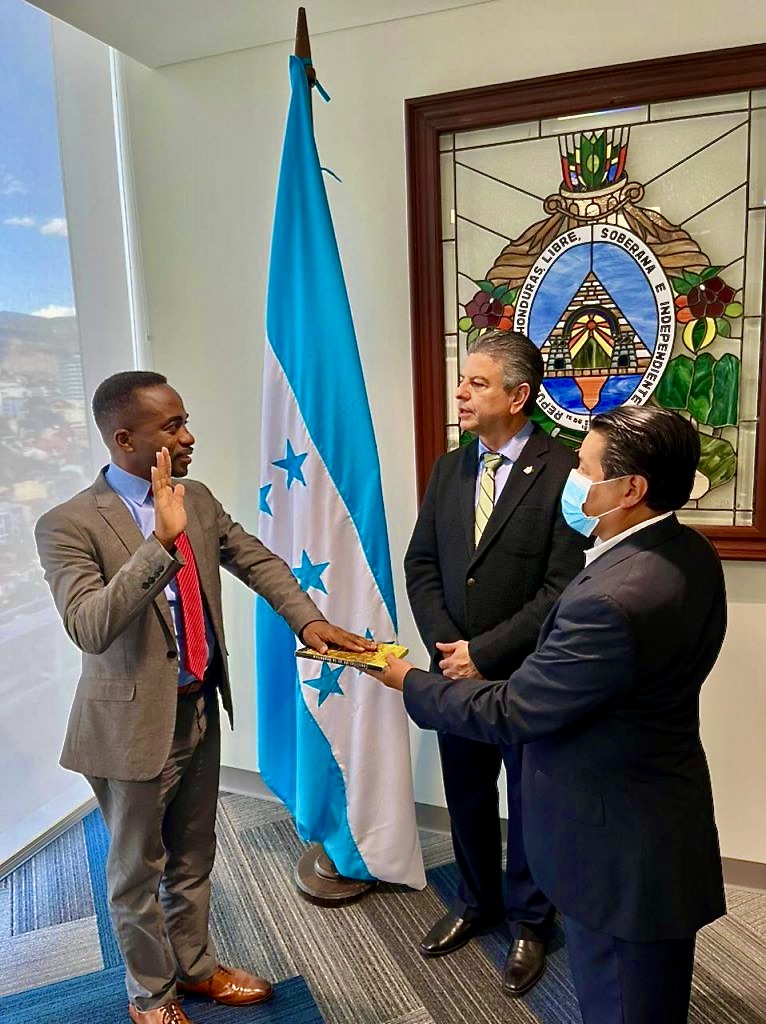 When Dr. Harry remembers his hometown, he not only thinks of his huge community of family and friends, but he also remembers the young little boy he was when he grew up there. Dr. Harry reminisces of being a young boy going to school with a backpack full of dreams and hopes for the future. He would wear rubber boots to school in the mornings and use those rubber boots in his chores of cutting cane sugar in the afternoons. As a young boy, Harry dreamed about the opportunities he could provide for his family and his Garifuna community. And even today, after having accomplished so much for himself and for his community, he continues to dream big for the next generation.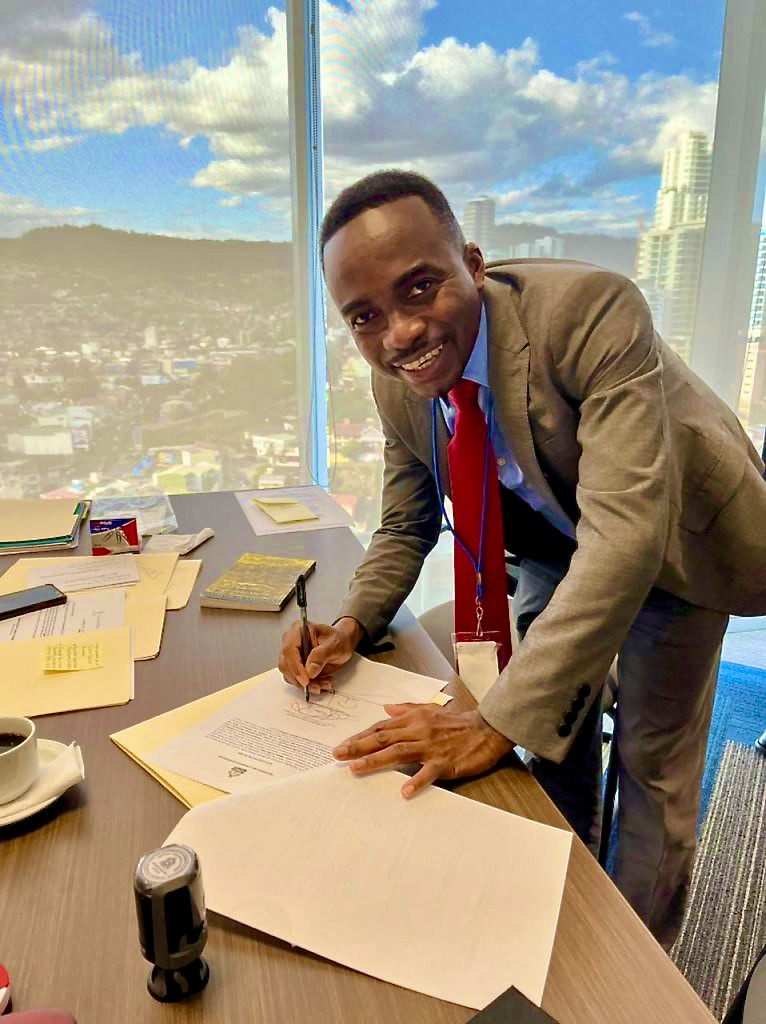 Dr. Harry is well-loved by those who meet him because of his commitment to not only dreaming wildly for himself and others, but for his determination in making these dreams a reality. From 1999 to 2007, Dr. Harry attended the Escuela Latinoamericana de Medicina (ELAM), the Latin American School of Medicine in English, and graduated as a medical doctor in Family Medicine. During his second year of college in a conversation with the now-deceased Cuban revolutionary leader and former president, Fidel Castro, Dr. Luther Castillo Harry pointedly alluded to the fact that he had been the first Garifuna doctor to graduate the National Autonomous University of Honduras (UNAH) since its founding in 1847. 
This is notable because it is a reflection of the relationship Honduras has with the Garifuna community, but more broadly it also shows how difficult educational attainment can be for rural Hondurans. Dr. Harry says that with much interest, Castro told him 'go back there and bring 20 young people'. And in 2001, they just did that and incorporated them within the university.
Dr. Harry emphasizes, "today, we have more doctors from those towns who graduated from ELAM during the last two decades, than in 175 years from UNAH". Throughout his time in high education, he has been able to use his experiences and friendly, charismatic personality to advocate for more diversity, for his community, and making sure to open doors of opportunity wider for others. 
After graduating from medical school, Dr Harry came home and began working on building the first hospital for his home area. Many of the people living in his hometown didn't believe that this ambitious young doctor would be able to carry this out.
He even recounts, "at first [community members] would confuse us with dancers or athletes, they did not relate us to science, because they couldn't accept that the children of the town had come to it". For this community, it was crazy to imagine that people within their community would be able to access these opportunities or this level of higher education as well as coming back and reinvesting into this community. 
Despite this, Dr. Harry, along with the others, was able to inspire his Garifuna pueblo to "build and run their own alternative model of healthcare". They were able to earn their trust and successfully build the first hospital in this region in 2005, and from 2007 to 2018, he worked there as the Director.
Before that, a trek to the nearest city to get health care services was a 10 to 12 hour journey walking or being carried on a hammock on unpaved streets. Their success quickly became a model for what the national health care in the country should be like, with a documentary, Revolutionary Medicine: A Story of the First Garifuna Hospital, being made showing the community effort that went into realizing this dream. 
And in 2013, Dr. Harry was named the National Commissioner of Health Care in Honduras. Whilst managing that,  Dr. Harry also went on to be the first Honduran Garifuna to graduate from Harvard University with a Master's Degree and two specializations in Public Administration and a Postgraduate Diploma in Public Policy and Management in 2014. Hence, giving Hondurans everywhere a reason to feel deep-seeded pride. And he has used this education in his current work in international relations in his new position as Secretary of Science and Technology.
And for the Garifuna people these accomplishments and dreams can be seen as part of what it means to be Garifuna as they play into their long history of resilience against injustice and determination towards creating a better future. The Garifuna community is an afro-indigenous ethnic group who live all along the Caribbean coast of Central America. According to Garifuna oral history, in 1635 or 1675, a ship carrying Mokko people to their enslavement crashed near St. Vincent, an island in the Caribbean.
The indigenous people of the island "marveled at the size and musculature of the black-skinned men bound in chains, prompting them to kill the European crew and welcome the Africans into their society." The Africans on the island learned the language and culture of the Caribs-Arawaks and together they "resolutely resisted colonialist attempts by the French and British", and stories also tell of neighboring enslaved people being saved during resistance as well as some hearing of the island and attempting to escape to it. 
As time went on, identities came together and the afro-indigenous Garifuna identity was born. This is a testament to the Garifuna people who to this day continue to carry this spirit of resilience as they fight for their ancestral homeland and for their community. Within Honduras, specifically, there has been some tension between the government and the Garifuna community due to issues of racism and capitalist projects, and yet this can be an idea of the bright future to come as Dr. Harry as an actively involved Garifuna community member and advocate has gotten the space and a platform to address the development of Honduras. 
On February 1st, 2022, Dr. Luther Castillo Harry solemnly swore that "with the firm conviction to serve my country, determination, dedication, and the guidance of God and together with our Doctor Mary Vallecillo and the great team that accompanies us, we will serve unconditionally. For the people, with the people, for the people." And given his track record, we can expect that he already has giant goals for a better Honduras with more opportunities for all.
---
Maria Diaz Zamora | University of California, Los Angeles
María Díaz Zamora is a first-generation Central American student at the University of California, Los Angeles (UCLA) where she is pursuing a double major in Anthropology and Chicane and Central American Studies. She was born in Guatemala to her Honduran mother and Guatemalan father. At three years old, her family decided to emigrate to the United States after her father had received multiple death threats. This migration history has made her particularly interested in remaining connected with her roots and the greater Central American diaspora. Through her articles, she aims to bring out stories that challenge current limiting preconceptions of the Latin community and stories that help people connect deeper with the culture.