Highlights of FICCI-Festival Internacional de Cine de Cartagena de Indias
The longest-running film festival in Latin America hosted its 61st edition between March 16-21. Film lovers from all over the world met in Cartagena once again, a city that also hosts literature, music, art and food festivals each year.
After an "Interruptus" edition in 2021, FICCI brought together hundreds of filmmakers from around the globe that took over the big screens of the Walled City for almost a week.
This year, more than 150 titles were shown at the movie theaters and other special venues free of charge and for discounted prices in some events.
The repertoire included feature-length and short films, documentaries, animated and even experimental movies, all of which were grouped into twenty categories.
"Erotika," for example, focuses on films that deal with sexuality, desire and eroticism. Productions from Haiti, Myanmar, the cinema of the Caribbean region of Colombia, Western European voices, the expansion of Afro and Indigenous cinema were among the top categories for this year's festival.
La Roya (2021), directed by Colombian photographer Juan Sebastián Mesa, was chosen as the opening film. Its title means "rust," in reference to one of the deadliest plagues in coffee growing, and the only way to exterminate it is by burning the crops so that new life may sprout.
The rust becomes the metaphor for the main character, Jorge, the only remaining coffee grower, who also needs to deal with torn relationships, financial loss, solitude in the hills and physical ills. Mesa's film is included in the category "Ficciones de Aquí" (Fictions from here).
The category "Documentes," a play on words of "documentaries" and "minds," featured original work by both Colombian and international producers. Magaluf Ghost Town, as shown above, places the viewer's attention in the tourist Spanish city of Magaluf, which in recent years has become a destination for parties, excesses, sex and drugs.
Thus, the people who actually live there have seen how their home has become an "uncontrolled fantasy, where moving away from tourism seems impossible." Through authentic images of Magaluf's streets, pools and beaches, a real yet fake universe is constructed in this 90-minute long documind.
In the "Hace Calor" (It's hot outside) category, the films highlight Caribbean countries. In the drama, Freda (2021), the protagonist is a young Haitian woman who believes it is possible to fight for the future of her country.
However, she must decide whether to stay or leave. Directed by Gessica Généus, Freda was selected for last year's 2021 Cannes Film Festival. "An unmissable look at a country's best cinema."
"Cortizona" and "Onda Corta" are two sections dedicated to Colombian and Latin American short films. A good example is Fantasma Neon (2021), an original story by Brazilian filmmaker, Leonardo Martinelli.
It takes a look at an "army" of home delivery workers as they try to survive with their jobs and their music band. Now common across the continent, young, bike-riding delivery men distribute other people's food while their own hunger is rarely satisfied. The film explores the lives of people "we rarely look into their eyes."
Two categories have also been highlighted: Minister of Culture, Angélica Mayolo said that Afro-Colombian and Indigenous films are "an essential part of the audiovisual ecosystem of the country."
Capitanas del Buen Vivir (Captains of Good Living) (2020) shows the lives of Afro-descendant women from northern Cauca. For them, working with corn, one of Colombia's staple foods, is more than a way of life. These women happily hold on to a vocation that defines them beyond sustaining their families.
Powerlands, a 2022 documentary directed by Navajo filmmaker Ivey Camille, follows several indigenous peoples across the United States, Mexico, Colombia and the Philippines as they try to defend themselves from mining exploitation and large multinationals. With impressive photography, Camille reveals how others' struggles are actually our own.
As a special category this year, the festival featured a tribute to Spanish actress Rossy de Palma, whose long career started in 1987 with the film "La ley del Deseo" by fellow countrymen Pedro Almodóvar.
The film that catapulted her career, though, was "Mujeres al Borde de un Ataque de Nervios" (Women on the Verge of a Nervous Breakdown).
Along with a young Antonio Banderas, de Palma plays Marisa, a young woman who is involved in a complex sentimental situation, making this film jump "between the tragic and the absurd." 
And lastly, the Colombian documentary Toro (2022) took what is possibly the biggest recognition in FICCI: it was chosen to qualify for an Academy Award.
Directed by Adriana Bernal-Mor and Ginna Ortega, the work shows the story of Hernando Toro, a Colombian photographer who was imprisoned in Barcelona for drug trafficking.
Upon returning to his home country, he encounters a documentary filmmaker who "gives him the illusion of achieving the recognition that he believes his work deserves."
Attracted by his portraits, the filmmaker becomes absorbed in the person behind—or inside—Hernando Toro.
Many other titles made it into this year's list of entries. With the ongoing economical reactivations in touristic places around the world, FICCI and cities like Cartagena are using this opportunity to give local and international cinephiles a place to meet.
More importantly, though, they are giving Colombia and Latin America the opportunity to show their contributions to the silver screen.
See the full catalog here.
---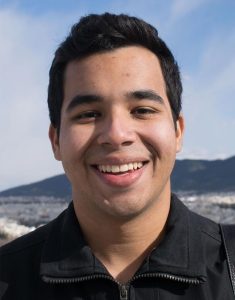 Javier Cataño García | University of South Florida, Tampa
My name is Javier Cataño García and I am pursuing a M.A. in Spanish, with focus on linguistics and literature, at the University of South Florida, Tampa, where I also teach undergraduate Spanish courses. I was born and raised in Colombia, but I have lived in the United States since August 2021. I have always had a special interest in foreign languages and geography, and I am looking to channel that interest through Latina Republic. I also have some training and experience in English-Spanish translation and interpretation. Although my professional career has been centered in teaching, I enjoy delving into other areas such as music, cooking and journalism. I hope to find new directions in my career through Latina Republic.