Mia Mottley, Prime Minister of Barbados, Speaks at the Opening of COP27. "This world looks, still, too much like when it was part of an imperialistic empire. The global north borrows with interest rates between 1 to 4%. The global south, around 14%. And then we wonder why the just energy partnerships are not working."
COP27
This early November thousands of officials, businesses, and advocacy representatives are gathering in Egypt for the 27th annual UN Climate Conference of the Parties (COP). This year's COP takes place as devastating impacts of climate change—flooding, crop and food insecurity, biodiversity loss, and life-threatening heat waves, to name a few—have ramped up and created a new wave of climate refugees far sooner than the Intergovernmental Panel on Climate Change (IPCC) anticipated.  
Over 90-heads of state, diplomats, United Nations Framework Convention on Climate Change (UNFCCC), observers, NGOs, business representatives, and journalists from nearly every country have arrived in Sharm el-Sheikh, Egypt for COP27 from November 6–18.
COP27 will be the first COP hosted by Egypt, which has seen the immediate climate impacts related to water insecurities and agriculture. The hope is that COP27 can better reflect the myriad of climate adaptation and mitigation issues facing developing countries by having a Conference in Africa.
Mia Mottley, Prime Minister of Barbados, Speaks at the Opening of #COP27, World Leaders Summit of the United Nations Climate Change Conference (COP27).
"I came here to say a few things. I don't need to repeat the horror and the devastation wrecked upon this earth over the course of the last 12 months since we met in Glasgow. Whether the apocalyptic floods in Pakistan, or the heat waves from Europe to China or in the last few days my own region, the devastation caused in Belize, with tropical storm Lisa, or the torrential floods a few days ago in St. Lucia. We don't need to repeat it because the pictures are worth a thousand words.
But what we do need to do is understand, why we are not moving any further. 1.5 to stay alive cannot be that mantra. I take no pride in having to repeat it over and over. We have the collective capacity to transform. We are in the country that built pyramids. We know what it is to remove slavery from our civilization. We know what it is to be able to find a vaccine within 2 years when a pandemic hits us. We know what it is to put a man on the moon.
But the simple political will that is necessary, not just to come here and make promises but to deliver on them, and to make a definable difference in the lives of the people whom we have a responsibility to serve, seems still, not capable of being produced.
I ask us, how much more must happen, and I say so because there is no simplicity, and we get it. I come from a small island state that has high ambition but that is not able to deliver on that high ambition because the global industrial strategy that we have, has fault lines in it.
Our ability to access electric cars or batteries or affordable panels are constrained by those countries that have a dominant presence and can produce for themselves, but the global south remains at the mercy of the global north on these issues.
But it isn't only that. We heard Al Gore now speak about the difference and the cost of capital to those of us in the global south and I ask us, how many more people must speak before those of us who have the capacity to instruct our directors at the world bank, at the IMF, how many more countries must falter in a world that is now suffering the consequences of war and inflation and countries therefore are unable to meet the challenges of finding the necessary resources to finance their way to net zero?
This world looks, still, too much like when it was part of an imperialistic empire. The global north borrows with interest rates between 1 to 4%. The global south, around 14%. And then we wonder why the just energy partnerships are not working.
Similarly, we ask ourselves, if countries that want to finance their way to net zero and want to do the right thing can't get the critical supplies, will they not have to rely again on natural gasses? This is the reality. And we have come here to ask that we open our minds to different possibilities.
We believe we have a plan, that there can be the establishment of a claim mitigation trust that unlocks 5 trillion dollars of private sector savings if we can summon the will to use the SDRs, 500 billions of SDRs in a way that unlocks the private sector capital.
We believe that that requires a change in the attitude of congress. Because the agreement that establishes the IMF requires 85% to change that agreement. And if the US government has 17% of the quota, then it can't be done, Mr. Gore, without your Congress.
Similarly, we accept that there was and must be a commitment to unlocking concessional funding for climate vulnerable countries. There is no way that developing countries can fight this battle without access to concessional funding.
We believe that it is critical to address the issue of loss and damage. I would like to salute Denmark, Belgium and Scotland for their own modest ways of trying to accept the precepts and principles of loss and damage, as critical and morally just.
But for loss and damage to work we believe that it can't be only an issue of asking State parties to do the right thing although they must, but we believe that the non-state actors, the stakeholders, the oil and gas companies and those who facilitate them, need to be brought into a special convocation between now and COP28.
How do companies make 200 billion dollars in profits in the last 3 months and not expect to contribute at least ten cents in every dollar of profit to a loss and damage fund?
This is what our people expect.
And I ask us as we reflect on what a loss and damage fund can look like and who should access it that we convene a special congregation that doesn't only involve state parties but non state actors such as the same companies. We believe as well that the time has come for the introduction of natural disaster and pandemic clauses in our instruments.
I have said that if Barbados is hit tomorrow because we have natural disaster clauses, God forbid if we are hit tomorrow, we unlock 18% of GDP over the next 2 years. Because what we do is effectively put a pause on all of our debt and put it at the end for 2 years and we pay back that money at the end, but what we get is the flexibility in the first two years is to address issues of damage and loss, and finally we believe that the multi-lateral development banks have to reform.
Yes, it is time to remember that those countries that sit in this room today did not exist at the time that the Bretton Woods institutions was formed, for the most part. Therefore, we have not been seen, we have not been heard sufficiently, and if we are therefore to rise to the occasion, to play our part to stop the tragic loss of life that we have seen on these screens, and the impact of livelihood that we are feeling across our countries, then there needs to be a new deal with respect to the Bretton Woods institutions. And we need to insure that they have a different view….that we look at the SDRs and innovative ways to expand the lending that is available from billions to trillions.
My friends, the time is running out on us. And yes, we have the power of choice. When asked what should he do when he became president of South Africa, should he pursue a path of vengeance or should he seek to build a state, Nelson Mandela chose to be able to build the state and keep the country together. He chose blessings instead of curses because he believed that it would make a defining difference.
When given the choice of how to treat post war Europe president Truman settled the Marshall plan, that made the definable difference to the countries that were responsible for the destruction of so much and the loss of life for so many. They chose to rise above it.
I ask us today, what will our choice be? We have the power to act or the power to remain passive and do nothing. I pray that we will leave Egypt with a clear understanding that the things that are facing us today are all interconnected. There needs to be peace.
Countries like ours continue to suffer as a result of a war that we are not part of. And a war that we want to see come to an end. Our people on this earth deserve better. And what is more, our leaders, know better. Because while many of us may not have been alive during the great wars the consequences of those wars still live with us and we have the capacity to choose differently.
I ask the people of the world and not just the leaders to hold us accountable and to ask us to act in your name to save this earth and to save the people of this earth. The choice is ours.
What will you do?
What will you choose to save?"
Watch Mia Mottley's Speech
---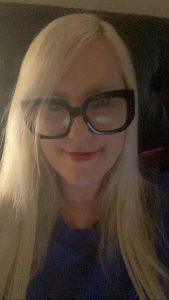 Soledad Quartucci | Latina Republic
Dr. Soledad Quartucci is the founder and CEO of Latina Republic, a 501(C)3 California-based nonprofit organization. Latina Republic is committed to improving the diversity and professional development of storytellers in the media industry as representation matters and affects the stories we tell. Latina Republic makes space for and empowers unheard voices and trains the next generation of leaders in the U.S.