Human Trafficking in Costa Rica-Experts Provide Local Perspective.
Human trafficking is a crime that deprives millions of people of their dignity and freedom. An estimated 27.6 million are currently victims of trafficking worldwide, and, sadly, many of them are often hidden right in front of us.
"To properly tackle this crime, it will take a commitment from each of us to end human trafficking. Targeted awareness and outreach efforts are essential," Antony J. Blinken, Secretary of State of the United States.
The Fight against Human Trafficking in Costa Rica
On January 13th, Stefania Colombari, a journalist for 7 Días Radio from Costa Rica, invited two special guests to speak about their experiences on the subject of human trafficking in Costa Rica. The conversation was inspired by the US Department of State's 2022 Human Trafficking report on Costa Rica.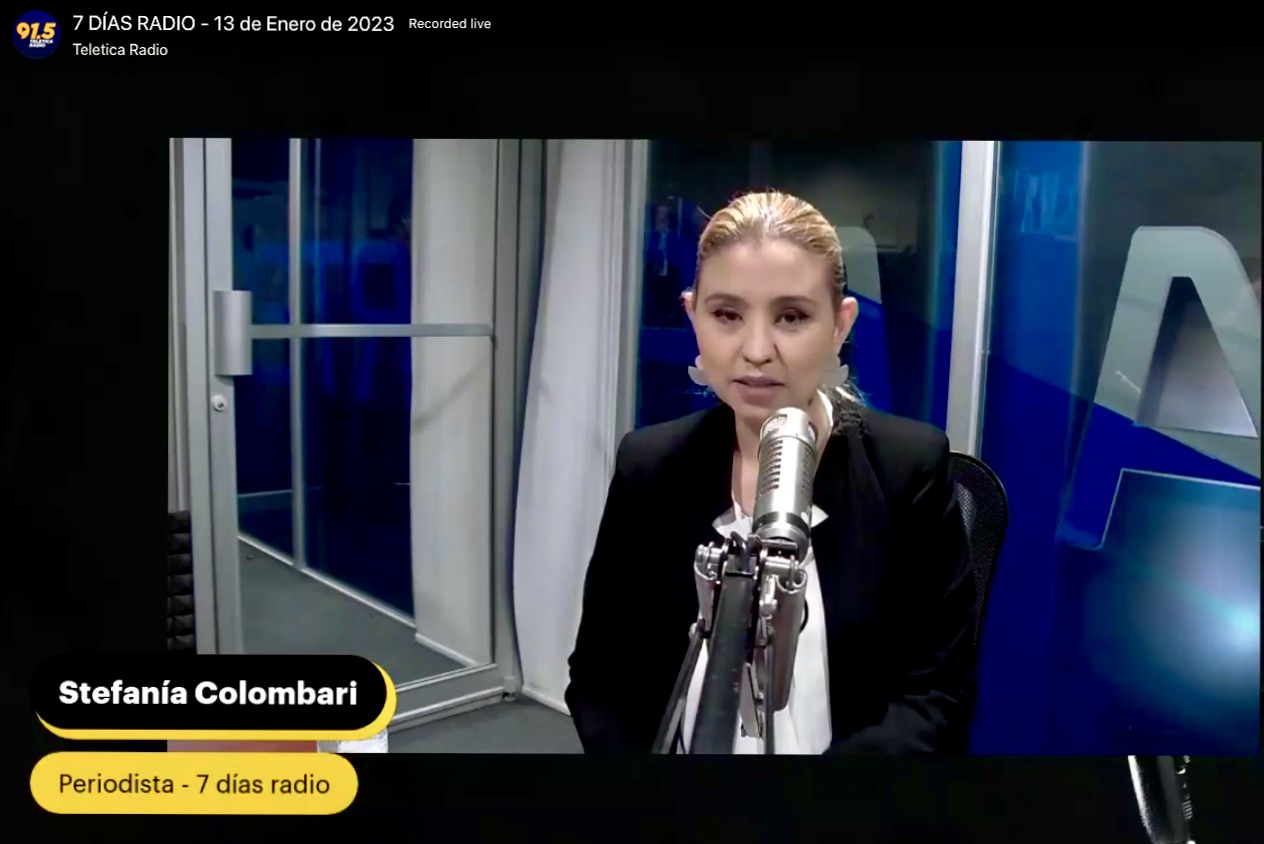 The journalist invited 2 guests who work every day to combat this crime in Costa Rica.
Human Trafficking Experts
Sandra Chaves works for the General Directorate of Migration and specializes in Human Trafficking and Migrant Smuggling Management.
Rodrigo Picado, is the Head of the Human Trafficking and Migrant Smuggling Unit – OIJ.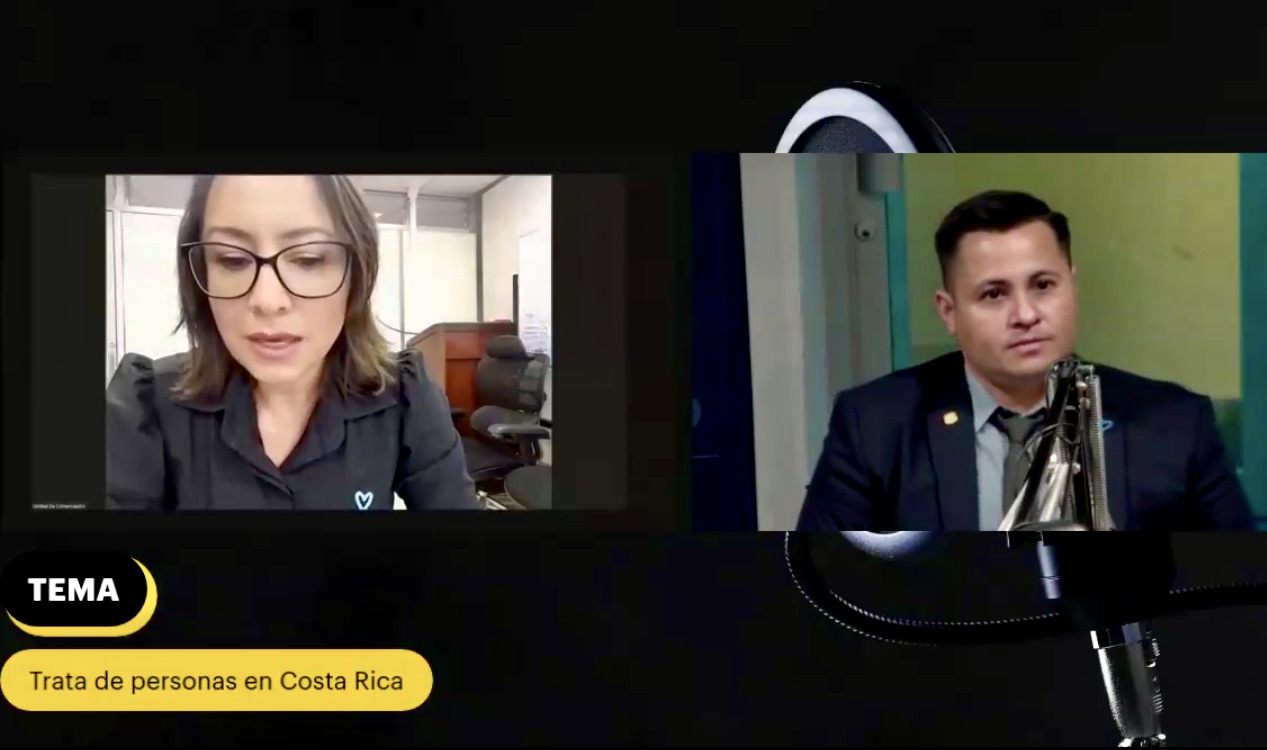 Their expertise spotlights the current state of human trafficking in Costa Rica and the efforts both leaders, their respective departments and related coalitions are making to eradicate the problem.
Human Trafficking in Costa Rica
In the latest report on human trafficking in the world from the U.S. Department of State, Costa Rica continues to be placed at Level 2 and has remained so for several years, details Colombari.
"It is a level that means that the country, although the U.S. recognizes that Costa Rica has made efforts, does not meet the minimum standards in terms of combating human trafficking," says Colombari.
Human Trafficking Report 2022 – Costa Rica
COSTA RICA (Level 2)
"The Government of Costa Rica does not fully comply with the minimum standards for the elimination of trafficking in persons, but is making significant efforts to achieve it," states the Human Trafficking Report 2022 published by the Department of State.
"Costa Rica has demonstrated an overall increase in efforts compared to the previous reporting period, considering the impact the COVID-19 pandemic had on its ability to take action against trafficking in persons; therefore, Costa Rica remained at Tier 2," details the report.
The document acknowledges Costa Rica's various efforts including:
"Prosecuting more traffickers, implementing a new national action plan to combat human trafficking, and establishing new regional task forces to promote law enforcement coordination in trafficking cases."
However, the report states that Costa Rica did not meet minimum standards in several key areas:
"The government did not adequately fund its anti-trafficking efforts; reduced the allocation for victim services, and failed to fund campaigns to raise awareness about trafficking. The government investigated far fewer trafficking cases than in the previous reporting period and failed to prosecute or convict any labor traffickers for the second consecutive year," detailed the report.
The Interview
Below, is a translated version of some of the key statements made during the interview. We also share the link to the recorded interview for those who wish to watch it in its entirety and in Spanish.
Stefania Colombari launched the conversation with an open question:
What is Human Traffic?
Rodrigo Picado: In Costa Rica, we have Law 9095, and in the penal code it is typified in Article 172. It is relatively new, coming from 2012, onwards. As the State Department report states, we have made progress; particularly in modifying a criminal offense that allows us to fight this crime. Some reforms took place in 2018.
The penal code that we have now makes reference to the use of electronic means or technology used to commit fraud, deception, threat, coercion, a situation of vulnerability, abuse of power and other means used to facilitate and execute the recruitment, transfer, transportation, shelter, and concealment of one or more people inside or outside the national territory to subject them to a criminal plan.
Among these purposes, there are many issues: Sexual exploitation, labor exploitation, servitude in various forms, sexual and labor, the issue of forced marriage, forced pregnancy, forced abortion, illegal organ removal, and forced begging.
"The term trata de blancas or "white slavery" continues to be misused. We should have eradicated that term many years ago because it emphasizes European women who were transferred to other continents for the purpose of sexual exploitation,"

Rodrigo Picado
However, human trafficking establishes that the victims can be men, women, girls, boys, adolescents, elderly people, because each case will depend on the purpose of the trafficking. It is no longer just sexual; now, it includes other modalities.
Sandra Chaves: To explain what human trafficking is more simply, it is classified as a form of contemporary slavery. It is a practice that violates the dignity of the person turning people into an object on which to negotiate and traffic. It is considered the slavery of the 21st century.
The trade has different steps. One of them is recruitment. This is when a person is taken through deceit or coercion or kidnapping. All kinds of people may be used by trafficking networks.
One of the second stages is the trip, the transportation, the transit made by this network involving the capture of a person and their transfer to a place of exploitation, which would be the third stage.
This stage of exploitation is one of the saddest stages for the victims because they are submitted to multiple abuses that profit the criminals. If we are talking about trafficking for the purpose of labor exploitation, we are talking about long days that are exhausting, and there is great physical damage.
When we talk about sexual exploitation, just imagine being raped many times a day for a constant time. This process of exploitation is the most difficult thing that a human being can endure. Then, comes the stage that we can say is detection, escape.
When we talk about the crime of human trafficking, it is a difficult crime to prosecute and difficult to investigate, because generally the victims do not go out to ponder the complaint. Many times the victims are subjected to their deprivation of liberty.
"Many times trafficking does not need shackles. A psychological subjugation through threat and coercion can also keep a person subjected,"

Sandra Chaves
In the detection stage, it is important not only what the police and the government do, but also that we, within Society, stay informed to report on any situation that requires it.
The last stage involves the reintegration, resettlement or repatriation process for a person who has been victim of trafficking, either inside or outside the country.
Stefania Colombari: Can you give examples of cases in which you have worked in general terms of what has happened here in Costa Rica?
Rodrigo Picado: In our case, we can talk about cases from the past, already convicted. One of the first cases occurred in the coastal zone in Punta Arenas, with people of various nationalities, specifically from the continent of Asia who were victims of labor trafficking in the fishing sector.
In the sexual category, there was the Rino case of sexual exploitation of girls recruited through various photographers.
Another case also in a supermarket of a girl, a minor who was brought here from Asia to pay a debt acquired there and was exploited here.
These are examples of cases already closed regarding fishing trafficking; exploitation in supermarkets and commercial traffic.
Sandra Chaves: To add to what Don Rodrigo said. The victims of child pornography, all minors, were ordinary, normal girls who went to their schools, many of whom were taken by their parents to photo sessions, without knowing that what was behind it was the crime of human trafficking. And when one is closer to the cases, you realize the care that all people must take to prevent the crime of trafficking.
"In the case of these girls, the suffering and trauma were enormous. Human trafficking stories don't seem to happen in Costa Rica because they don't appear in the newspapers. We do not realize what is happening,"

Sandra Chaves
In 2021 there were 21 cases accredited by the immediate response team and in 2022 there were 43 accredited cases. So the issue of human trafficking has a very wide range of exploitation and it is a reality.
Stefania Colombari: Last year we had the case of the SYR stores. We know that they are under investigation for abuse of the workers.
Sandra Chaves: Labor exploitation has been investigated in recent years. Before, we believed that sexual exploitation was the only form of human trafficking. Last year, we had several cases of labor exploitation.
"Within the gates of any farm or any business, within the gates of any house, we may be faced with situations of labor exploitation. And within the crime of trafficking, the reality is that in our country there is trafficking for the purpose of labor exploitation,"

Sandra Chaves
Before we thought that the network was a huge, an immense network of a huge criminal structure and now we see that this is not necessarily the case, we can find even smaller networks of one or two people where people are also subjected to exploitative conditions and we can talk about labor exploitation, sexual exploitation, servitude, forced marriage, there are many purposes and ways in which people can be exploited and the ways to profit for networks and traffickers.
Stefania Colombari: Don Rodrigo, you explained to us that there is not a single profile that describes a victim of trafficking. However, do you consider that there are populations that are more vulnerable to this type of crime?
Rodrigo Picado: Yes, of course.
"It is important to clarify that being a victim of trafficking can happen to anyone of any age for any of the many purposes, such as sexual or labor exploitation or the illegal exploitation of organs. They can deceive anyone,"

Rodrigo Picado
The issue of vulnerability is very important. For example, I take the opportunity to talk about the aggravating factors of trafficking. The basic criminal type establishes a sentence of 6 to 10 years. But if we go to the aggravating circumstances, they are from 8 to 16 years. And some of the aggravating circumstances are, for example, that the victims are minors or an elderly person or a disabled person.
Vulnerability can happen to anyone, including people going through a situation of depression. The person may seek a place to get help and instead they end up exploiting them. The profile of the victim varies according to the criminals' purpose.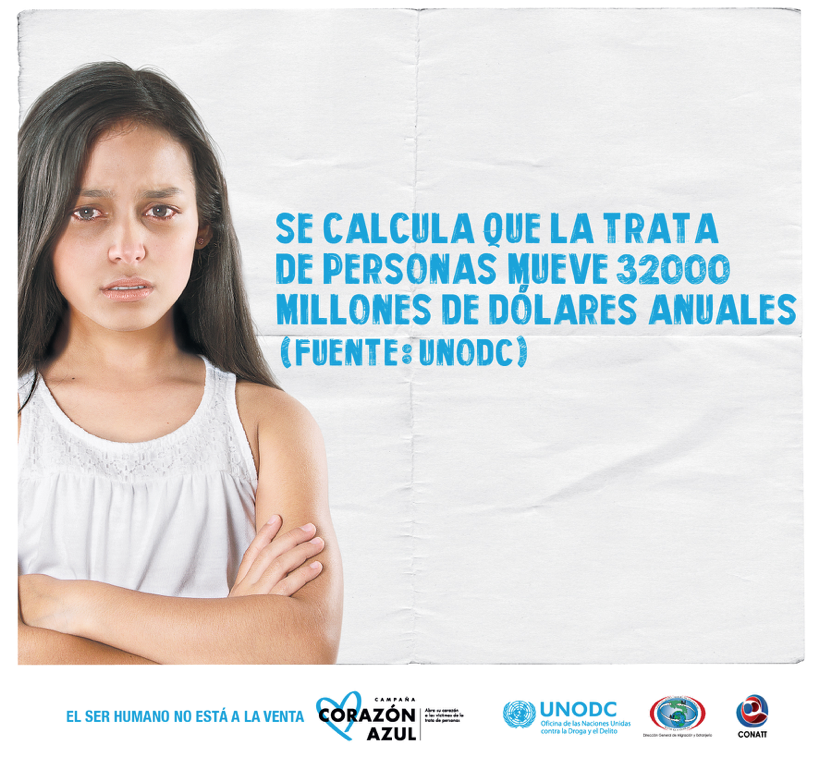 Sandra Chaves: There is something very important to add in Costa Rica. It is the gender issue. The profile of the victims in our country can be anyone.
"Most of the cases are women and many of them are also foreigners. Most of them are in great need. They are single mothers. They need to support not only their children but also their parents. The role that women occupy in our society is fundamental and the gender issue plays a part,"

Sandra Chaves
Last year, the majority of the victims of trafficking, as in previous years, were women. And another very important issue is that you have to be aware of the recruitment part in terms of adolescents who are very vulnerable. There are specific situations that make us vulnerable.
Stefania Colombari: Could you give us numbers to provide an overview on the subject?
Rodrigo Picado: We have a statistic through operations in the 2021-2022 period where we have just over 30 cases admitted in terms of human trafficking. However, this statistic represents the numbers captured by the judicial investigation agency, through formal complaints.
We also have a confidential information center for people who do not want to see their identity reflected and in those cases, they file a complaint through this medium and these complaints are filed anonymously and take longer to be verified or discarded.
Some complaints are filed directly before the public ministry in any of the prosecutor's offices that we have within the country. Here we have a prosecutor's office that is the lead against human trafficking and the illicit trafficking of immigrants, but there are also territorial prosecutors that receive complaints of this nature and these complaints also lead to other cases.
OIJ, the public ministry and the migration police, are all avenues through which the crime of trafficking can be reported and they are also authorized by law to carry out the investigations of these crimes.
Some complaints can also be filed by non-governmental organizations and public entities because here, too, the issue is that not only the OIJ or the investigation migration police get involved, but there are also other ways to file complaints, including the labor ministry.
Many times, if there is labor exploitation, many people go to the labor ministry and also to the social security assistance fund and other offices that are related to the problem.
Sandra Chaves: In our case, internally, there are two extremely important instances to combat crime and carry out coordination at the institutional and national level. The professional immigration police has a specific investigative unit. During 2022, 4 investigations were carried out for the crime of trafficking and 10 raids were carried out.
One of the most important cases was Operacion Crepusculo, which here in 2021 carried out 15 raids and 33 people were arrested. This is a job that is carried out jointly with the public ministry. And also coordinated with the OIJ, other administrative police, CONATT and other support entities.
We also coordinate with the immediate response team, which is the team that accredits each case of trafficking in persons in the country. A comprehensive care strategy is also generated that implies support in different areas, one of which is financial for the victims. The accompaniment of the victims of trafficking is delivered by the general direction of migration in coordination with other entities. We currently have 24 cases attended, where support is provided.
Through Law 9095, a tax on leaving the country was increased by one dollar and with this tax, comprehensive economic support is provided to victims of trafficking.
Stefania Colombari: Sandra, how have the efforts to combat trafficking been? From your area, how have these efforts been polished?
Sandra Chaves: It has been a joint construction process with all the institutions. Having a budget to work on the issue of Trafficking is one of the privileges we have.
"In the region, we are the only country that has a dollar increase in the exit tax, which contributes to a budget to fight human trafficking,"

Sandra Chaves
This means not only foreigners pay for it, but also every person who leaves the national territory by air, pays for it.
Since 2013, we have worked through a stronger CONATT, as a coalition, more structured with more awareness and better tools to enter the human trafficking issue and we have made progress on the issue of prevention through the Campaña Corazón Azul; through training.
To tell you something also, an instance that reported few cases used to be the Costa Rican Social Security office, and with the effort of the training processes, many of the cases that are accredited are referred by the Costa Rican Social Security office, by the Women's Institute, by INAMU. Not only the police refers cases.
"Reintegration is important. Most people who are victims of trafficking do not know how to read and write. In the government we ask ourselves, how is a person who does not know how to read and write going to find a decent job in two months' time? And take care of her children?"

Sandra Chaves
The immediate response team has made some progress. The law has led to advances; the technical work of the commissions has led to improvements. The political support that has been received with the issue has been essential.
Technical, administrative and political work have to walk hand in hand.  It is the responsibility of many institutions.
Stefania Colombari: Why do you think the US Department of State continues placing us in Level 2 even though they recognize the progress we've made to combat human trafficking? Why do you think the US believes we don't meet minimum standards?
Rodrigo Picado: We have many challenges and difficulties. The budget has a lot to do with attention to the victims, which is very important. Because the victims must be empowered from the beginning and not at the end of the process.
Because if we wait until the end of their cases to empower them, they will not want to cooperate after having suffered.
"The resources, or lack thereof, have impacted us. And they have affected our investigations, too. These types of criminal organizations have lots of technological tools. And we, the police, cannot afford to stay at their same level of technologies. We must have the tools that allow us to be ahead of them,"

Rodrigo Picado
Criminal organizations are modernizing more each day, looking for ways to modernize crimes. Before, these criminal types did not have the use of technology as one of their main means, and now they do.
These types of criminal organizations have a lot of technological and other types of equipment. And we, the police, cannot simply have the same level of technologies, but we must have the tools that allow us to be ahead of them.
"If we do not have resources, then, that will limit us. And there is also the issue of international cooperation. Many of these crimes have a transnational character. So if we don't have collaboration between agencies, police, and at the national and international level, we won't make much progress,"

Rodrigo Picado
From there, the State Department's report continues to classify us at the level we are at. We are making a lot of efforts but they are not taking us to Level 1.
Stefania Colombari: Do you think that the budget issue can influence a grade drop?
Rodrigo Picado: I think so, but that's what we have and we have to work with that.
"Regardless of whether the budget remains where it is or is cut, we have to continue making the necessary efforts. We don't want to go down. But if the budget continues to be cut, it is obvious that they would be cutting many tools from us, that we need to be able to combat it,"

Rodrigo Picado
Sandra Chaves:  It is important to mention that the way the United States analyzes the information we send them is through their legislation. This is very important because when it comes to human trafficking, all countries have different regulations.
The reading and evaluation that the United States makes is from their own perspective in the way that they see the aspect of protection, prevention and attention to victims, the part of persecution for them is extremely important.
I don't think any country in the region is in Tier 1. We are in Level 2.
Costa Rica has always been in Level 2. I believe that the government complies with the minimum standards to work on the issue of trafficking, I believe that through our institutions we have made important efforts.
With the budget that is given to us each year we make the coalition work. We are able to have the victims enter into programs, we pay per diems, outside and inside the country to the victims and also to the officials that require it for strategic matters in the matter of trafficking.
The position has always been that the country does make efforts. These efforts will never be enough. This crime is a complex crime that changes over time. I believe that the United States works hand in hand with our government, we don't have to detract from the efforts of our government and what we do. And we also need to recognize that we still have challenges to overcome. The theme of prevention is an ongoing theme and it is our responsibility to continue to strengthen it.
To improve our level we have to improve many things. One of the observations of the recommendations that they make to us is to increase the recommendation and referral of victims, the collaboration with civil society, and increase the financing of victim services.
****
To learn more visit:
US Department of State's 2022 Human Trafficking report on Costa Rica.
Watch the Interview:
---
Dr. Soledad Quartucci | Founder
Latina Republic is a reporting, research, and advocacy nonprofit organization advancing human rights in the Americas. Latina Republic fills the void in coverage of urgent social, political, environmental, economic and gender inequities affecting the Americas. Latina Republic's mission is to inspire humane policies that fortify relations between the U.S. and Latin America. Our work is guided by peaceful international relations focused on solidarity. We believe asylum and seeking refuge is a human right. Our work envisions a world where neighboring countries are seen as partners, and immigrants and refugees don't have to live in the shadows. Our goal is to advance peaceful dialogue by highlighting local perspectives that don't make it into the mainstream news. Our vision is that this knowledge will assist all stakeholders in solving regional problems while strengthening ties.