Guatemala Reaffirms Preservation of Holy Week Traditions
In the framework of the officialization of Holy Week as Intangible Cultural Heritage of Humanity, Guatemala reaffirms its commitment to the preservation and protection of Lent traditions.
Holy Week (Semana Santa) in Guatemala officially received recognition as an intangible heritage of humanity by UNESCO, during a ceremony on February 26, in which its "extraordinary richness and cultural diversity" were highlighted.
"The importance of intangible cultural heritage is not the cultural manifestation itself but rather the wealth of knowledge and skills that is transmitted through it from one generation to the next. The social and economic value of this transmission of knowledge is relevant for minority groups and for mainstream social groups within a State, and is as important for developing States as for developed ones," describes UNESCO.
Cultural heritage does not end at monuments and collections of objects. It also includes traditions or living expressions inherited from our ancestors and passed on to our descendants.
Guatemalan authorities announced that the recognition of Holy Week carries with it a commitment to preserve and protect the cultural activities that are part of the tradition of Semana Santa in Guatemala.
Javier Carranza, representative of the United Nations Educational, Science and Culture (UNESCO) Organization highlighted the importance of this distinction.
Este año la conmemoración del #DíaDelPatrimonioCulturalDeGuatemala es histórica porque la #SemanaSantaGT recibe la distinción como Patrimonio Cultural Inmaterial de la Humanidad. El fervor y sincretismo de nuestra cultura es reconocido a nivel internacional. ?? pic.twitter.com/UT9TlBASia

— Alejandro Giammattei (@DrGiammattei) February 26, 2023
"It is a day of solemnity, but also a day of joy, a day of union, coexistence and fraternity because Guatemala has been recognized once again, worldwide, as a country that has an extraordinary richness and cultural diversity, and this is now expressed with this inscription of the Guatemalan Holy Week as Intangible Cultural Heritage of Humanity," expressed Carranza.
The Unesco representative highlighted that during a visit with various international delegations prior to the official declaration, they appreciated the synergy between the Catholic faith and various symbols that stand out in Guatemala during Semana Santa, such as the colorful carpets, processions, and representative elements among others.
"We have had the opportunity to observe that extraordinary richness and cultural diversity expressed on the occasion of the celebration of Holy Week, which is part of the permanent daily life of the people of Guatemala in any of the corners or departments, cities, towns and fields of this beautiful republic," he highlighted.
Details of Holy Week
Regarding the nomination process, Carranza said that a "very precise" work was presented that "reflected the extraordinary values of Holy Week in Guatemala," which after being evaluated gave rise to recognition.
The altars, the gastronomy, the techniques and knowledge for the clothing and elaboration of the processional rites, as well as the cult music, were part of the most valuable acts that, according to Carranza, were considered to declare the Guatemalan Holy Week as Patrimony of Humanity.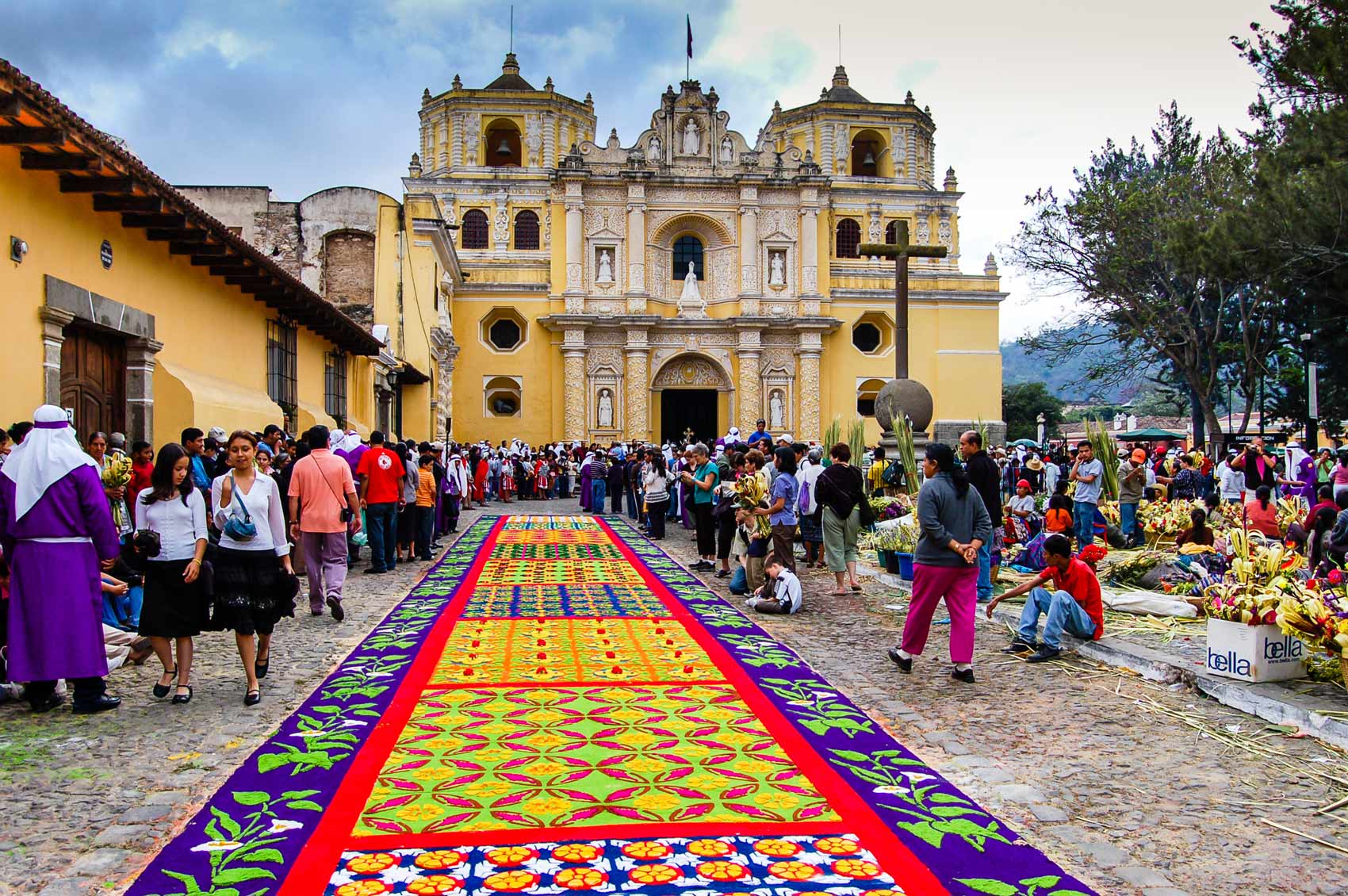 Unique Celebration
Holy Week in Guatemala adopts common elements but is unique as it brings together parishioners across towns each year and, particularly in the interior of the country, joins the knowledge of the worldview of indigenous communities.
"This tradition is constantly being recreated, evolving and enriching. It is the communities that give life to these traditions, their nature and their history, instilling in them a feeling of great identity. In the case of Guatemala, it has very deep, historical, syncretic expressions of a mixture of communion," he stated.
Intangible Culture of Humanity
Holy Week in Guatemala is one of the country's most important celebrations entailing processions, vigils, funeral marches, seasonal gastronomy and the creation of carpets, orchards and altars. On this occasion, the fronts of houses and buildings are decorated, adding to the festive atmosphere.
Semana Santa is a religious and cultural celebration that commemorates the passion, death and resurrection of Christ. It encompasses a series of activities and common elements that vary from one region to the next.
The practices and traditions associated with Holy Week have been transmitted to younger generations for centuries. Parishioners, neighbors, tourists, artisans, musicians and authorities participate in the preparations and celebrations, giving the event its universal character.
The event is a representation of the cultural diversity of the country. For centuries it has represented an identification with pain and a cult of death that was familiar to Guatemala's original inhabitants, a characteristic that remains to this day and that, despite an apparent contradiction, symbolizes hope and union.
Main Responsibilities
As part of the responsibilities that are acquired by declaring a site or demonstration as heritage, the UNESCO Member State must fulfill certain commitments.
These include a promotion, protection and safeguarding plan, so that the values that make the nomination are known at the national and international level.
Likewise, a commitment to promote it from generation to generation is acquired to keep it alive and continue to increase its cultural importance.
An important aspect is to maintain the density and characteristics of this manifestation to continue constituting an expression of the soul of the nation, Carranza said.
El reconocimiento de la @UNESCO de la #SemanaSantaGT como Patrimonio Cultural Inmaterial de Humanidad nos llena de orgullo. La #SemanaSantaGTPatrimonioHumanidad es el patrimonio vivo y la manifestación religiosa de nuestro pueblo que celebra con los cinco sentidos su cultura. pic.twitter.com/HzwIrNkoVF

— Alejandro Giammattei (@DrGiammattei) February 26, 2023
With over 500 years of history, this February 26 marked the delivery of this worldwide recognition to Guatemala.
In celebration, the government called on the Guatemalans to join these protection efforts and continue to keep this manifestation of national faith and identity alive.
Holy Week as Intangible Cultural Heritage of Humanity
Government authorities invited the population to showcase this cultural wealth to all the generations that come. In a special act in the Plaza de la Constitución de la Ciudad de Guatemala (Central Square) the registration of the Holy Week of Guatemala was formalized as Intangible Cultural Heritage of Humanity.
La #SemanaSantaGT ha sido reconocida por el mundo como una tradición viva y muestra de fe y cultura que nos identifica como guatemaltecos. #SemanaSantaGTPatrimonioHumanidad pic.twitter.com/QVh0goNalD

— Alejandro Giammattei (@DrGiammattei) February 27, 2023
The authorities held a live presentation to share the experience up close. AGN reports that 18 UNESCO ambassadors supported the Guatemala nomination.
As an expression and sample of the traditions around the Holy Week, more than 80 Catholic Brotherhoods throughout the country were present at the square.
All this made this ceremony an act full of color, smells and religious and cultural manifestations that showed the world their value to receive this recognition.
Worldwide Recognition
During the activity, the President of the Republic mentioned in his speech that this day is transcendental for Guatemala and marks the beginning of worldwide recognition.
The recognition compromises the country for the preservation of this tradition and continues to keep the faith of the Guatemalans alive.
Therefore, he invited the population to show this cultural wealth to all generations of the future.
Meanwhile, Monsignor Francisco Montecillo expressed his gratitude on behalf of the Catholic Church, for the initiative of the authorities to register this celebration before UNESCO.
This religious and cultural celebration forges the identity of the Guatemalans around an expression of their faith, the Apostolic Nuncio mentioned.
In Guatemala, Semana Santa represents one of the most important weeks for the tourism sector. Annually for the tourism industry, it is one of the seasons with the greatest movement that for religious, recreational or combined reasons, allow people to make trips nationally or internationally. From this purpose, the Guatemalan Institute of Tourism -INGUAT- is working on the details of its action plan that will be carried out prior to and during Holy Week 2023.
---
Dr. Soledad Quartucci | Founder
Latina Republic is a reporting, research, and advocacy nonprofit organization advancing human rights in the Americas. Latina Republic fills the void in coverage of urgent social, political, environmental, economic and gender inequities affecting the Americas. Latina Republic's mission is to inspire humane policies that fortify relations between the U.S. and Latin America. Our work is guided by peaceful international relations focused on solidarity. We believe asylum and seeking refuge is a human right. Our work envisions a world where neighboring countries are seen as partners, and immigrants and refugees don't have to live in the shadows. Our goal is to advance peaceful dialogue by highlighting local perspectives that don't make it into the mainstream news. Our vision is that this knowledge will assist all stakeholders in solving regional problems while strengthening ties.