Introduction
Currently 90,000 people and their families are living in a state of limbo due to delays in the processing of Deferred Action for Childhood Arrivals (DACA) applications. To learn more about the roots of this backlog, its implications, and what the general public can do to help, Latina Republic spoke with Juliana Macedo do Nascimento, Senior Advocacy Manager at United We Dream.
United We Dream is the largest immigrant youth-led network focusing on protecting the rights and livelihoods of undocumented people locally, federally, and at the state level. They fight to stop deportations, gain governmental protection for the immigrant community, prevent mass detention, attain access to education for all immigrant students, and support LGBTQ+ immigrants. Their mission is to "create welcoming spaces for young people – regardless of immigration status – to support, engage, and empower them to make their voice heard and win!"
United We Dream is advocating for and supporting DACA recipients on numerous fronts. In addition to the DACA fund they have to help applicants cover the application fee, they also have FAQs on submitting DACA applications and renewals. They are also fighting for protections of undocumented youth through Congress' reconciliation process. 
In this Q&A, Macedo do Nascimento tells us how crucial DACA is, but also that the main focus of advocates should be on a path to citizenship for all undocumented people. DACA provides work authorization for undocumented people who came here as children. This is vital as it provides undocumented people an opportunity to have a job that pays fairly. Due to the DACA backlog, DACA recipients are falling out of status through no fault of their own.
This means they are fired from their job, which is detrimental to themselves and their entire family, as many DACA recipients are the breadwinners of their household. Additionally it puts them at risk of deportation. The survival of DACA is critical, but is also not the end all be all. Since DACA is constantly being threatened, now by conservatives and Judge Hanen of Texas who just ruled the program unlawful, we need a permanent path to citizenship for undocumented people. United We Dream is fighting so no one will be left behind, and that's what all of us must do.  
The fight for citizenship for the undocumented is a long, but deeply necessary road. Organizations like, United We Dream and advocates like Macedo do Nascimento continuously motivate us and give us hope. 
Q&A
Latina Republic: What is United We Dream currently doing to defend DACA?
Juliana Macedo do Nascimento: First, I would say that, while the program has been a welcome reprieve from the fear and the hardship that comes with being completely undocumented, we've always known that it's always just been a bandaid – a temporary solution to a much larger problem. So yes, we fight to keep the program alive, because it is a lifeline for hundreds of thousands of people, but it cannot be the end all be all of this issue. When it comes to being practical about it, we are in constant communication with members of Congress and the White House to advocate for the people that the program serves. 
We've done things like put together an organizational sign on letter that had over 70 organizations sign on demanding that USCIS (United States Citizenship and Immigration Services) fix the backlog and the delays. It even had recommendations for how they could do it. We also worked with the Office of Senator Cortez Masto, to write a letter from senators to USCIS about the same issues. 
We also work closely with the litigators in the court cases when DACA is attacked. We have meetings with them, we write amicus briefs when necessary. We have all these different sides from where we help to keep DACA alive. But, we know that the only true way to defend DACA recipients is to pass permanent protections through the legislation. 
And that's where a lot of our effort is, to ensure Congress passes citizenship for millions of people and not just DACA recipients, especially through the next reconciliation package. We've been doing a lot of that lately, too. DACA is a great program. I have it myself. I'm a DACA recipient myself, my brother is one too, so it hits personally when I say this. The way we like to see it is we're defending DACA recipients, the people that the program helps, not just the program. And as great as it is, it's not even close to what we need.
Latina Republic: Thank you. That is such a good point. Yes. So only a fraction of the 50,000 first-time applicants who have applied between January and March of 2021 have been accepted into the DACA program. What do you think the current reason for this backlog is?
Juliana Macedo do Nascimento: The claim is that because of COVID and USCIS offices closing down, they couldn't do biometric appointments. So when you apply for DACA, especially for the first time, you have to go into a USCIS office and do a biometrics appointment, which for those of y'all out there who don't know you have to go in, they take your fingerprints and they take your picture.
Every two years I have to do this. But because the USCIS offices are closed, they couldn't do the biometrics appointment, especially for initial applicants. For renewals, they waived the biometrics requirement, used the information that they've already had from the last one, and renewed most of them. But, we also know that there has been backlogs on renewals as well. We're not so sure why this has been happening. There has also been a problem with staffing. USCIS has sent a lot of their staff to the border to help with processing asylum seekers and so they were short on folks in their normal offices. What we do know is in our conversations with them, they've said that the backlog will be cleared within the next six to eight weeks. So we're hopeful. But until that happens, we also know that folks are falling out of status. Initial applicants are not being granted or adjudicated. 
**Note from Latina Republic: After the date of this interview, Judge Hanen ruled the DACA program unlawful so initial applications, including those stuck in the backlog, can no longer be processed**
And so people are losing time on, first, being protected from deportation, because we know that even though it's a friendly administration, ICE will do what ICE does, which is deport people. And DACA recipients are losing their jobs. Once you lose your DACA status, which is not even a real status, you lose your work permit. So, you can't work anymore. 
And so that affects people's livelihoods, as well. And we know that a lot of DACA recipients have become the sole provider in their households because everybody else, or their parents, might be undocumented and they've lost their jobs because of COVID. So it really has a large negative and compounding effect on people to lose their DACA status. So whatever USCIS says is the reason, it's not good enough, right? Because it affects people's real lives.
Latina Republic: Yes. Because people will lose their jobs. And is it possible that DACA recipients can get deported if their status expires now, because of the backlog?
Juliana Macedo do Nascimento: Yes, it is possible. If I were to lose my DACA… it's all in the name Deferred Action for Childhood Arrivals, right? So all it does is it defers my deportation. So it just pushes it back. But if I lose it, then I am vulnerable to being deported. And whatever this administration says, that they'll protect us, this is the only protection I've got so if it goes away, then it's just their word. And we can't really trust that because we've seen DACA recipients and folks who lose their status, or let it lapse for one reason or another be deported. And so we can't really go just on goodwill.
Latina Republic: Thank you. Where can the general public follow the evolution of the DACA legislative process and where things stand with DACA and the backlog?
Juliana Macedo do Nascimento: I'm gonna plug us, United We Dream, here. Because, we do try to really keep people up to date. You can follow us on social media. Today, for example, we are happy to share that we have news that a pathway to citizenship was added to the Senate's resolution for the reconciliation package. 
So we know that the reconciliation process and other congressional procedures might be complicated, but they do affect our people in a real way, so we try to distill the information to be accessible and to the point. So we have accounts across most platforms. I think the latest one we opened was on TikTok. 
United We Dream is there. We are on Facebook, Instagram, Twitter, TikTok. So if folks really want to, we are always putting out educational content, like top five, graphics, videos. And we work really hard to make sure that the information is accurate and accessible. So, you can just follow us.
Latina Republic: Okay, wonderful. That makes it easy. I saw on United We Dream's website that you have a DACA support program to help people apply or renew. How many people have used this program since DACA reopened to new applicants?
Juliana Macedo do Nascimento: This year alone, we've sent checks to cover the $495 application fee for over 800 people. And we know that every time we open our applications to it, we get bombarded by them. We can never have enough funds to cover everybody that asks for help. $495 is a lot of money for a lot of people. And so as much as we try to fundraise, we got a large donation from Google just last year when this was announced, and still, we ran out within a week. 
We know that it's never enough. A lot of people are out there who haven't renewed or who haven't applied for the first time because they don't have the funds. We also take donations for the DACA fund. It's on our website (click here). If folks are feeling helpful they can go find us there.
Latina Republic: Wonderful. Right now, what's on President Biden's desk regarding DACA and undocumented migrants? You mentioned the reconciliation bill.
Juliana Macedo do Nascimento: So that's not on Biden's desk yet. We're going through the reconciliation process right now in Congress. What was announced today was the resolution to the reconciliation on the Senate side. So all it is, is a blueprint of how much money they're allocating to the different committees. And so they've allocated, I believe, 120 billion dollars to the judiciary committee, which would cover, we expect, about 5 to 7 million immigrants. 
That would mean immigrant youth, TPS holders, farm workers and essential workers. So we're hopeful that the House will take on the Senate resolution and pass it as well and then they'll negotiate the actual reconciliation package sometime in the fall. Then hopefully, by the end of the year, we'll actually have something for Biden to sign, which will be the next reconciliation package. But right now, on the administrative side, the executive branch, they're working on a rule to strengthen and fortify the DACA program. 
What we think the government is doing is trying to have a better standing in the courts. Because right now, DACA has been challenged a lot because it was a memo, put out by DHS that created the program. But if parts of the program go through public comment, which it needs to go through to become a rule, it will fortify or strengthen its standing because it went through some governmental process of getting feedback from the public, from other agencies. And so if the rule passes, then the program has better standing in the courts. 
And so that's what DHS, Biden, and his administration are doing for the program right now. They're defending it in the courts. 
Latina Republic: Okay, thank you. You spoke on this a little bit already, but I was wondering if there are any more specific ways that DACA processing delays could harm dreamers, their families, and their security? 
Juliana Macedo do Nascimento: What we're seeing is that folks are losing their jobs. We have a member in California, who's a teacher, and she sent in her renewal application within the 120 to 150 day window that they ask, and she hasn't heard from them. She sent it in in March. It's July. She still hasn't heard from them. Her DACA expired in May and she lost her job. She is the only provider in her household because her mother is undocumented and lost her job due to COVID. Now they're left scrambling for their livelihood and she is under threat of deportation. I just want to make it clear, when someone applies for DACA, when I'm applying for DACA, what I'm basically doing is presenting myself to DHS. I'm telling them "I've been here in this country undocumented for a long time. Will you please let me stay and work for the next two years?" 
That's all they're granting me. It's not a legal status, it's legal presence, which is a legal distinction, but it's important. It's not a pathway to citizenship. There's nothing I can do right now, unless I get married, to fix my status. And if I lose DACA, then yes, I am under threat of deportation and USCIS has my information. They know where I live. They know everything: where I've lived in the past, who my parents are, who my brother is. They know everything about me. They take my fingerprints every two years. It's really nerve wracking to know that an agency within DHS, which has already been shown to share databases with ICE, has access to my information. 
There's already been reports of USCIS sharing DACA databases with ICE. So for ICE it'll be like shooting fish in a barrel. And I wouldn't put it past them because, again, as much as this administration is friendly towards us, and they promise to protect us, they still have to follow the law and the law will mean that we are deportable.
Latina Republic: Thank you. In what specific ways can people who are supportive of the DACA program and want to show up and defend it and defend the rights for undocumented people, help?
Juliana Macedo do Nascimento: I'm glad you asked. They can donate to our fund. We have tons of petitions out there. One of them is to ask Biden and his administration to fix the backlogs as soon as possible [sign here]. The other one is more directed at Congress to pass legalization through the reconciliation package. Allies can call their Congress members to demand they pass permanent solutions. And definitely if you want to join us, you can text the word SQUAD to 877877. And we have this whole distributed organizing program where folks can join us and take action from wherever they are, on their computer, or at their locally elected officials' offices. People can join us in all kinds of ways.
Latina Republic: What have been the victories regarding the DACA program since the Biden administration assumed leadership? What are the positives? 
Juliana Macedo do Nascimento: Yeah, having an administration that is friendly towards us is a huge deal. They've defended the program in the courts, they're moving to strengthen it. That's a huge deal. We've had plenty of victories. Especially, the first day that Biden took office, he put out a whole bunch of different EOs [Executive Orders] and memos, ending the Muslim ban and putting a moratorium on deportations for the first 100 days. Biden's been talking about strengthening the program from day one. 
Those are all things that we are so very happy about. Since then, we know that USCIS is working to fix the DACA processing delays that started because of the last administration. We know that they've already trained more agents to start adjudicating these cases faster. We know that USCIS offices are reopened and they're working really hard to address the backlog. So we're really grateful for those fixes. They're also trying to fix things inside USCIS in terms of what they will accept as evidence of living in the United States. So the deal with DACA is that when you're applying for it, you have to prove that you've been living in the U.S. continuously since 2007.
That's 14 years now of your life that you have to have documentation for at least every two months. Two to three months is what a lawyer tells us to do. So you have to have proof that you've been living here. But if you were one year old, and you came into the U.S. in 2006, or something, you weren't even going to school in 2007. And by the very nature of being undocumented you don't have documents. So how do you prove that? So USCIS taking in different kinds of documentation to prove presence in the country since 2007 is a huge deal. 
This is something that we know the last administration would not have done. And also the new rule to strengthen the program. If I'm talking about victories focused on DACA, those are the big things. And then I can talk about the Dream and Promise Act that passed the House in March. That was a huge deal to us because it doesn't legalize only DACA recipients, but all immigrant youth, we expect over 2 ½ million people, and TPS holders. 
We expect that bill to include over 4 million people altogether. So that was a huge victory and it's being used as a framework for some of the folks who will be included in the reconciliation package. So that's a huge deal and affects DACA recipients.
We need more than tweets and statements- we need action. Congress must take concrete steps to ensure a pathway to citizenship for millions!

We can't wait. We need permanent protections, now! pic.twitter.com/9H11eHgmzz

— United We Dream (@UNITEDWEDREAM) July 20, 2021
Latina Republic: Does United We Dream think that the Dream and Promise Act will be able to pass the Senate? And are they working to promote and push it?
Juliana Macedo do Nascimento: The Dream and Promise Act  passed the House. We've worked hard to include it in the reconciliation package. When they say that they have money in the resolution to include citizenship in the reconciliation package, what we expect they'll do is use language from the Dream and Promise Act, the Farm Workforce Modernization Act, and the Citizenship for Essential Workers Act, to include those populations in the reconciliation package. So that's why it's important for us to have introduced or passed those bills in the House and in Congress. So we are very hopeful that it will actually pass one way or another. 
Latina Republic: Okay, wonderful. Is there anything else you would like to add about United We Dream or push?
Juliana Macedo do Nascimento: Yeah, I would just like to emphasize that DACA is really, really important. But, I feel like the focus whenever we talk about it should be the people. And that it's not just about DACA recipients, because for us, it's not just about ourselves, it's about our families, right? My parents are still undocumented and they definitely don't qualify for the Dream and Promise Act. So making sure that whenever we talk about a program like DACA, as life saving as it is, it's the bare minimum and we need so, so much more. At United We Dream, we are working really hard not to leave anybody behind. And to make sure that whoever is eventually left out, because we do recognize that folks will be left out, since reconciliation will only cover about 5 million people and there are 10 million undocumented people in the country. So, for those who will be unfortunately left out, we'll keep fighting for them. And we'll fight not to have any more money for detention or deportations included in these bills, because that's the compromise that they always ask of us. Like, "oh, we'll give you citizenship, but you have to allow us to deport everybody else in your life." And that's just not okay. And so, we're not leaving anybody behind, we're not forgetting about anybody, but this is just the best way we can see to move forward. And this is only the first step. 
____________________________________________________________________________________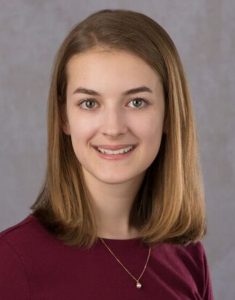 Erica Drufva | Wheaton College
Erica Drufva (she/ella pronouns) is pursuing her undergraduate degree at Wheaton College in Norton, MA. She is double majoring in Hispanic Studies and International Relations. Erica has a passion for oral history, especially surrounding migrant experiences. She aspires to work in immigration law and immigration policy analysis so she can make a positive impact on the lives of people who are migrating to the U.S. In addition to her interest in advocating for migrants, Erica also strongly supports human rights efforts such as the fight for racial justice, women's rights, indigenous rights, and lgbtq+ rights. She is excited to work with Latina Republic in order to uplift migrant stories and learn more about migrant issues on a deeper, more personal, level.