The 2021 DACA Backlog Causes Frustration and Fear, Heightened by the Texas Court Decision
U.S. Citizenship and Immigration Services (USCIS) recently released a report which highlights the number of Deferred Action for Childhood Arrivals (DACA) applications submitted, processed, and pending between August 15, 2012 and March 31, 2021. For DACA recipients, applicants, and activists, this report is disheartening. It discloses the immense number of DACA applications stuck pending.
Between December of 2020 and March of 2021, 50,000 first-time applicants submitted applications for the DACA program and only 800 have been approved. USCIS told United We Dream that the backlog is due to the department being understaffed and issues with biometric appointments because of COVID-19 causing offices to close. In total there is a backlog of 55,550 first-time DACA applications and 44,171 renewal requests waiting to be processed. This means that nearly 100,000 people and their families are stuck in a state of limbo and fear for the future.
After the program was challenged by the Trump presidency in 2017, thousands were left in fear of the implications Trump's inhumanity would have on their legal status. Luckily, in December of 2020, DACA was reinstated and began accepting new applications thanks to the Supreme Court ruling that Trump did not follow the proper procedure in ending DACA. This prompted celebration and a brief sigh of relief from activists and DACA applicants. 
Despite the hope that came along with Biden's more open-minded and compassionate presidential administration, DACA is once again in jeopardy. On July 16th, 2021, Judge Andrew Hanen of Texas ruled that the creation of DACA was "illegal." This means that now DHS can no longer approve first-time DACA applications but it can keep processing renewals as usual.
Immigrants are still allowed to file both initial and renewal applications, however the initial applications will not be processed. This is heartbreaking and poorly timed news for tens of thousands of undocumented people. According to information from the DHS website and United We Dream, initial DACA applications stuck in the backlog as of July 16th may not be processed. This means the livelihoods of 50,000 people are at stake. 
It is frustrating and distressing that DACA continues to be challenged despite it being such a necessary and beneficial program. All DACA does is provide work authorization to undocumented people who arrived here before their 16th birthday and have been in the U.S. since 2007.
DACA gives thousands of people the opportunity to support their families, as the majority of DACA recipients are the breadwinner in their household, since often times their family members are undocumented and do not have fair paying jobs available to them. 
With over 44,000 DACA renewal applications stuck in the backlog, 44,000 thousand people and those who depend on them are at risk. Latina Republic spoke with Juliana Macedo do Nascimento, Senior Advocacy Manager at United We Dream, a youth-led immigration advocacy organization fighting for the rights and protections of immigrants at the local, state, and federal level. She commented on the backlog of renewal applications saying: 
"What we're seeing is that folks are losing their jobs. We have a member in California, who's a teacher, and she sent in her renewal application within the 120 to 150 day window that they ask, and she hasn't heard from them. She sent it in in March. It's July. She still hasn't heard from them.
Her DACA expired in May and she lost her job. She is the only provider in her household because her mother is undocumented and lost her job due to COVID. Now they're left scrambling for their livelihood and she is under threat of deportation."
According to Macedo do Nascimento, DHS told United We Dream that the backlog should be cleared up within 6 to 8 weeks. However, this no longer applies to first-time applicants because of the court decision. First-time DACA applicants are now stuck in a state of uncertainty with no end in sight. Renewal applicants also are fearing for the future, as the whole DACA program will likely be challenged by the Supreme Court.
To get more background on the experience of being a DACA recipient, Latina Republic spoke with Christy Canjura, one of our Immigration Writers who is a current DACA recipient. She spoke of the fear that comes with the program being challenged. Latina Republic asked Canjura how she felt when Trump tried to end the program in 2017. She said:
"I don't think anything can prepare you for the feeling that your whole protection is going to be stripped from you. It really felt like my worth as a person, and as an American, was starting to crumble down when Trump took office… and said that he wanted to end the program…
It's almost like you're at the top of the roller coaster, and you're waiting for it to drop, and then it never drops. It's awful. It's so anxiety-inducing.  My biggest worry, even still, is my family and I being separated and deported…The feeling of your work authorization being revoked, even if I didn't get deported, the degree that I'm working so hard for would be completely useless because I couldn't legally work."
It is important to remember that challenges to the DACA program throw hundreds of thousands of people into deep fear for their futures. There is absolutely no benefit to ending the DACA program. 
The constant challenge of DACA is rooted in the xenophobia and racism that pervades every structure within U.S. society. Oftentimes, people argue against immigrants' right to be here because they feel immigrants take jobs away from U.S. citizens. This mindset is completely false and makes immigrants a scapegoat for other issues that exist in our society.
PBS reported in 2019 that "The CATO Institute…estimated that the federal government could lose $60 billion should DACA recipients be deported, and U.S. economic growth could shrink by $280 billion." DACA recipients are not hurting the U.S. economy in any way. Many do not recognize the value that immigrants bring to the U.S. community. This country could not function without immigrants. 
Canjura highlighted: "A person having DACA doesn't threaten U.S. citizens. Many of us were brought to the U.S. when we were children, some of us only a few months old. We grew up embracing the values of the U.S. and we consider ourselves American. We're no different or less deserving of human rights than our citizen counterparts. And literally, the only thing that separates us is a plastic card. Skepticism [of the program] comes from people unclear of what it actually does for individuals.
Having DACA only means having work authorization, which drives the productivity of the economy and betters the country. If we were to take DACA away, our whole economic system would…significantly be affected. DACA is about giving undocumented people the opportunity to be on the same playing field, it's not about giving us special treatment…the program is ultimately about providing equity. So if you say you support equity, you should support DACA. Because we've spent our entire lives here, just like documented people."
Clearly, the DACA program is vitally important. DACA being in constant need of defense highlights to us the need for a permanent solution and a path to citizenship for the millions of undocumented people building up our country. The Democrat's current budget measure in the reconciliation process includes a path to citizenship for millions of migrants, which is a tremendous step forward. Juliana Macedo do Nascimento emphasized: 
"DACA, as life saving as it is, is the bare minimum and we need so, so much more. At United We Dream, we are working really hard not to leave anybody behind…We do recognize that folks will be left out, since reconciliation will only cover about 5 million people and there are 10 million undocumented people in the country. So, for those who will be unfortunately left out, we'll keep fighting for them."
All undocumented people, not just DACA recipients, are in need of protection. A pathway to citizenship is a way to address the constant challenging of DACA and to take constant fear out of the lives of millions of undocumented immigrants.
To show your support for the undocumented and fight Judge Hanen's ruling, click here for a list of actions to take from United We Dream. 
If you are a DACA recipient and need support click here for a list of resources from United We Dream. 
_______________________________________________________________________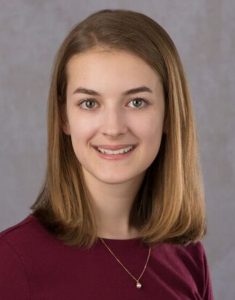 Erica Drufva | Wheaton College
Erica Drufva (she/ella pronouns) is pursuing her undergraduate degree at Wheaton College in Norton, MA. She is double majoring in Hispanic Studies and International Relations. Erica has a passion for oral history, especially surrounding migrant experiences. She aspires to work in immigration law and immigration policy analysis so she can make a positive impact on the lives of people who are migrating to the U.S. In addition to her interest in advocating for migrants, Erica also strongly supports human rights efforts such as the fight for racial justice, women's rights, indigenous rights, and lgbtq+ rights. She is excited to work with Latina Republic in order to uplift migrant stories and learn more about migrant issues on a deeper, more personal, level.