The beauty of the culture of Mexico and its history is transmitted through its art. Craftsmanship shapes the experience of those who own it and shares the experiences of those who create it. Such is the art of carving for Efrain Fuentes and his family. In his workshop is where the creation of his sculptures begins and ends. For those who visit it, such as Mexican citizens and tourists, it is where the magic begins. 
Efrain Fuentes Santiago is a wood carver from San Martin Tilcajete, in Oaxaca, and he is of Zapotec origin. He and his family have a workshop located in their town where they specialize in wood carving and painting. They are a family workshop. Efrain is part of a third generation of woodcarvers.  
What is an alebrije and what connection do these colorful crafts have with Mexican culture and history? 
Efrain Fuentes Santiago: The word alejibre refers to the creation of a wood carving product of the imagination, a fantastic, unreal piece that does not exist, carved and decorated by hand with very attractive colors.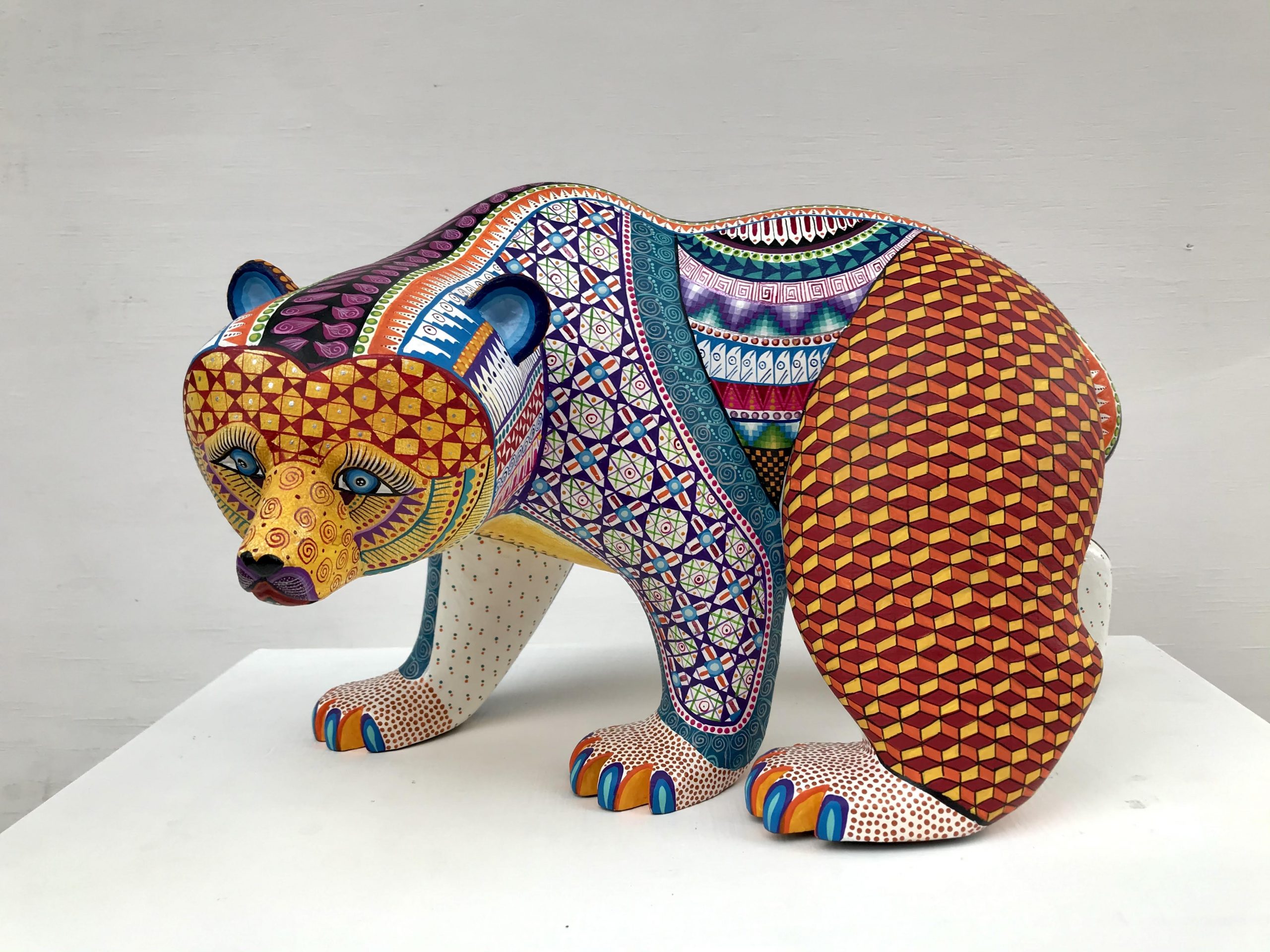 The connection of these crafts with our culture has been related since very remote times, since different designs are used which are located in our archaeological ruins in our state, such as Monte Albán and Mitla. In this town we have the tradition of celebrating "el Carnaval." It is an ancestral festival that has been held for a long time on the Tuesday before Ash Wednesday and is also known as Los diablos de San Martín Tilcajete. Artisans carve different types of masks for this great party, which is attended by the entire population and visitors from different parts of the world.
Traditionally, we heard older people tell stories about the naguals, the people who had a gift of transforming themselves into different animals, for example, into a dog, a snake, among other animals, something full of mystery. This work is an example of a nagual; an armadillo woman, who is a protector of mother earth.
What is the connection between Pedro Linares and the origin of the alejibres?
Efrain Fuentes Santiago: In this town, wood has been carved for several generations. Previously they called it wooden crafts, monos or nahuals. Between the 80s and 90s, there were few families, including mine, who carved wood; they knew us as moneros. In the 90s, artisans began to emerge from Oaxaca to offer their handicrafts and this influenced tourism into the village.
It was then that we began to hear the word of alejibres, which was how Mr. Pedro Linares called his paper mache creations. We did not know that it was an alejibres. This is where the connection between the carvings of this town and Mr. Pedro Linares emerged.
You have a workshop in Mexico called Carvers of Fantasies. What was the inspiration behind that name and how did your interest in the art of sculpting begin? 
Efrain Fuentes Santiago: Efrain Fuentes Carver of Fantasies was a sign that we hung outside our home to attract the attention of tourists since we carve fantastic things, but later we changed it to the name of Taller Efrain Fuentes Y Silvia. Silvia Gómez is my wife, she is the one who decorates the works that I carve.
When I was a child, I watched my father carve his works and my mother, Laurencia Santiago, decorate my father's creations with great enthusiasm, hence the interest and curiosity of woodcarving was born. My grandfather, Zenen Fuentes, carved pieces in copal wood and my father, Epifanio Fuentes, learned from my grandfather, and I also learned from my father.
I began to carve at the age of 7 and my first work was an angel, which until now, I keep. Now I carve in different types of wood such as: walnut, cedar, willow, and roots that I collect in the rivers and fields of my town. Currently, my four children are the fourth generation and I am very happy that they continue to be part of this wonderful work.
Over the years you had the opportunity to sculpt various works of art. Do you have a sculpture that is your favorite or that is special to you? 
Efrain Fuentes Santiago: My favorite sculpture is an angel which I carved in the year 2000. This work has a high degree of difficulty; its title is "La Inocencia." The wings refer to the innocence and purity of a being that has been held captive for no reason. When carving this work and finishing it, I managed to feel a great connection and that is why we did not put it up for sale; I still conserve it till this day.
When you finish your sculptures, what plan do you have for them? 
Efrain Fuentes Santiago: When starting to carve a work, I visualize what a large wooden log will transform into and I give all my effort to create a great impact, a visual attraction for the spectators. Overall, the most important thing is that I carve a work that allows an individual person to connect with it. 
When I finish carving my work, I begin to evaluate it, if it has to be decorated, if it is going to have very fine details, or simply apply some oil for wood or just leave it natural, since there are pieces that do not need painting to make them attractive. For example, I carved this heart in a wood that is very hard, it is called walnut, it is from here in the region, but the color is very beautiful, it looks very good in its natural state, it does not need the application of paint to make it look attractive.
What have you learned about the dedication to this art form?
Efrain Fuentes Santiago: As artisans, we have learned to be very grateful for what Mother Nature gives us. We use wood to carve the alejibres, but we give back by having a plantation on land belonging to the population of San Martín Tilcajete which was initiated about 20 years ago.
In Efrain and Silvia's workshop, we opted to reuse different woods, roots or recovered woods that we collected from the hills of the town, since we managed to project a new life form of the dry woods in the alejibres. For this reason, they use a large variety of woods in addition to copal, such as walnut, cedar, willow, sabino, huamúchil and zompantle. Likewise, we do not waste wood since we are aware of the long process that a tree entails, we take advantage of all of it.
For example, we give different uses to the wood that we have left over, such as petals for flowers or wings for small pieces like hummingbirds, ears, among others. The wood that no longer serves us to create parts of sculptures, we use it to heat water or to put beans on the fire.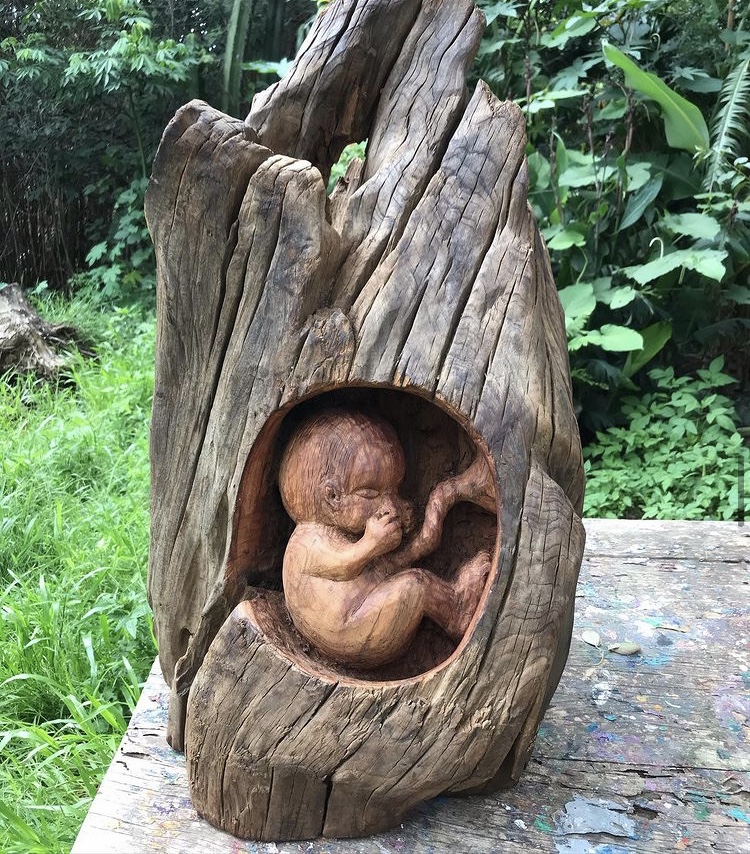 Thanks to this beautiful work and to people who have been interested in spreading it, we have had the opportunity to take a small sample of our art to different galleries, schools, museums as well as art institutes.
It is remarkable how art evolves through the years. Are there elements that you add to your art to distinguish it, or do you prefer to highlight the tradition that already exists?
Efrain Fuentes Santiago: Every day we are thinking of new designs, both in painting and in wood carving, but we also try to include parts of the traditions which represent us. For example, this work has frets, pyramids, snails which represent our ancient Zapotec culture. These same ones are carved in our cultural heritage, which is the archaeological zone of Mitla and Monte Albán. We also incorporate elements of nature in our work, such as butterflies, hummingbirds, flowers, fish among others.
Craftsmanship is one of the works that highlights the culture of various countries, but there are times when it is not valued. Have you seen a change over the years in the valuation of crafts or a change that you would like to see? 
Efrain Fuentes Santiago: Yes, handicrafts were not valued previously because people did not know the great work involved in making them, but with the passage of time, this situation improved because, at all times, the artisans explained that this entire process was carried out manually. In addition to being very laborious, the most important thing is that people must value all crafts such that they are a unique product, unrepeatable, created by the hands of artisans who try to spread and make known a story through every detail.
In your workshop, who are the ones that participate in the manual creation of the alejibres or sculptures?
Efrain Fuentes Santiago: We are a family workshop in which my wife Silvia and my four children, Eros Fuentes, Dulce Fuentes, Emmanuel Fuentes and Estrella Fuentes work. My children, like me, carve their own works, my wife together with my daughters perform the process of decorating the works or painting.
Each of them has a distinguished way of working with alejibres since they express their feelings and vision in different ways. They all started as children helping us, preparing the works to be decorated, polishing, repairing or painting layers of solid colors on a sculpture. 
What materials are used to create the sculptures? 
Efrain Fuentes Santiago: The first thing we need to create an alejibres is to select a wooden log. Later, we use some tools, a machete and a knife. These two tools are used to shape any small or large work and, to make the finer details, I need my gouges. We also use sandpaper to polish the work, a lot of resistol and two types of sealers, one is made by the factory which we use to cover small cracks and the other we prepare it with wood dust, also called sawdust, and enough resistol to heal the openings that the sun generates in them. Apart from this, we need paint and brushes; all the paint we use is acrylic. If the work is assembled, that is, we join several pieces, it can be the tail, hands or legs, we use screws and nails.
How is an alejibre made (the process) and what technique is used?
Efrain Fuentes Santiago: The process is very long, first we select the right wood. It helps me a lot when the shape of the wood is curved, for example this heart is carved between one or two days then the wood has to dry naturally, which is the longer process because it can take up to a week, fifteen days, or even a month to dry in its entirety; everything depends on the dimensions of the work. Later, we have to polish it with coarse sandpaper, then put liquids to preserve the wood and, in the future, we will not have problems with insects.
Followed by this step, we have to repair the imperfections using a natural sealer that we create with the sawdust that arises when cutting the wood, and a little glue. After this, we polish one again with a much thinner sandpaper to give a smooth finish to the piece, then we begin to apply a sealer to the piece so that the background that we decide to put adheres easily. Finally, the piece goes to the decoration process where we use different brushes, some to shade or give light to the work, others for the background and some finer ones to make the decorations in the alejibre. 
Are there specific ideas that you try to incorporate into alejibre? Do the creation techniques vary depending on the community?
Efrain Fuentes Santiago: Of course, for example, we are always thinking about what to create, our head is a revolution inside full of ideas. We always try to innovate and make our works more attractive. My children are always saying to me "why don't we do this?" or "we make this piece with this," but, as I mentioned at the beginning, we always try to include certain elements that distinguish our culture.
The techniques vary, for example, in other towns they paint with different more fluorescent colors or make miniature pieces. Some people still paint with aniline and it is their technique. At the same time, the carving and decoration vary a lot, each workshop has its own techniques, its own style that identifies them.
In what way did the alejibre spread to other towns, and which are the main communities that specialize in the creation of carved wooden figures nowadays? 
Efrain Fuentes Santiago: San Martin Tilcajete has long employed neighboring communities. The workshops need support and they hire people from other localities to teach them to paint, carve and do the process of preparing the works and many times they decide to form their own workshops. This allowed for alebrijes to spread to other communities. 
San Antonio Arrazola is another town that makes alebrijes, it is located near the city. San Pedro Tabiche is another one, as is La Unión de Tejalapam which designs the pieces in wood. There are many more. 
The Museum of Popular Art in Mexico City organizes a parade of monumental alejibre with the intention of promoting Mexican folk arts and culture. Hundreds of artisans build alejibre up to four meters high and walk them through the historic center of the city in an event full of dance, music and color. Have you participated in it?
Efrain Fuentes Santiago: I know about this event, but the truth is that I have not had the opportunity to participate, since we always have a lot of work, and we are focused on production. But hopefully one day we will be able to participate because it is an event that is well known and interesting.
If interested in following this workshop's wood carvings or purchasing an art piece
Contact Information:
Efrain Fuentes
Cel. +52 951 157 2849
Instagram: efrain_fuentes_y_silvia
Facebook: Taller Efrain Fuentes y Silvia Gomez 
---
Nancy Ortega
| University of California, Davis
My name is Nancy Ortega and I am a current undergraduate student at UC Davis majoring in Animal Science and Spanish, but began my studies at Rio Hondo College. I am the proud daughter of two immigrants and the sister of a Dreamer. My interest in Latin America emerged due to the passion from my high school Spanish teacher. I became interested in the variety of cultures, the unique people, and the history still to be uncovered from underrepresented countries. In Latina Republic, I want to expand the beauty and complexity of Latin America and enrich my mind, as well as that of the readers, throughout this new experience. I look forward to meeting interesting individuals, hearing new stories, and coming out with a fresh mind set.