Colombian flower exports into the United States reached their highest numbers last year and are expected to rise again ahead of Valentine's Day celebrations across North America. Aside from coffee, coal and emeralds, Colombia's cut flower industry represents a big share in the country's exports and has continued to grow in recent years. Reaching a wide variety of destinations and adapting effectively to a pandemic have contributed to reaching record numbers.
Between January and November 2021, Colombian flower exporters reported their highest earnings in history, reaching $1.5 million, nearly a 20% growth over the year 2020 and surpassing the previous record of $1.4 million in 2019. This means that last year, almost 300,000 tonnes of flowers were shipped from Colombia.
This year, both flower farmers and shipping companies are prepared to cover the increasing demand. Valentine's Day, according to LATAM Cargo, represents their first peak of exports to North America, during which time more than 700 million flower stalks are sent abroad. To cover for the demand, weekly LATAM cargo flights from Colombia to Miami increase from 28 to 52 during late January to early February. However, not only the United States receives flowers from Colombia. Canada, the Netherlands, the United Kingdom, Japan, Spain, Russia, Chile, Poland and Australia are among Colombia's top buyers in the cut flower market.
The main types of flowers that Colombia exports are roses, carnations, orchids, chrysanthemums, alstroemerias (also known as Peruvian lily), hydrangeas and lilies, out of which hundreds of varieties branch out. Long-stemmed roses are one of the most common picks for Valentine's Day, whereas carnations become more common during Mother's Day. But in order for Colombian freshly-picked flowers to arrive in great shape, they undergo rigorous farming, picking, storing and shipping procedures. They are mostly grown in greenhouses, usually built around airports to facilitate shipping, and are picked, stored and transported in weather-controlled rooms. Taking these flowers to Miami, one of the top importers, takes around 48 hours and usually one or two more days to reach retailers.
Most of Colombia's flower industry has settled in Cundinamarca and Antioquia, a perfect environment for flowers to grow and for farmers to sell abroad. The high plains of the Andes mountains, which can reach elevations of up to 8,700 feet, are near enough to the Equator to provide 12 hours of sunlight per day year-round and high enough to maintain a cool, pleasant climate for flowers regardless of the season. The soils, result of geological transformations throughout the years, also provide a humid, clay-rich environment that help flowers grow more consistently year round. And being only three hours away from Miami by plane, the Andean region has the perfect conditions to establish itself as the biggest flower exporter to the United States in the Americas.
COVID-19, which hurt both small and large businesses, did not leave a permanent mark on the Colombian flower industry. According to Augusto Solano, director of Asocolflores (Colombian Flower Exporters' Association), flower exports only dropped 5% in the year 2020, when the pandemic hit businesses the hardest. The reason the industry was able to stay afloat was, he says, is that being isolated moved people to express their feelings in other ways. "Flowers are food for the soul, food for the spirit," he added.
Since the start of the pandemic, though, the flower industry quickly adopted safety measures, and was among the first to receive government authorization to continue operating. Flower farms installed plexiglass partitions, added more shifts and reduced the number of employees per shift. Their actions to slow the spread convinced the Colombian government to grant them authorization to continue working during the early months of the pandemic.
Thanks to the long array of importers and safety measures taken on time, the flower industry is far from wilting in times of financial uncertainty. In normal operations, a single flower farm can sell about $1.5 billion worth of roses, carnations and orchids. These flowers then reach destinations all across the United States, Europe, Asia, and even the African continent. For those who plan on celebrating Valentine's Day or Mother's Day with a bouquet of freshly-cut roses, there is a good chance that your flowers will be from Colombia.
---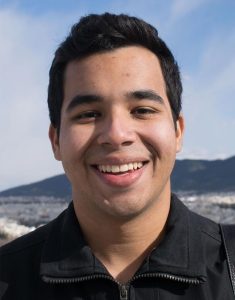 Javier Cataño García | University of South Florida, Tampa
My name is Javier Cataño García and I am pursuing a M.A. in Spanish, with focus on linguistics and literature, at the University of South Florida, Tampa, where I also teach undergraduate Spanish courses. I was born and raised in Colombia, but I have lived in the United States since August 2021. I have always had a special interest in foreign languages and geography, and I am looking to channel that interest through Latina Republic. I also have some training and experience in English-Spanish translation and interpretation. Although my professional career has been centered in teaching, I enjoy delving into other areas such as music, cooking and journalism. I hope to find new directions in my career through Latina Republic.